Shopping online has literally become an inseparable part of our lives today, and the recent Covid-19 pandemic has strengthened the idea of shopping online even more. And when it comes to shopping online in India, there are only two e-Commerce giants that dominate the Indian market, we are talking about Flipkart and Amazon. Still, people get confused when selecting the right online shopping platform for their next purchase.
And that's only because there have been many cases where people had issues with both of these platforms. But don't you worry now, in this article, we'll compare Flipkart and Amazon, and find out which one would be the safest and most convenient online shopping platform to buy products from. So yeah, stick to this post till the end, and you'll find that out.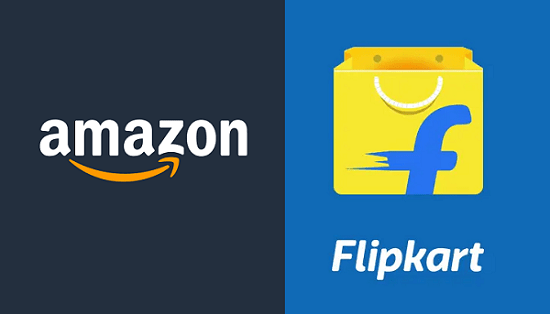 Products Available
Flipkart may be the new kid on the block, but it's catching up to Amazon at an impressive pace. Both e-commerce giants offer a wide range of products that cater to the needs of millions of customers across India. From electronics and cosmetics to toys and tools, Amazon and Flipkart have got it all. And when it comes to the variety and range of products, both websites excel in each category, leaving you spoilt for choice. Most of the time, the product you are actually looking for can be easily found on both platforms, unless it is something exclusive. So yeah, in terms of the availability of the product, their two online platforms aren't very different.
Product Delivery Process
Both of these companies have their own courier services to deliver products to customers, which is great for ensuring fast and reliable delivery. Flipkart's courier service is called E-Kart, and it's pretty good. They have a wide reach across the country, and they're known for being reliable and efficient. On the other hand, Amazon has its own courier service called ATS (Amazon Transportation Services), which is also pretty reliable. They have a huge network of delivery partners all over India, which means that they can get your order to you quickly, no matter where you are. However, in our opinion, Amazon's logistics system is much better, and they usually deliver your products faster than Flipkart. And if you are already an Amazon Prime user, you can enjoy free and faster shipping on every product on the platform.
Deals And Discounts
No matter if you are buying products offline or online, one of the crucial factors that affect the decision-making process of customers is the prices when buying a product. Prices on Amazon and Flipkart vary from time to time, making it difficult to decide which platform offers better deals. Both companies often revise their prices to keep up with the market trends, and it's not uncommon to see a product listed at a different price on each website. Currently, Amazon's prices are more competitive or lower than Flipkart's. Clearly, Amazon's aggressive pricing strategy has helped it gain an edge over Flipkart in the Indian market. However, this may not be the case for all products as prices may vary depending on the category and availability of the item. On the other hand, discounts are usually offered during festival seasons or special occasions like Diwali, Independence Day, Christmas, etc. The discounts can range from a few rupees to significant price cuts, making it a great time to buy the products you've had your eye on.
App/Website User Interface
Both websites offer a wide range of products and services, but Flipkart seems to have the upper hand in terms of the user interface. If you've ever used Flipkart, you'll know what we're talking about. The website has a clean and organized design that makes it easy for users to find what they're looking for, without getting lost in a sea of options. Everything from buying to checking out and making payments is a breeze on Flipkart, thanks to its simple and intuitive interface. Unfortunately, the same can't be said for Amazon. Although the website offers a vast selection of products, its cluttered design and complex navigation can be overwhelming for some users, especially those who are not too tech-savvy.
Return Policy
When you're shopping online, having a flexible return policy can be a game-changer. Luckily, both Amazon and Flipkart have return policies in place, but it's worth taking a closer look at the details to figure out which one may be better suited to your needs.  Before you make a purchase, it's important to note that not all products are eligible for returns. However, both Amazon and Flipkart offer a wide range of products that are eligible for returns, so you're likely to find what you're looking for, which can easily return in case anything goes wrong or you get delivered a defective product. Amazon typically allows for returns within 7 to 14 days of delivery, while Flipkart's return period is slightly shorter, ranging from 7 to 10 days.
Customer Care
If you're shopping online and want peace of mind that you'll receive excellent customer service, Amazon is the better option. They take customer satisfaction seriously and will go above and beyond to make sure that you're satisfied with your purchase. In contrast, Flipkart's customer care service leaves much to be desired, which can lead to negative feedback and frustrated buyers.
Verdict
All in all, both online shopping platforms are excellent, but in our opinion, Amazon does it better in India. These days many people are having issues with Flipkart, especially because of the many scams or fake product listings on the platform.