Introduction
Gold chains for men is another important piece of accessory that is gaining popularity. There were days when only celebrities and rappers flaunted their gold chains. Now everyone is inclined towards this piece of accessory. The main reason could be a wide variety available to choose from, and also different colours are available apart from the classic yellow colour. Selection of the correct style and design can amplify your outfit.a
How to wear a gold chain with style?
A gold chain adds a touch of sophistication to your outfit. However, it should be styled in the right way to make a unique style statement. For example, you can wear a gold chain on a white T-shirt and jeans for a casual look with Earrings & Studs. On the other hand, you can wear it on button-down and slacks for a dressier and party look. Turtlenecks are the best options during winters as they enhance the beauty of the chain. You can also choose to layer chains of different lengths and widths to add more texture and movement.
The shape and the length of the face also play a vital role in chain selection. For example, round face people can opt for longer V-shaped chains. People with thinner faces and pointy chins can opt for a choker-style gold chain that suits them best.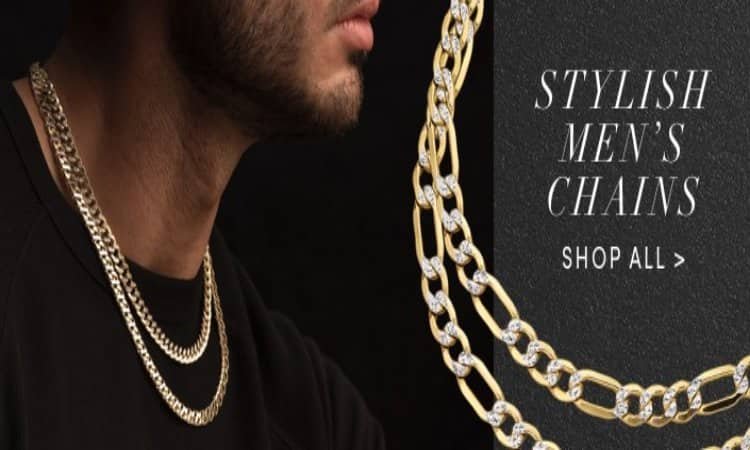 What is the suitable chain length for men?
Gold chains for men are available in lengths ranging from 14 inches to 30 inches or more. Depending on the length, they are categorized as follows:
A short, choker-style chain can be worn on anything. It can be form-fitting on your neck or hang a little bit. It stands out on its own as it is almost always visible above your clothes.
A medium-length chain ends around the base of the neck, and most of the chain is visible with an open shirt collar or a T-shirt. It is not a very apt length for a pendant.
Long-chain is good for pendants. These chains look good when worn outside as they carry large pendants that are attractive and make a unique style statement. They usually look good in casual outfits like a V-neck T-shirt.
What chain thickness to choose?
Men's gold chains vary in thickness just as they do in length. They vary from anywhere between 1mm to 20mm. Length and thickness are directly proportional to each other.
The thickness of the chain speaks about your personality. Thin chains are meant to be personal and not to show off. Thick chains are intended to be eye-catching and impressive. Medium thickness chains can serve any of the purposes depending on their design.
Different types of gold chains for men
Rope chains are one of the most beautiful chains consisting of several gold segments. Two or three segments are connected tightly with a twisting pattern such that it resembles an actual rope. The rope chain is known to reflect light from all angles, making it one of the most lustrous, lavish, and shiny types of chains. It is among the most popular chains for men and can be styled in many ways. Thin rope chains look wonderful with pendants, and thicker rope chains look best on their own as they are statement pieces.
A rope chain is the most durable, heavy, and textural type of chain, which means they are quite strong and won't get damaged easily, lasting longer. They can also be fixed easily, if broken.
Braid chains are also known as wheat chains. It is made up using four strands of twisted oval links. The links are woven and braided together, giving it a charming look. It looks like a rope chain from a distance. The appearance of the chain makes it perfect as a stand-alone chain. If the chain links are made of solid and not hollow links, the multiple links are strong enough to hold heavy pendants as well. So, it can be styled differently depending on one's choice.
Braid chains are a bit challenging to fix but can be done. Sometimes buying a new chain can be a better option depending on the metal the chain is made.
Twisted chains are a variation of rope chains and look somewhat similar to rope chains. However, the thickness of the chain can vary. Thin twisted chains can be styled using a pendant, and thick twisted chains can be worn just like that as a statement piece. They are strong enough and stylish too.
Conclusion
When styled in the right manner, gold chains for men can speak volumes about one's personality. There are different styles and designs available that suit different needs. Among the different chains, the rope chain is very popular and loved by most people due to its unique appearance. It adds a nice style statement to your outfit. Make sure to buy quality products at best price to enhance your outlook.