Saputara is one of the popular hill stations in Western Ghats. It is situated in the Dang district of Gujarat State. Saputara is one and only hill station in the entire state. Being rich in flora and fauna, Saputara attracts tourists from every part of India. Mostly the visitors will be from Mumbai or Gujarat, since the hill station lies in between the two states. Another special thing about Saputara is that it can be visited throughout the year, irrespective of the season.
The name Saputara means Abode of Serpents. You can see snake images on the bank of river. Saputara being an adventurous spot is perfect for both kids and adults. You can visit with your friends or family. There are places to visit from morning to evening. These are few important facts about Saputara to know before you reach there this holidays.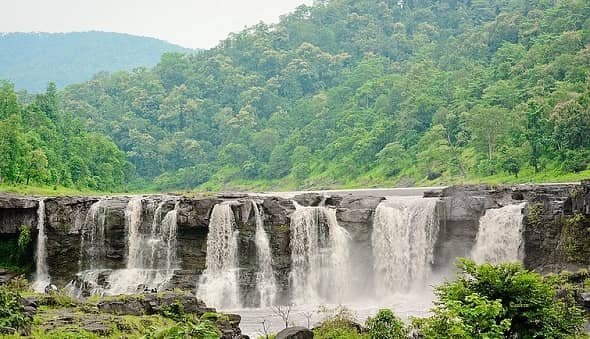 10. Boating Club
In Saputara Lake one can enjoy boating at the centre of hills. You can hire a paddle boat or row boat and enjoy moving around in the lake. There are few amusement tasks to enthral your adventure.
9. The Ropeway
You can enjoy the beauty of Saputara hill range in a birds' view from the rope way or Cable cars. It is adventurous to fly high on the high hills. The journey from Vaity resort to sunset point is of 15 min. you can see the whole range of hills with rivers, valleys and greenery everywhere. It is a feast to eyes.
8. Wildlife Sanctuary and National Park
Purna Wildlife Sanctuary is another famous spot to visit around Saputara. The forest has spread over 160Sq Km area and prior permission by the forest officer is required to visit. The dense moist deciduous forest is rich in its various kinds of flora and fauna. Vansda National Park is another green spot in Saputara hills. It has spread over an area of 25Sq Km.
7. Green Gardens
About 45 Km from Saputara, you can catch up to visit a Botanical Garden with 24 hectares' area. More than 14000 varieties of plants are exhibited throughout the part. For nature lovers this is a beautiful place to walk through and enjoy to the most.
There are other three popular gardens. Rose garden, where the fragrance of varieties of roses can be enjoyed. Step garden is known for the arrangement of different flowers and the most lovable one is Lake garden. Here the flowers grown around the Saputara lake looks fabulous.
6. Water Falls Around Saputara
You can witness the fall of water from a height of 30m to Ambika river at Gira falls. It is an awesome place to visit during monsoon between months of June and November. It is located about 3 Km from Waghai town of Saputara.
There is another waterfall at 85 Km away from Saputara. Girmall Waterfall is another spot to visit on monsoon to enjoy the picturesque view and rare flora around the place.
5. Sunset Point
Sunset point in Saputara is also known as Gandhi Shikar. One can reach the spot only by ropeway from Vaity Ropeway Resort. Gandhi shikar has become a spot for wonderful serene view of the hills. You can also be able to enjoy the tribal stations underneath from the top crest of a hill.
4. Sunrise point
The best spot to see the sun rising between those high hills in the clear sky. It is also known as valley view point which is situated at the crest of a hill in Saputara. One can reach there by trekking early in the morning or by rope way. Both are interesting to experience. The panoramic view of Saputara hills along with Malegaon city looks amazing in the misty weather.
3. Shabri Dhama
Saputara is popular even as a part of Ramayana. In Dwaparayuga, Shabri who is a great deity of Lord Rama was believed to stayed here. Now the destination is being well developed to make it as an attractive tourist place. A peaceful spot looks amazing with a historical Shabri temple over the venue.
2. Artist Village
Artist village is not just a tourist spot to see, it is a learning centre. You can see a lot of tribal art crafts here. You can even try doing them. For kids this place is an interesting one. Chandrakanth Parmar and Surya Goswamy takes care of the centre. Artist villages lets one's self to learn about local culture and tradition.
1. Mythological History
Saputara Hills have mythological history. It is said that in dwaparayuga, Lord Rama has visited the place and spent 11 years' missile here. Another mythological destination is Shabri Dhama. It is believed that Bill women Shabri, who was waiting for Lord Rama, met him here along with Lakshmana. They ate berries offered by Shabri. Even now there is a beautiful temple called Shabri Dhama Temple. History will also focus on the presence of snakes in the river. Even the name Saputara has derived from the word serpents. You can see the image of snake in the shore of Sarpganga river.
Saputara is not just a hill station. It has a lot in its treasure. Waterfalls, river, forest, temples and so much to see and learn in a single tour.