The first thing that comes into mind when you think of Rajasthan is its colorful traditions, unending desert, and royal forts. Unlike the things that are shown in movies, Rajasthan offers many other things than just Dal BatiChurma and Khamma Ghani. This beautiful state is known for its impressive historical background,lip-smacking cuisine, colossal forts, Gangaur festival, architectural marvels, camel ride, kathputliplay, and captivating monuments.
You will find everything that makes it the most favorite tourist destination in the world. Besides the mind-blowing scenes, there is a lot of magic that can't be illustrated in a typical catalog image. The incredible beauty of this place attracts a lot of people every year to explore its charm.
Rajasthan is the place of several valiant warriors and mighty Kings, like Mirabai, Thar Desert, Mehran garh forts, Ranthambore National Park, Umaid Bhavan Palace, fairy talesand folklore. Colorful saris, colorful bangles and the warmness of the red colored turbans steal the heart of people. Let us see some of the most interesting facts about this place that would leave you fascinated.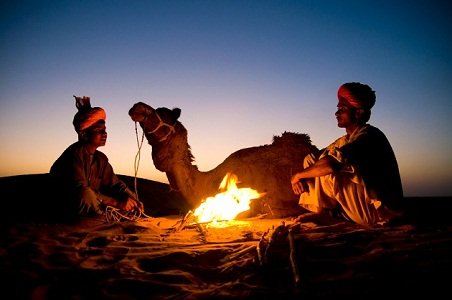 Unknown facts about Rajasthan
1. As per the census 2011, Rajasthan is one of the largest statesin India. A bulk portion of this state is covered by the Thar Desert. It is also referred to as The Great Indian Desert. This land comprises of desert, rocks and sand dunes. Jaipur is regarded as the capital city that is also the largest city in Rajasthan. The entire city is painted in pink color so it is also popularly called as the "Pink City".
2. This amazing land is also called "The City of Kings". Rajasthan got built in the year in March 1949. This state is surrounded by Madhya Pradesh, Gujarat, Haryana, Punjab and Uttar Pradesh on its sides.
3. After the revolt of 1857 revolt, people got united under the guidance of Mahatma Gandhi to contribute towards the freedom movement. Introduction of regional autonomy in the year 1935 in India under British rule, agitation for political rights and civil liberties got stronger in Rajasthan at that time.
States like Jaipur, Bikaner, Jaisalmer, and Jodhpurjoined the Union to form Greater Rajasthan. At the end of 1958, the current Rajasthan state got formed along with the Abu Road Taluka, Ajmer state, and SunelTappa.
4. Almost every Rajasthan city is painted in different colorslike Jaipur is painted in pink, Jodhpur is painted in blue, Udaipur in white, Jodhpur in white, Jaisalmer in golden and Jhalawar in purple.
A lot of people imagine Rajasthan as a land filled with desert and sand. It is not just limited to deserts and sand. There are several cities in Jaipur where you will find lush green plantationswithout an inch of a desert.
5. Rajasthan has been one of the best places for shooting not just for Indian film industry but also for Hollywood. People abroad are fascinated by looking at the rich magnificent places and forts in Rajasthan. This can help you get a marvelous sight of the oldMehrangarh fort as seen in the characteristic"Dark knight rises of Batman".
The incredible beauty of Udaipur is pictured beautifully "Octopussy", in a James Bond movie.Rajasthan is a beautiful shooting destinationthat is also featured in several Bollywood movies. Some of them being PK, Paheli, Dor, Nanhe Jaisalmer Lamhe, etc.
6. Everyone is aware of the great wall of China, but it is not the greatest wall in the world in a true sense. It is recognized as the world's 2nd largest wall. The greatest wall in the world is the wall of "Kumbhalgarh Fort" that is thirty-six kilometersin length.
In the entire world's history, Jaipur is considered as the first placethat got constructed implementing the scientific philosophies of architecture. Sawai Jai Singh II, who was the King in that era had a great interest in astronomy. He with the help of a brilliant architect named "Purohit Vidhyadhar Bhattacharya" built the structured and beautiful city.
7. Rajasthan has been appreciated for its elegance and beauty. Not many people know that it has a "haunted site"which is a major attraction for people who are fond of spooky places. If you are the one who has a craze for spooky Rajasthan houses,then you must visit "Bhangarh Fort". This is currently the most haunted placesin India.
8. Another interesting fact that you may not be aware of Rajasthan is that "Ravana", the King of Srilanka"also have some relation with Rajasthan. He is the son-in-law of this state. Hismain wife Mandodariwas Marwari and Mandore, the primitive city of Rajasthan was his hometown.
9. The Aravalli range of mountain is believed to be the ancient mountain range that lies in India. This mountain range in Rajasthan is even ancient than Himalayan range.There is one mystic river, "Saraswati"in Rajasthan that is the major ancient rivers admired by the Hindus. This river is thought to have disappeared below the soil of the Thar Desert. This happened due to the advent of the mesmerizing Aravallimountain range.
10. The popular Thar Desert is considered to be the largest Indian desert. This dessert is also regarded as the eighteenth largest sub-tropical deserts located all across the world.The Rajasthan state got formed post-merger of twenty-two royal kingdoms and principalities in March 1949.
Some of the famous personalities who are from Rajasthan are Jagjit Singh, Ghanshyam Das Birla, Shreya Ghoshal, Jamnalal Bajaj, Lakshmi Mittal, Savitri Jindal, Ramkrishna Dalmia, Rakesh Jhunjhunwala, Sunil Mittal, Future Groups' Kishore Biyani, Chanda Kochhar, Chief Justice of India and Rajendra Mal Lodha.
Besides the glory and captivating panoramic views, there is one more important thing that would create a lifetime impression in the minds of visitors. It is the hospitality of people.
Though the natural beauty of the land attracts you to visit this place, the warmth, and love of people will keep you bringing to this place again and again. I am sure after learning about these facts you will be convinced to book a tour to Rajasthan holiday soon.