Located in Old Delhi, Chandni Chowk is a place worth visiting in Delhi. One can see the real life of Delhi in the streets of Chandni Chowk always full with hustle and bustle of people moving from here to there. There are many shops present in Chandni Chowk where you can purchase goods at the most cheapest price. With dusty lanes and magical turnings and gallis, Chandni Chowk has a certain kind of magic in it which is nearly impossible to express in words. Food is something which is must try in Chandni Chowk as it is delicious and to its very best.
Some of the interesting things to be found in this place of Old Delhi are listed as under: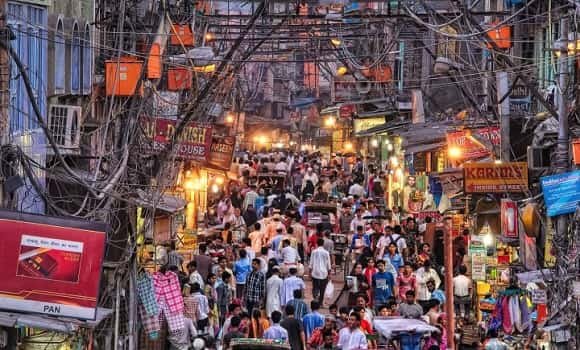 10. Lanes which are endless
One can find endless lanes in Chandni Chowk which are full with people purchasing something or the other. The gullies are cramped with different kinds of jewelleries, vendors selling their goods and a demand for the electronic stores. The main sights are the pan shops which make world famous pans. The narrow lanes lead one to the luxurious shops which sell things that you are in need of. The lanes are quite dirty and dusty and it becomes nearly impossible to walk on the lanes because of people moving continuously. Chandni Chowk is a popular place among tourists.
9. Yore Architecture present in Chandni Chowk
The entire city of Chandni Chowk is made of Shah Jahan and his daughter Jahanara and so, one can find traditional forms of architecture in its modern buildings. The buildings of the olden times were made in royal style. One can get an old feeling by getting mesmerised in the Mughal history and their buildings. The ancient world market has been in demand from the time of the Mughal and it is still famous. The dilapidated buildings each has a Mughal story that it reveals within itself.
8. Harmony among people
The best thing about Chandni Chowk is that one can find worship places of different beliefs in just 1 km distance from each other. The places are centuries old and it is depicted in the way the Gurudwara, The temple and also the Church is present on the same road. This is something which is rarely seen in any other place.
7. Indulgence
One other interesting thing about Chandni Chowk is the presence of wide variety of food joints present in this city. The delicious flavours and spices attract people from different parts of the world. The paranthe wali gali is famous for its various flavoured paranthas and also exotic taste of the chats. Karim's is known to provide one with the best mughlai foods ever known. The Old Famous Jalebi Wala is known to provide mouth watering jalebis and kachoris to its customers which are made in pure ghee.
6. A commercial hub
Chandni Chowk is famous for its oldest central market which is known to provide all essential as well as fancy products to its customers. People who are experts in bargaining and who has that much time in their hands can get their hands on some of the most beautiful things at the most cheapest of prices. Nai Sarak in Chandni Chowk is famous for old stationary and books which are sold at discounted rates. The structure of Chandni Chowk has changed over the years but the ambience isn't. It is still the same.
5. Best thing to visit Chandni Chowk
Chandni Chowk is open to people on all days and on Sundays, it is really crowded because the Chor Bazaar sits on the roads and thousands of goods are sold there. The best time to visit Chandni Chowk is from 10 am to 4 pm. At this time, the vendor starts placing their shops and you can find fresh goods for yourself. You can also get the taste of fresh foods that are sold on the streets.
4. Dariba Kalan
Dariba Kalan is the famous jewellery store that is located in the Paranthe wali gali. You will find the most beautiful and rare jewelleries that are not to be found anywhere else and that too at low prices. Dariba Kalan has been featured in many movies such as Kabhi Khushi Kabhi Gham, Delhi 6, etc. The shop collects jewellery from traders and they sell them in Dariba Kalan.
3. Camera Market
The Camera Market is Chandni Chowk is Asia's biggest camera market and you will find cameras of all ranges in this market. This place is best for the professionals and you will also find the components of camera easily. One of the best repair stores that is from the olden times is Pritam Studio. All the products are priced at genuine prices which are best for the customers.
2. Natraj's Dahi Bhalle
This famous street shop is in Chandni Chowk from as early as 1940. The best ingredients are used in the preparation of the dahi bhalles and they use very little ingredients but the final product is just awesome and amazing to taste. The sauce used is slightly tangy and mostly sweet.
1. Meena Bazaar
The Meena Bazaar hosts lanes of shops selling pans, burqas, Muslim religious pictures, etc. This bazaar is crowded with people daily. Embroidered caps, local cosmetics, posters of sacred places, etc. are some of the other things found here.
These are the top facts about Chandni Chowk! It is a place worth visiting.