Top 10 Countries with Most Fighter Jets in the World
The Airforce has become the most prominent part of defense and military offense of any country. Most of the air force has arisen during the First World War. These air forces are involved in the various war, conflicts, and disputes across the world. In order to defeat the foreign counterparts, this air force was designed. A technologically advanced and powerful air force is what a nation actually need.
Here is the list of Top 10 Countries with most Fighter Jets in the world – Powerful air force.
10. Japan Air Self-Defense Force (Japan)
The defense and Military system of Japan has changed the world. Each and every person is efficient and intelligent. With the powerful self Defense Force, Japan stands at 10th place on this list of top 10 countries with an Air force. Japan Self Defense Force is one of the most powerful tools for the defense policy of Japan. JASDF was established in the year 1954. It is a great combination of Imperial Japanese Navy Air service & Imperial Japanese Army Air service. With impeccable technology tools, combat air patrols, innovative radar systems, JASDF makes this country as a 10th top most country with a powerful defense system. Japan has about 289 Fighter jets till date.
9. Royal Australian Air Force (Australia)
At number 9, we have Australia on this list. The Royal Australian Air Force was established in the year 1921. This powerful Airforce has participated in all the deadliest war of the 20th century. It is small yet powerful Airforce which brings numerous benefits to the country. With the extraordinary radar system, sophisticated technology, and powerful Army, Australia is the 9th top most country on this list.
8. Luftwaffe (Germany)
With the powerful top notch pilots, Germany stands at 8th place on the list of top 10 countries with the Air force. Luftwaffe from Germany is an advanced air force, which was founded in the year 1935. This versatile Airforce has gone over the sky and defeated the enemy with much more advancements. The pilots in Luftwaffe are very efficient and well-trained people. They are trained either in Canada or United States. The official training center is situated in New Mexico and Canadian Forces Air Command base at Goose Bay.
7. Indian Air Force (India)
India is a beautiful country with innovative military and defense organizations. The Indian Air Force is one of the most powerful air force. It was established on October 8, 1932. Since then, it has been the best platform for further developments in India. IAF has been the powerful air force over the decades. Also, it is popular worldwide, thus making this country as the 7th top most country with powerful Airforce. It uses advanced technology to defeat the foreign counterparts. Interestingly, it has more than 15,000 aircrafts and 170,000 personnel till date. It has about 683 fighter jets as of now. Some of the deadly Jet flights includes, Dessault Mirage 2000,Dessault Rafle, HAL Light Combat Aircraft, MIG 21,JAGUVAR, Suk hoi pak fa, Sukhoi Su 27, Sukhoi 30.
6. Armée de l'Air (France)
Armee de l Air Force is considered as one of the most powerful Airforce today. It is backed by a lot of experienced personnel and strong aircrafts. It is also the first professional air force on the planet. The achievements of this air force have been increasing due to the innovative defensive strategies. With the technological developments and new inventions, this air force became stronger. France has invented the Mirage series of Jet Fighters, which is popular worldwide. It has about 158 Dessault Mirage 2000 & 59 Dessault Rafale.
5. People's Liberation Army Air Force (China)
China holds leading position in inventions and discoveries. No other country can beat China. Such a powerful country stands at 5th place on the list of top 10 countries with powerful Airforce. People's Liberation Army Air Force is considered as popular air force today. It has more than 2,500+ aircrafts and 330,000 personnel. It has participated in many deadliest wars & conflicts. It was established on November 11, 1949. The different trend & style of China air force is always appreciated. It has played a vital role in the Second World War. It comes with the motto "Through Adversity to the stars".
4. Royal Air Force (United Kingdom)
The commanding Royal Air Force from the United Kingdom making it the 4th country with the most air force. Royal Air Force is one of the oldest air force in the world. It is better known for its strategic bombing. This versatile air force is the great combination of Royal Flying Corps and Royal Naval Air services. It was established during the 1st world war. Since then it has been the top air force for decades. It has provided strong support to the Indian army during the Kargil war.
3. Israeli Air Force (Israel)
Israel comes at 9th position in the list of countries with the powerful air force. Israel is a Muslim country, which always falls under the curse of war & conflicts. Fortunately, they have the strongest air force, which helps them to save the nation and its people. Unlike other airforces, it is technologically advanced air force, which is why it is worldwide popular. The Israeli air force is equipped with Boeing F-15 E Strike Eagle. It is backed by an experienced trainer, fighter, transport aircrafts and lots more. It has about 25 Avia S 199s jet, which was bought from Czechoslovakia. It has involved in war, conflicts and many disputes.
2. Russian Air Force (Russia)
Russian air force is simple yet powerful air force. With powerful aircrafts, well-trained pilots, mechanized defense, Russian Airforce can beat any kind of terrain. With this technologically advanced Russian air force, it is easy to defeat the foreign counterparts. The Soviet Union has disintegrated in 1991. After that, Russian Airforce was established. Since then, no one can beat this powerful air force. It operates more than 4500 fighter planes such as MiG 29 Fulcrum, MiG 25 Foxbat.  It has about 757 Fighter Jets includes, Su 17 Fitter 2.5 and Su 25 Frogfoot, Su 1 Fitte and much more.
1. United States Air Force (America)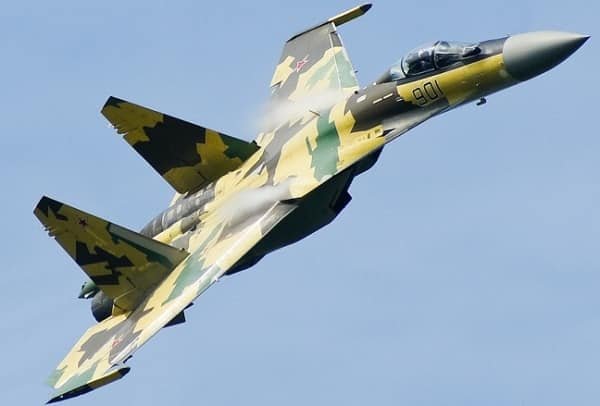 Having 2310 fighter jets, the United States holds the leading position in this list. The United States Air Force was established on September 11, 1947. It promotes the theme "No one comes Close". With the powerful cyberspace and efficient trainers, USAF stands at first place in this list. USAF is one of the strongest air forces in the world, thus putting this country in the 1st place with the most powerful air force. It operates on more than 450 ICMs, 63 satellites, and 5,638 aircrafts. It has $ 140 billion budget with 185,552 civilians, 106,700 Air National Guard personnel, and 71,400 Air Force Reserve.
Such are the top 10 powerful air forces today. It is necessary for a nation to design to develop potential airforce to save and protect the country.