Top 10 Largest Coconut Producing States in India
India is a market leader when it comes to produce various agriculture products. India is third largest country to produce coconuts and have annual production of 21500 million ton of coconuts. Coconut is an important part of agriculture industry and it can be produced in various kinds of climate and soil. Jeavy rain is important to produce coconut. The trees of coconut are long and tall. It is produced in more than 70 countries all over the world. In India, coconut is produced at a larger area of over 21 Lakh hectares.
When it comes to coconut production in India, it is produced in over 15 states of India. Here is a list of top 10 biggest coconut manufacturing states of India: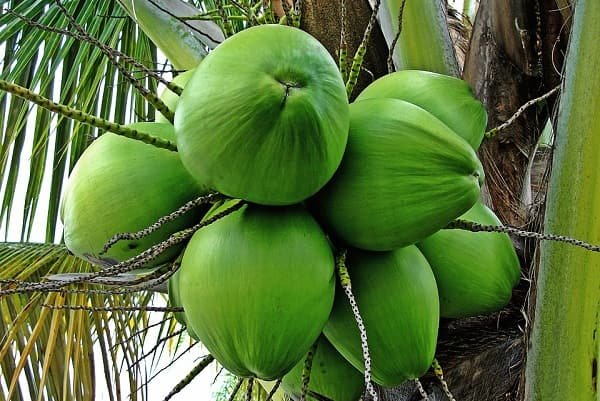 10. Assam
Assam is at 10th position in this list of coconut manufacturing states. In this state, over 136.61 Million coconuts are produced in a large area of more than 20,000 hectares. In Assam, coconut is produced in over 25 districts and Barpeta is top at the list of these districts for coconut production. Barpeta, Nalbari, Nagaon and Golaghat are main coconut producing areas in Assam.
9. Bihar
Bihar is at 9th place in this list of top states in India for coconut production with production of 141.42 Million coconuts. This state was not a coconut producing area ,according to soil, but they are growing large amount of coconut by using advanced techniques and modern technology. The production of coconut is increasing in Bihar with time.
8. Maharashtra
Maharashtra is at 8th position in this list with production of 187.47 million coconuts per year. They are also using non traditional area for the production of coconuts. They are growing coconuts at region of more than 28,000 hectares. Sindhudurg, Ratnagiri and Raigad are main regions in Maharashtra for production of coconut. This state has a good growth rate for production of coconuts with over 15 % per year.
7. Gujarat
Gujarat is at 7th position with production of 295.03 Million coconuts per year. In this state, you will find more than 31,000 hectare area used for the coconut plantation. The major regions for coconut production in Gujarat are Junagadh, Bhavnagar, Valsad and Kutch.
6. Odisha
More than 60% of the population is engaged with agricultural activities in Odisha and they produce 324.93 Million coconuts per year. Coconut is one of main agricultural crops in this state and it is produced at more than 50,000 hectare area. Main regions for coconut production in Odisha are Puri, Cuttack, Khurda and Jajpur.
5. West Bengal
West Bengal is ranked at the 5th position in this list of top coconut producing states with a production of 370.83 Million coconuts. The main districts of this state are Murshidabad, Howrah, Burdwan, and Midnapore for higher coconut production. West Bengal's coconut industry is very important for the economy of this state. The climate of this state is perfect for the production of coconuts.
4. Andhra Pradesh
Andhra Pradesh produces more than 1,800 Million coconuts per year and is the 4th largest state for coconut production. A large percentage of the population of this state considers coconut production as an important source of employment. East Godavari is considered as the major coconut producing district in Andhra Pradesh. Coconut is grown at a large number of regions in this state and is very important part of an economy of Andhra Pradesh.
3. Karnataka
Karnataka is at third position in the list of the largest coconut producing states and produces more than 23% of the total amount of coconuts in India. In this state, more than 5041.15 Million coconuts are produced each year. Coconut is planted at over 5 Lakh hectares of land and is an important horticultural crop of this state. They export more than 60 % of coconuts to other states like Madhya Pradesh, Uttar Pradesh, Punjab and Maharashtra.
2. Kerala
Kerala is at second position in this list of top coconut producing states with a production of more than 5900 Million coconuts every year. Coconut is grown in more than 10 districts in Kerala and Kozhikode is the highest coconut producer district in Kerala with the production of over 940 Million coconuts. Coconut trees are present in most of the cities of Kerala and are used in various sectors for manufacturing products like oil, baskets, doormats, etc. Kerala is contributing over 27% of total coconut production in India. Kozhikode, Malappuram, and Thrissur are main coconut producing regions in this state.
1. Tamil Nadu
Tamil Nadu is the largest state in India for the production of coconuts and contributing more than 31% of total production of coconuts in this country. They are producing more than 6917.25 Million coconuts each year in a large area of more than 4.65 Lakh Hectares. Coconuts are planted in more than 25 districts in Tamil Nadu and Krishnagiri is the largest district with a productivity of more than 18000 nuts per hectare. Coimbatore is producing more than 1,200 Million Nuts per year and is highest coconut producer of this state.
These are the top 10 states for higher production of coconut. This industry is offering jobs to a large percentage of the population in these states. They are also exporting coconuts to other states where it can't be grown. Coconut industry has a special place in agriculture market in this country. It is also helping a lot in the economy of these states. Coconut production is increasing in some of states by using the latest technology and ways of coconut production.