Chocolate is the world's most used and everyday favourite sweet ingredient. Not only children, but adults, old and young people also like chocolate very much. Whether it is a single chocolate bar or chocolate packed in a family pack, more production of such variety shows how much the manufacturing of chocolate has increased.
You will find both cheap and expensive chocolates in India. The market is quite flooded with different textures and appearances of chocolates. The chocolate pack can be available for less than Rs.50, which is a very affordable option to buy for someone else or yourself. If you too looking for chocolates that cost less than Rs 50, then this article is especially for you.
In this article, you'll learn the list of chocolate under 50 rupees in India 2023. After reading, you can choose one that meets your requirement and taste. Although since the below-mentioned chocolates are quite famous, so buying from nearby stores is very easy.
Best Chocolate Under 50 Rupees in India 2023
1. Kopiko Chocolate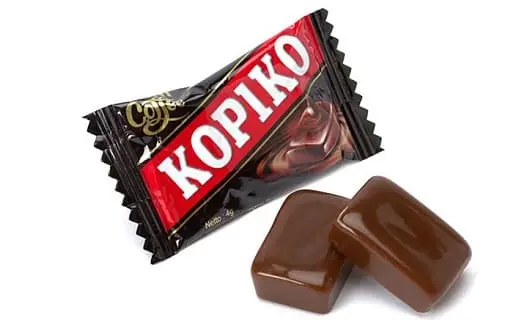 Kopiko Chocolate Party Pack under Rs.50 is all set to make your occasion special and delightful. This candy is famous for making coffee candies. Eating this candy will delight you with its rich, dark coffee flavour. According to its makers, Kopiko is made with original coffee extracts and was first introduced in the year 2018. Although it is an Indonesian brand, it has gained immense popularity in India. Today, the brand is authorized as the world's largest coffee producer under the Kopiko brand.
2. Parle Melody Chocolate
Parle Melody in a mini pack under Rs.50 is perfect for parties and special events. Melody, with the unique slogan, "Melody iti chocolate kyun hain?" grabs the attention of the Indian consumer. This chocolate was introduced in the year 1984 by the Parle Company, which is based in Mumbai. Melody brings tempting layers of caramel on the outside and delicious chocolate filling on the inside. These chocolates give a unique feel to your mouth.
3. Alpenliebe Creamfills
On this list, the next we have is Alpenliebe Creamfills. This butter candy has enough creamy caramel filling inside and a crunchy texture outside. It was introduced by Perfetti Van Melle in the Netherlands in the year 1995. Alpenliebe is a perfect blend of buttery and rich taste, making it the prominent option for all age groups. Under 50 rupees per pack, you will get 46 pcs of Alpenliebe cream fills chocolate rich in butter.
4. Cadbury Choclairs Chocolate
On the fourth position, we have Cadbury chocolates under Rs 50 pack. It is a premium chocolate pack for birthday parties, events, occasions, and festival seasons. Cadbury Choclairs Gold candy was first introduced in the year 2015. On 19 July 1948, the brand started selling chocolate in India. You will get 25 pcs of gold candies in this pack.
5. Parle Zing Guava
Parle Zing Guava offers a rich flavour of the most popular fruit, guavas. The delicious taste enhances your taste buds. The Parle brand also produces it in Mumbai, Maharashtra. If you want a spicy taste of chilli guava, buying a pack of parle zing guava is a perfect option. The spices and chilli used in its production make it different from other chocolate brands.
6. Parle Kimi
Parle Kimi is the oldest candy brand. This candy is famous among kids compared to adults and is produced by the Parle brand.  This candy has a distinctive taste and flavour. In the Indian market, you can find this pack online at any local store.
7. Pulse Chocolate
We can't ignore pulse chocolate when it comes to tangy flavour. This chocolate is prepared using raw mango (kaccha aam). The brand was introduced in the year 2015. And the very first flavour was Kachcha Aam. But later, orange and guava flavours were introduced across India in 2016. Pyramid packing makes this chocolate popular as well as appealing.
8. Parle Grand Londonderry
Londonderry is a newly introduced chocolate in the Indian market. It comes with a unique creamy flavour, caramel and milk. This chocolate is produced under the supervision of parle brand in Mumbai, India. Being contains milk, it is best suited for moments when you want a calming caramel taste.
9. Parle Bigger Mango bite
Parle's bigger mango bite is a spicy raw mango combined with chocolate. Mango bite is a leading brand that was introduced in 2004. It is prepared using the original taste of mango. This mango-flavoured chocolate is popular among kids in the country.
10. Candyman Toffichoo
Candyman Toffichoo has a creamy, rich strawberry taste. It is a chewy and soft candy introduced by ITC Company in 2009. This candy is singly wrapped with soft chocolates and pure strawberry-flavoured treats.
Final Words:
Nowadays, chocolate is eaten a lot as compared to the old times. And this is why more and more chocolate brands have come up with a wide range of packs and different flavours.