What's the first thing comes to your mind when you think about chocolate? Obviously, the mouth-watering creaminess, sweetness, and rich taste. Chocolate attracts you; it's weird but totally true. People of all ages like to eat chocolate. Keeping in mind the health benefits and age group, chocolatiers are preparing a wide variety of chocolates. The different types of chocolate are sugar-free chocolate, milk chocolate, dark chocolate, mild-flavoured chocolate, etc. However, the price of chocolates can vary depending on the number and quality of the ingredients.
Have you noticed that the chocolates available outside India are slightly costlier than the ones available inside the country? The reason for this could be the quality and production. To keep everyone's budget in mind, we have prepared a list of 10 Rupees chocolates in India 2023. These chocolates are available online at Amazon and Flipkart and offline at a nearby store. So, let's quickly take a look:
Best 10 Rupees Chocolate in India 2023
Here is the list of Ten Rupees Chocolate available in India:
1. Nestle Classic Chocolate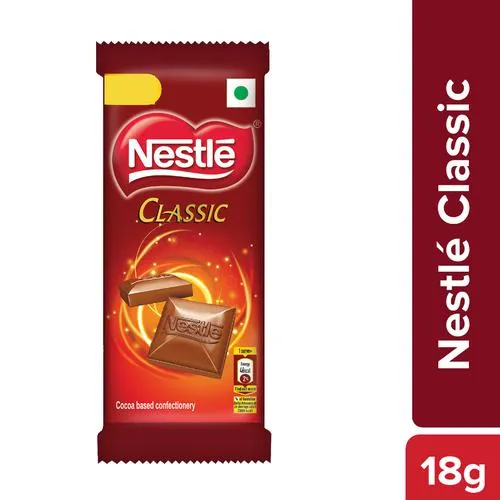 As the name suggests, Nestle brand is the leading manufacturer of this chocolate. Nestlé Classic Chocolate Bar is available in two different sizes: 18 g and 36 g. It has a delicious taste, which makes it satisfying when eaten. In India, this chocolate appeared in 1992. This is one of the premium quality chocolate bars with original milk. Nestle Classic chocolates are often relished by the old and the young across the country.
2. Dairy Milk Chocolate
The founder of dairy milk chocolates is Cadbury Company. And Cadbury dairy milk chocolate is India's most demanding and selling chocolate. This is because it is available at different prices, such as Rupees 5, 10, etc. The manufacturer uses milk, sugar, cocoa solids, cocoa butter, and emulsifiers to make this chocolate. You can find dairy milk in India at the nearest store or online e-commerce website.
3. Kitkat Chocolate bar
Nestle is the founder of the KitKat chocolate bar. This chocolate is the oldest chocolate before Cadbury. In 1995, Kit Kat chocolate entered the Indian market. It is a good source of carbohydrates and helps in reducing appetite. This milk chocolate has multiple layers of chocolate and milk, making it high in sugar and calories. As an alternative to gifting, Kit Kat can be used to prepare bookes. You can buy this chocolate from any store within Rs.10.
4. Fuse Chocolate
Fuse is another chocolate presented by Cadbury. This bar contains a delicious, indulgent blend of caramel, chocolate, and nougat. The fuse chocolate bar was introduced in the year 2016. It has 70% milk chocolate, 30% raisins, peanut, and crispy cereal. Peanuts are the leading ingredient of this chocolate. The fuse is available not only for Rs.10 but also for Rs.5.
5. Snickers Chocolate
Snickers chocolate was presented by the American brand Mars in the year 1930. These chocolates are prepared using chocolate and natural peanuts. It is packed with nutritious roasted peanuts but also has caramel and nougat. All these combinations make Snicker healthy as well as tasty. The primary ingredient of this chocolate is cocoa butter, milk, sugar, and peanuts. To satisfy your hunger, you can try this delicious snack.
6. Munch Chocolate
Launched by Nestle Company in 1999, Munch is a highly demanded chocolate with a distinctive taste and crunchier touch. It is also easily available in the Indian market. There is a different variant of Munch, and every version is a crunchy and tasty treat. Two different price points, including Rs 5 and Rs 10, make munch affordable.
7. Crispello Chocolate by Cadbury
Cadbury is the largest company that has been producing a wide variety of chocolates. One such chocolate bar is Crispello, which is a recent addition to the Indian market. It is finger-shaped with a crunchy center covered with a thin layer of condensed milk. This bar is in the middle of light and crispy balls, covered in a smooth layer of dairy milk chocolate.
8. Galaxy Milk Chocolate
Don't forget to check out the fantastic chocolate called galaxy milk bar. It's crafted with amazing cocoa for an unbeatable crispy chocolate experience. Galaxy Crispy Bars are created to lighten your mood and fuel your unique experience. Besides being premium, Galaxy Milk is one crunchy bar that has been lovingly produced to melt in your mouth.
9. Perk Chocolate
Perk is also prepared under the Cadbury brand. The chocolate is a perfect blend of the delicious Cadbury and crispy wafer that cheers your mood. It was initially introduced in the year 1996. This 5 rupees chocolate is famous among kids and is easily available in any local store.
Final Words:
There are brands in India that sell chocolates in different price ranges. It can range from 1 rupee of chocolate to 5 rupees of chocolate to 10 chocolates or more. The lower the cost, the higher its demand will be. Budget-friendly chocolates such as Rs 10 are easily available, affordable, and high-quality.