Sometimes you don't even realize how competitive some spaces in the Indian market are until you need to buy products in that specific segment of the market. For example, the Plywood industry may appear to be an easy one in terms of competition, but that's not the case at all. In India, there are literally dozens of plywood manufacturing companies that have significant market share. And then there are local manufacturers, which make the decision to choose the right plywood manufacturer/brand even more confusing and challenging.
If you have already begun your search for the best plywood brands or manufacturers in the country, you may have come across names like Century Ply and Greenply. Correct? Well, people often get confused between these two brands, and there are good reasons for that. But today, we'll help you come to a conclusion about whether you should choose CenturyPly or Greenply for your next project by going over a lot of crucial factors. So stay tuned till the end.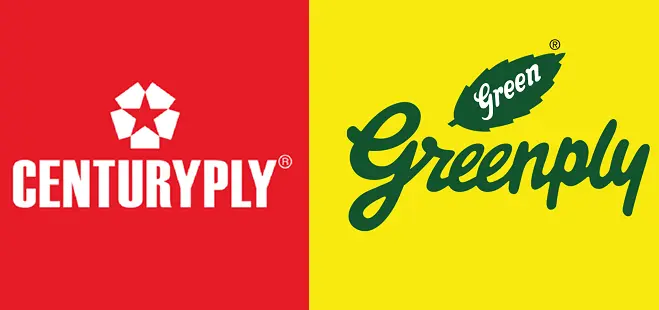 Brand Background
If you're in the market for top-quality plywood, you've probably heard of CenturyPly. This brand has been a mainstay in India's building materials industry since 1982 and has built a reputation for being one of the most reliable and trusted brands out there. From MR to BWR, Marine, and Fire Retardant plywood, CenturyPly has got you covered with a wide range of products that are sure to meet your needs. Another name that rings a bell in the world of plywood is Greenply. Established in 1990, this brand has become a household name in India and has captured the hearts of many customers with its exceptional quality plywood products.
Product Range And Quality
When it comes to selecting the right plywood brand, you want to ensure that you get a product that is strong, durable, and resistant to damage caused by moisture, termites, and other factors. Without a doubt, the quality and performance of plywood are essential factors that you need to consider. Both CenturyPly and Greenply offer excellent plywood products, but they have some differences in quality and performance. CenturyPly plywood is known for its superior quality and durability, making it ideal for applications that require strength and durability, such as furniture, flooring, and construction. On the other hand, Greenply plywood also offers excellent quality and performance, but it may not last as long as CenturyPly plywood in some applications. Nevertheless, it is still highly resistant to moisture, termites, and other factors that can damage it.
So, if you're in the market for plywood that can withstand heavy use and last for a long time, CenturyPly plywood may be the better option for you. However, if you need plywood for applications that don't require as much durability, Greenply plywood is a great option that offers good value for your money. All in all, when choosing between CenturyPly plywood and Greenply plywood, you should consider the price, quality, durability, and customer satisfaction. With these factors in mind, you can make an informed decision and select the plywood brand that best meets your needs.
Products Affordability
Price is definitely one of the most important factors to consider when choosing plywood. After all, you don't want to break the bank for something that doesn't fit your needs and last longer, right? When it comes to price, Greenply is generally more pocket-friendly than CenturyPly. But hold on, don't just go with the cheaper option right away! The price difference between the two brands may vary depending on the specific product and its quality. In other words, you might end up paying more for Greenply if you're looking for a premium-quality product. If you're on a tight budget, Greenply might be the better option for you. However, if you're looking for high-quality plywood that can withstand the test of time, CenturyPly might be worth the extra bucks.
But hey, at the end of the day, it all comes down to your specific needs and preferences. Do you prioritize affordability over quality? Or are you willing to splurge a little for something that you know will last you a long time? By taking into account factors like price, quality, performance, customer feedback, and after-sales service, you can make an informed decision and choose the plywood that's right for you.
Customer Feedback
When it comes to buying anything, customer feedback and ratings are essential factors to consider. They give you an idea of how satisfied customers are with the product and how well it performs in real-world scenarios. This is especially true for plywood, as it is an investment that should last for years to come. Both CenturyPly and Greenply have received positive feedback and ratings from customers. People appreciate the quality of the products and their durability, which is important for applications such as furniture, interior decoration, and construction.
After-Sale Service
Without a doubt, when it comes to customer satisfaction, CenturyPly has a slight edge over Greenply. Many customers have praised CenturyPly's commitment to quality and their after-sales service, which is an essential aspect of customer satisfaction. If you want to know how well plywood products have performed in the past, you can check online reviews and ratings. This feedback from existing customers can help you make an informed decision and choose the right plywood brand for your specific needs.
Verdict
All in all, both CenturyPly and Greenply offer high-quality plywood products that are suitable for various applications. However, if you are looking for slightly more durable and long-lasting plywood, CenturyPly may be the better choice. On the other hand, if the price is your primary concern, then Greenply may be a more affordable option. Ultimately, the decision will depend on your specific needs and budget.