Top 10 Biggest Libraries in India
India is the most culturally country in the world. In India there are top 10 biggest libraries where you must visit. These libraries are not only famous for the abundance of knowledge and exposure, but also constructed with the incredible architectural design. Libraries are one of the best and incredible tributes to individual knowledge. These libraries have a great collection of millions of books for the people who are addicted to read the books.
Moreover, these libraries are well known and popular for the biggest and incredible architecture libraries in India. These top libraries are spreading the knowledge and rare pieces of literature all over the world.
Here are the lists of Top 10 Biggest Libraries in India   
10. Anna Centenary Library, Chennai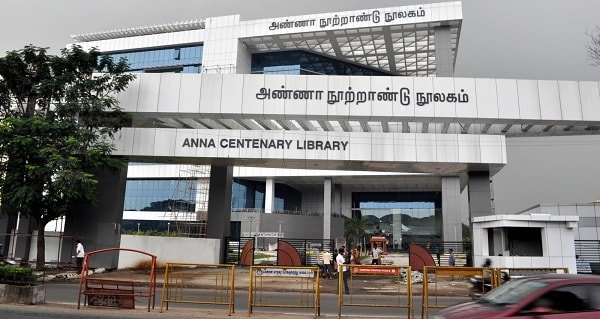 When it comes to counting the biggest libraries of India, Anna Centenary Library is second to none in the list. This library was built with the approximately cost of 170 crores and also have the 9 stories. Each story has radio identification, an auditorium, self-detection counters, meeting hall, and amphitheatre and children section too.  Many people have registered here and come to read the all types of books.
9. State Central Library, Thiruvananthapuram
The specialty of this library is that it is the first library in India. More than 700 you will find the digitized book in Tamil, Hindi and Sanskrit Language. This library was built during the rule of Sree Swathi Thirunal Maharaja who was ruler of Travancore. It is the biggest and modern architectural design library of India.
8. Indian Habitat Centre
Indian Habitat Centre is well constructed and biggest library which is located in Delhi. On the daily basis many people visit here to gain the knowledge of wisdom and humanity by reading the several books. Along with the vast library, this library provides incredible facilities like WiFi, coffee shops and spacious place to people to read the book with great comfort.
7. Nehru Memorial Museum and Library, New Delhi
Those people who are interested in social and labor related topics are warmly welcomed here. ON the daily basis near about 4 lakhs of pages are uploaded in the digitized library. Along with the biggest library, it is called as the museum too. In this library the private papers are placed of Jayaprakash Narayan, Sarojini Naidu and many more including Gandhiji's work.
6. Saraswati Mahal Library, Tanjore
This library is famous for palm leaf and paper manuscript of different languages like Sanskrit, Hindi, Telugu, Marathi and many other languages. Here you will find more than 50,000 books and this library is digitalized where you can read the books online too. This library comes into the list of the biggest library of India and provides wisdom to people in abundance.
5. Delhi Public Library
Along with coming in the list of biggest library, it is architecture and constructed skilfully.  The speciality of this library is that it has more than 25 branches all over Delhi. Moreover in the library you can read more than 17 lakhs books. Especially for the children separate section is setup where children like to read general awareness and all types of books. This library is for the prisoners of Tihar Jail and braille for the blind people.
4. Smt. Hansa Mehta Library, Baroda, Gujarat
In the list of Top 10 biggest libraries, Smt. Hansa Mehta Library comes at the 4th position. This library was established on 1 May, 1950. It comes with the area of 80,025 sq. FT which is completely ventilated.  Moreover the single largest room of books is about approximately of 10,600 sq. FT. Those who like to read the books of dated back of 16th century can find the rarest books here. Approximately 3500 of books are available here to read.
3. State Central Library, Hyderabad
Have you ever been to the State Central Library, which is located in Hyderabad? If you are interested in general knowledge and current affair then this is the best platform for you. This library has the best and recorded books which has the amount of 5, 01,861 books. Moreover, here you will find the rare collection of 17,000 books of the backdated 5th and 6th century. In the list of biggest libraries it also comes in the list.
2. Seshadri Iyer Memorial Library, Bangalore, Karnataka
This library is situated in the beautiful and lush green location which is truly mesmerized and lovable place to visit. All the rooms are ventilated and well-constructed. IN the library, you will find more than lakhs books. Many people visit to this place to get the knowledge in abundance. Moreover, especially for the visually challenged people, braille section is also established. It is a modern architectural designed library which attracts the people. On the daily basis many people visit here and gain the knowledge.
1. National Library of India, Kolkata
In this library you will find the largest collection of books which are more than 2 million. There are different languages of books are available like Sindhi, Tamil, Telugu, Gujarati, Hindi, Kannada, Punjabi, Oriya, Kashmiri, Sanskrit, Urdu.  It is established in the year of 1836. Moreover, it is spread in 30 acres.
Ultimately, these are the top 10 biggest and well-constructed libraries of India. You can visit here and read different languages of books.  Moreover, you will get incredible facilities and services during reading the books. These libraries have a large section of books and some of the libraries provides the digitized books to the readers.