Particularly among India's growing vegetarian and vegan populations, tofu has become a popular protein source. Soybeans, the main ingredient in this recipe, are an excellent source of protein, as well as iron and calcium.
In Japan, wherein food is central to both the diet as well as the culture, mastering the art of preparing tofu is an absolute necessity. Tofu has been used for centuries in a wide variety of cuisines around the world due to its adaptability and high protein content.
Tofu can be used in place of meat or other animal products in a variety of recipes, including as a base for creamy salad, dairy-free sweets, thickeners for smoothie, & more. Fresh tofu, typically in block form, can be found frequently in today's supermarkets.
Nevertheless, with so many alternatives, it might be tough to settle on just one for a given dish. This article provides a selected list of the top tofu brands in India to assist you in making this plant-based source of protein a regular part of your diet and cooking routine.
List of Top Tofu Brands In India
1. Desi Treat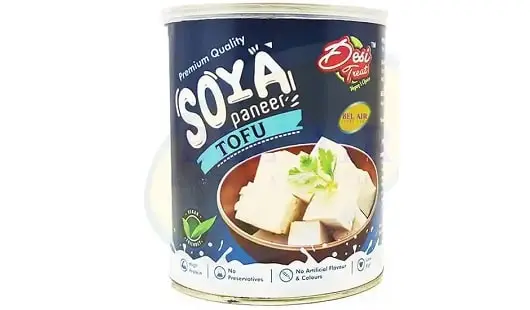 Soya Paneer Tofu from Desi Delight is a protein- and iron-packed vegan option. It goes wonderfully with grilled or barbecued foods. Artificial flavors & preservatives aren't added, and the tofu has a lengthy shelf life.
With so few carbohydrates, the tofu is an excellent choice for anyone trying to cut back on their weight.
It contains nine essential amino acids and a large quantity of protein, plus it's also rich in vitamins and minerals.
Desi Treat's iron-fortified, dairy-free tofu is a delicious and healthy option.
2. Morinaga
Well regarded all over the world, Morinaga's tofu is produced exclusively using non-GMO soybeans. Many different recipes can use it because it comes in different textures.  Because of its high nutrient content, Morinaga tofu is indeed a good option for vegetarians and vegans who want to increase their protein intake.
Morinaga tofu can be kept at room temperature until it is opened.
When making their tofu, the company only uses natural, nutrient-dense ingredients.
Low-fat and healthy, the tofu can be grilled, stir-fried, or sautéed to provide a delicious and nutritious meal.
3. Soyfit Tofu
Soyfit Tofu is offered in a number of different flavors, including Normal, Chili, & Pepper. Cholesterol-free and high in protein, tofu is a nutritious and delicious food option.
Produced from pure, unprocessed soybeans straight from the farm, this tofu contains no additives whatsoever.
Those who are trying to cut down on their dairy consumption will find this product to be a good option.
The product is also quite tasty, which will make you want more of it.
4. Nutra Vita
Nutra Vita Frozen Dried Tofu gets its protein content from the soy milk that it utilizes for production. It is naturally gluten-free, calorie- and fat-free, and rich in healthy minerals like calcium and iron. Phosphorus, selenium, & manganese are just a few of the nutrients that may be found in this tasty treat.
Nutri Vita's ready-to-eat tofu can be enjoyed as is or incorporated into other recipes.
This aids in weight loss and prevents obesity because it contains so little fat and cholesterol.
Because of its minimal fat and calorie content, it makes for a healthy addition to a diabetic's diet.
You can rest assured that you are having a nutritious meal when you choose Nutra Vita Tofu because it has high levels of iron, calcium, & protein. Several vitamins, minerals, & antioxidants included in tofu products also aid the body's defense mechanisms.
5. Hello Tempayy
There are 36 g of healthy protein in Hey Tempayy. It's a complete protein that includes all 9 essential amino acids. Tofu is a great option if you're looking to add some natural protein to your diet without consuming any gluten or dairy. None of the tofu we sell has any artificial flavors or preservatives.
Around 30% of the daily iron and B-12 requirements are met by only one serving of Hello Tempayy.
Good for your digestion and it helps you control your hunger by keeping you fuller for longer.
The tofu is easy on the digestive system and great for the stomach.
Supplemental micronutrients added
It is appropriate for Keto diet
It is Vegan and vegetarian friendly; no gluten or dairy
6. Urban Platter
High-quality vegetable protein is packed into every bite of Urban Platter Frozen Dried Soft Tofu. This dry tofu powder is great for people on the go because it doesn't require any water to prepare. Given its extended storage life compared to fresh tofu, dried tofu can be stored away for later use. It's a great option for people watching their sugar or calorie intake.
Sauces, marinades, & spices can be easily absorbed by the tofu.
The mushy tofu is easily prepared via boiling, sautéing, or frying.
It adds variety, flavor, and health benefits to dishes of any preparation method.
7.Pankti
Pankti Nutrition provides a variety of fantastic tofu options. Its frozen-dried tofu squares are made to the highest standards by skilled artisans. Their tofu products make it easy to prepare a nutritious dinner.
Since tofu is rich in protein, it helps skin stay supple and can tone facial muscles.
Reduces body fat and postpones ageing.
And its chock full of other vitamins, minerals, & antioxidants that do the same thing for your immune system as well!
8. Posh Flavors
Posh Flavors is well-known for its delicious and healthy tofu products. Their selection of tofu goods includes nigari, coagulant, and silken tofu. Each sachet is good for preparing two liter of soy milk into delicious, luscious, and smooth tofu.
Tofu is noticeably softer and smoother than before.
All-natural, non-genetically-modified tofu is a good choice for vegetarians.
And it may be used to prepare meals that are both tasty and healthy.
9. Prevo
Veganism as well as the natural foods trend both contributed to tofu's meteoric rise in mainstream favour. As more and more people got aware of the health benefits of tofu, Prevo began offering a wide selection of tofu products for sale. It is an Indian tofu product that doesn't require any preparation before consumption. The tofu's rich flavor will tantalize your taste buds.
They are made using soy from farms not verified as producing GMOs
Prevo's tofu is devoid of artificial flavors and preservatives and packed with plant-based protein.
It's all-natural, free from gluten, and keeps in the fridge for a month.
10. Sana Vegan
The founders of Sana Vegan set out to fill a need for vegan and dairy-free dining options. All-natural ingredients including soy, coconut, and various nuts and seeds go into making their tofu taste light and airy. One can include these nutritious plant foods in your normal diet. They're full of calcium and protein.
Tofu by Sana Vegan is made with fresh soy milk.
This tofu is made in a way that is both environmentally and morally responsible.
The texture is smooth, and it's packed with nutrients.
Conclusion
The investigation to conclude that Desi Treat, Morinaga, & Soyfit are the best tofu companies in India. Each of these manufacturers provides healthy and tasty tofu options for those who are vegan or vegetarian.
When deciding on the top picks for the finest tofu in India, experts took into account not just the quality of the tofu itself but also its flavor, nutritional profile, and whether or not it was made using genetically modified ingredients.