Stockings once used to be hidden away, forgotten in the depths of our closets. But hey, times have changed, haven't they? Today, stockings have made a significant fashion comeback. Now they have found a spot in almost every modern Indian woman's wardrobe, not just because they're practical in our ever-changing weather, but also because they tie your outfit together with a nice little bow of style and class.
Navigating the bustling Indian hosiery market can be a bit like trying to find a needle in a haystack. But no worries, we've got your back. We've searched high and low to bring you the top 10 stocking brands in India that are currently setting trends. From brands that have been around so long they're practically an integral part of the industry, to new brands shaking up the fashion scene, we've got them all in one place to help you make an informed decision. So, let's cut to the chase and get into the good stuff!
List of Top Stockings Brands In India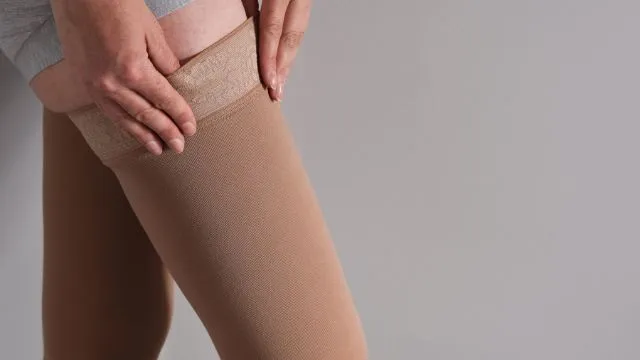 1. SPANX
The genius behind this revolutionary brand is Sara Blakely, whose personal endeavor to create a seamless look beneath white trousers led to the birth of SPANX. This innovation didn't only revolutionize her wardrobe but made waves in the way women worldwide appreciate undergarments. SPANX's tale is as unparalleled as the brand it represents. Today, SPANX has flourished into an extensive array of products, transcending the realm of hosiery. This versatile brand now prides itself on a broad lineup that includes bras, underwear, leggings, and activewear, catering to every facet of a woman's wardrobe. Sara Blakely's remarkable journey didn't go unnoticed. Her exceptional leadership earned her recognition as the world's youngest self-made female billionaire in 2012, and a spot on TIME's esteemed list of 100 Most Influential People.
2. Wolford
Originating in Austria in 1949, Wolford has risen as a dominant force in the sphere of exquisite hosiery. Their unwavering commitment to quality has led to them becoming synonymous with luxurious tights that seize the senses. With a plethora of styles, from classic jet-black to tantalizing sheer, from sophisticated opaques to fascinating prints and flesh tones, there's a Wolford stocking for every occasion. Through each stitch, their dedication to impeccable design and flawless craftsmanship guarantees an extraordinary fit and undeniable comfort. With a seamless finish, their products enhance the wearer's natural beauty and extend to approximately 60 countries, including India.
3. Natori
Immerse in an elegant and sophisticated realm with Natori, a leading women's fashion brand that sprung from the vibrant streets of New York City. Celebrated for their flawless craftsmanship and meticulous attention to detail, Natori has emerged as a symbol of high-end fashion. Among their exceptional array of products, their stockings are the embodiment of fashion-meets-functionality. Behind Natori's success stands visionary entrepreneur Josie Natori. From her prosperous career in investment banking, she transitioned to fulfill her childhood dream of stepping into the fashion world. With an invincible spirit and keen eye for beauty, she birthed Natori, a brand that exudes sophistication and empowers women to discover their inner elegance.
4. Falke
For over a hundred years, Falke has been recognized for its exquisite craftsmanship and passion for fashion. Established in 1895 as a family enterprise, this renowned brand has won the hearts of discerning individuals globally, including India. Falke distinguishes itself by merging high-quality materials, meticulous attention to detail, and a distinctive vision that celebrates personal identity. In a world where anonymity often prevails, Falke encourages individuals to showcase their unique personalities and preferences through their choice of clothing. Falke's offerings include a wide array of meticulously crafted products. From sweaters to bodies, and from fine tights to the epitome of sophistication, stockings, Falke delivers on its promise of excellence.
5. Fogal
Founded by the visionary Mr. Leon Fogal in Switzerland, this iconic brand redefined legwear by incorporating lavish materials such as cashmere and silk, taking stockings to the next level of luxury. With their unwavering dedication to innovation, showcasing a mesmerizing array of designs, and an extensive palette of colors that seize the senses, Fogal has found its deserved place among the best in the legwear industry. Despite humble beginnings, Fogal quickly achieved international recognition.
6. Gucci
With a gamut of products from sought-after handbags to trendy clothes and shoes, Gucci also steals the spotlight with its range of stunning legwear. Far more than just accessories, Gucci's stockings are an expression of pure class and style. Crafted meticulously, every pair boasts a unique mix of comfort, durability, and aesthetic appeal. The moment you don a pair of Gucci stockings, you're wrapped in luxury, promising a seamless blend of style and comfort throughout the day. Gucci's legendary black stockings deserve a special mention, they're an emblem of the brand's commitment to versatility.
7. Calzedonia
When it comes to hosiery, Calzedonia reigns supreme for its outstanding quality, innovative designs, and international appeal. Calzedonia Group, the powerhouse behind the brand, ensures brilliance at every stage, from careful design to flawless distribution. Boasting a varied range of single-brand stores globally, Calzedonia has successfully made its mark in 55 countries, including the vibrant Indian market. Catering to both basic and fashion-forward needs, Calzedonia offers a comprehensive range of hosiery products. For glam seekers, Calzedonia's rhinestone-embellished stockings are the definition of elegance and sophistication.
8. Swedish Stockings
Pioneering eco-friendly legwear, Swedish Stockings is determined to address the massive amount of tights discarded into landfills. In a world dominated by fast fashion, Swedish Stockings takes a stand, urging customers to support conscious consumption and durability over disposability. Their expansive collection caters to modern women's diverse preferences, offering a vibrant color palette that perfectly complements any outfit, while their imaginative designs add a playful touch to every step. By focusing on durability, the brand rethinks the concept of hosiery longevity.
9. Skims
Launched by the visionary Kim Kardashian, Skims, an American clothing brand, has shaken up the industry, merging style, body positivity, and inclusivity. This brand isn't just about fashion, it's a movement that celebrates every body type and empowers people to feel confident in their own skin. With a steadfast commitment to inclusivity, Skims offers a wide range of sizes, making sure no one is left out. It's a brand that grasps the essence of embracing diversity and making fashion available to everyone. When it comes to stockings, Skims brings its A-game. Their diverse collections encompass not just stockings, but a broad spectrum of apparel, including shapewear, lingerie, and loungewear.
10. Hanesbrands
With a diverse suite of popular brands, including Hanes and Maidenform, Hanesbrands continues to redefine the idea of comfort and style. Beyond its American roots, Hanesbrands has spread its wings to the global market, reaching various corners of the world, including Europe and India's enchanting markets. What sets Hanesbrands apart from the competition is its unprecedented success in the stockings category. Cherished by fashion lovers not only in India but also across European markets, Hanes has emerged as a favorite and sought-after brand. This recognition is a tribute to the superior quality, flawless craftsmanship, and irresistible charm that defines Hanes stockings.
Conclusion
All in all, finding the perfect pair of stockings isn't just about looking good. It's about finding a way to express yourself, your requirements, and your distinct sense of style. Remember, in the world of fashion, you're not just sporting a brand, you're sporting a statement. After all, you're not just wearing stockings, you're wearing an extension of your personality!