Are you a fellow motorcycle enthusiast? Are you searching for a new bike but worried about the price? Well, worry no more because we have the perfect solution for you – the Bajaj Pulsar NS200! This fantastic motorcycle offers riders a thrilling, high-performance experience that won't break the bank. So, fasten your belts and let's get into it!! In this blog, we will explore why the Pulsar NS200 price is worth every penny.
Bajaj Pulsar NS200 Price: An Overview
The Pulsar NS200 is a motorcycle that delivers an exceptional riding experience at an unbeatable price. Since purchasing a bike is a significant investment, you want to ensure you get the best value. Regarding motorcycles, you want something that will offer a high return on investment. And that is where the Bajaj Pulsar NS200 comes in. With its 200cc engine and energetic performance, this bike is built to thrill. But what sets it apart from the competition is its affordability. It flaunts top-notch features and outstanding performance. The Pulsar NS200 price will not break the bank.
The new upgrade also comes with USD front forks & dual-channel ABS.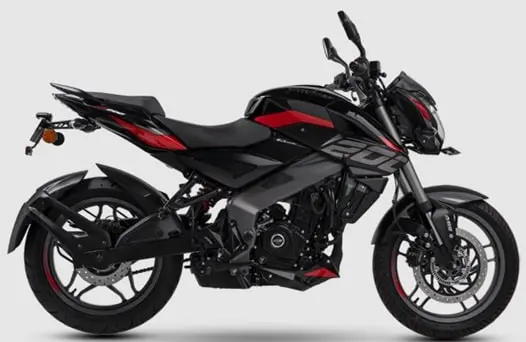 Image source: Bajaj
The Pulsar NS200 boasts a liquid-cooled engine that delivers a whopping 24.5 PS, making it one of the most robust bikes in its category. And with a top speed, this bike will get your heart racing. But it is not just about speed – the Pulsar NS200 also comes equipped with many other features that make it an all-around impressive machine. This bike is built for performance and comfort with its upside-down fork suspension in the front and nitrox mono-shock suspension in the rear.
Do these exceptional features come at a steep price? No! Despite its impressive specifications, the Pulsar NS200 price is incredibly affordable, making it an excellent option for riders who want a high performance worth the money invested. And when you factor in the bike's minimal maintenance costs and fuel efficiency, it becomes clear that the Pulsar NS200 price is worth your money.
Aspects That Make Pulsar NS200 A Worthy Investment
Unmatched Performance
The Pulsar NS200 is powered by a 4-valve DTS-I FI engine that delivers an impressive torque of 18.74 Nm. An engine mated to a 6-speed gearbox ensures effortless gear shifts. The bike's performance is further enhanced by its perimeter frame, which provides excellent stability and handling at high speeds. The bike also features a nitrox mono-shock suspension system at the rear that offers a comfortable and stable ride.
Innovative Technology

The Pulsar NS200 has various advanced features that enhance its performance and make it stand out. The bike engine ensures better combustion, improving fuel efficiency. The bike has a liquid cooling system that provides optimal engine temperature, even in hot weather conditions. So, no matter how much distance you cover, your bike will not heat down and stop in between. All the features make it one of the best options for daily commuters.
Stylish Design
The Pulsar NS200 is a head-turner with sharp and aggressive styling. The bike features a muscular fuel tank with edgy graphics, an H4 Blue Tinge (12V 55/60W) with an AHO headlamp setup, and a sporty split-seat design that gives it a premium look. The bike also features stylish LED tail lamps and gear-position indicators, providing visibility even in adverse conditions.
Safety Features
Safety is a top priority when riding motorcycles, and the Pulsar NS200 does not disappoint. The bike features a dual-channel ABS that provides powerful disc brake performance, stopping power, even at high speeds and making it safer to ride. Additionally, the bike's headlamps and turn indicators ensure that riders are visible to other drivers on the road.
Value for Money
One of the main reasons the Bajaj Pulsar NS200 price is worth every penny is its excellent value-for-money proposition. The bike offers unmatched performance, innovative technology, and stylish design, all at an extremely competitive price point. Moreover, it requires minimal maintenance, thanks to its reliable and durable components, making it a cost-effective option for motorcycle enthusiasts.
Brand Trust
The Pulsar NS200 comes under the Bajaj Pulsar brand. It has been a well-established motorcycle industry brand for over 75 years. Their bikes are known for their quality, reliability, and affordability, and the Pulsar NS200 is no exception. They have a vast nationwide network of dealerships and service centres, ensuring customers get the best possible after-sales service and support.
Final Thoughts
But you need not take our word for it – the Pulsar NS200 has received excellent reviews from riders and critics alike. With its sophisticated design, powerful engine, and unbeatable Pulsar NS200 Price, it is no wonder this bike has become a fan favourite. The Bajaj Pulsar NS200 price is worth an investment because it offers unmatched performance, cutting-edge technology, stylish design, excellent value for money, and the backing of a trusted brand. So, if you are looking for a bike with it all, the Bajaj Pulsar NS200 is a perfect choice. So why wait? Head to your nearest showroom and ride the Pulsar NS200 today!