Top 10 Best School in Agra
Are you looking for the best schools in Agra? Well, your search ends here. Agra is the home of the variety of schools, colleges, and educational institution. A good educational institution should foster an excellent environment that is required to meet the aptitude development and intellectual pursuits of all students who born to study, to learn, to dream, to fulfill their desires and to blossom into dedicated doctors, excellent engineers, powerful leader and responsible citizen of our country.
Also, it should contribute all their efforts to give its students sound academics to make them physically, mentally and morally fit to become the valuable and responsible citizen of India.
10. Mount Litera Zee School
The school focuses on co-scholastic activities for the over-all development of students. The school conducts the special meeting to analyze the strength and weakness of each and every student and help them to score more marks with less effort. Like other schools, it is enriched with modern infrastructure like the playground, AC room, Sports room, science lab, Library etc.
Contact details
Address
Smt. Savitri Devi Educational Charitable Trust 2, Daya Nagar,
Phone No: 9927050688
8810122333
Website: http://mountlitera.com/
FB URL: https://www.facebook.com/MountLiteraZeeSchool
Twitter: https://twitter.com/Mount_Litera
9. Shemford Futuristc School 
SHEMFORD is unique in its motto & league. The school is mainly focused on Pre-schooling programmes that are comprehensive in its approach. It helps students in accessing healthy provision, hygienic meals, and personalized attention. The school strongly believes in smart work instead of hard work and thus it promotes students to keep on practicing smart tips & techniques to crack any exam easily.
Contact details
Address
Indirapuram, Adjacent Water Tank, Shamshabad Road Agra
Phone no: 9756302222
Website: http://www.shemford.com/
8. Mahi International School
Mahi International School is enriched with experienced teachers, dedicated faculty, and Modern Infrastructure. Students can enjoy a nice learning environment that is good, affirming and supportive. The school conducts special class, remedial class, enrichment class and peer tutoring to enhance learning outcomes. The school focuses more on co-curricular activities and sports activities to make them fit, active and strong enough to face all the challenges in life.
Contact details
Agra-Gwalior Road, NH-3,Tehra,Agra
Phone no: 7535922333
Facebook URL: https://www.facebook/mahischoolagra
Website: http://www.mahischool.ac.in/
7. Tagore Public School
At number 7, we have Tagore public school, which is one of the popular school across Agra.  The school is equipped with several facilities like Smart class, Science lab, Academic departments etc. In this school, each and every student is given an excellent opportunity to engage in activities like Quiz, Spot topics, storytelling, Dramatics, Essay writing, speech, Debates, writing competition, dance completion, Music, NCC, games and lots more. Certificates and gifts are given to deserving students who excelled in sports activities & co-curricular activities with the objective to encourage them to get succeed in all fields.
Contact details
Sewla Sarai Gwalior Road
Agra Uttar Pradesh
Email: vinaytbn@rediffmail.com
Phone: 0562 3267279
Website: http://www.tpsagra.org
6. Simpkins School
Simpkins was established few decades back with the aim of developing great engineers, doctors, and professionals by imparting academic brilliance in their students. The school is committed to providing the best education for all. With sincere dedication and hard work, it has grown into one of the leading educational institutions in Agra. The school strictly follows the CBSE curriculum to maintain the smooth running of its management. The school runs classes from Nursery to Class X11.
Contact details
Maruti Estate,
Bodla Road,
Shahganj,
Agra, U.P – 282010
Phone: +91 – 562 – 6451858, 3290950
E-mail: info@simpkins.co.in
Web: http://www.simpkins.co.in/
5. Radhaballabh Public School
Radhaballah public school is a co-educational English medium school that is affiliated with CBSE. The school is managed by the society of Shri Radhakrishnan samiti.  The school is equipped with smart classes, ventilated lab facility, spacious playground and much more. It is the best CBSE school in Agra that provides quality academics at an affordable price.  Swimming pool, Hostel facility, and gym facilities are not available; however, it promotes physical education like indoor games and dance completion.
Sports and extracurricular activities:
basketball, lawn tennis, swimming, volleyball court, cricket, football, gym
Music, dance, art and craft works
Contact details
Address: Amar Vihar, Dayal Bagh, Agra, Uttar Pradesh 282005
Phone: 0562-2800344
Fax: 0562-2570787
E-mail: pradeep.ssr@gmail.com
4. Sachdeva Millenium school
Sachdeva Millenium school is founded by Professional lawyer Mr. Rajendra Sachdeva in the honor of Late Shri Dhanpat Rai. It is recognized at a state level.  It is committed to provide quality education to students by promoting the nice environment of close cooperation between students and faculty.
Contact details
UNIT-I: 260, Near Ansal Courtyard, Shastripuram Road, Deltora, Agra  (Nursery to XII)
UNIT-II: Shri Gurudwara Dumdama Sahab, Kailashpuri, Agra (Nursery to II)
Email Id: smsagra@yahoo.co.in
Phone No.: 0562-6456992, 6456428, 6456820
Website: http://www.sachdevamillenniumschool.com/
3. Colonels Brightland public school
Colonel Brightland Public school is a Coeducational school affiliated with CBSE. The school aims to provide high-quality education to the poor and students of lower income group. It helps students in achieving their goals without any hassle. The school imparts the smart way of teaching that helps them to excel in all fields. Besides, academics, it focuses on sports, cultural activities, extracurricular activities and much more. If you want to get details about admission fees, vacancy and events details, just visits the official website.
Contact details
Website: http://www.colonelsbrightlandagra.com
Contact Details
Village- Langkawi, Kalal Kheria, Agra, Uttar Pradesh 282006.
Tel: 081263 25444
2. Kendriya Vidhalaya Air Force station Agra
At number 2, we have Kendriya Vidyalaya Air Force station, which is one of the best educational institutions in Agra. The school is enriched with all the essential features required for a well- organized school. It houses art room, activity room, spacious playground, advanced lab facilities, Library and indoor play area. It conducts some special events like parents meeting, personality development program, Annual day etc.  It encourages students to practice sports like lawn tennis, swimming, soccer, table tennis, yoga, and fitness. It promotes co-curricular activities like Arts, music, dance, speech competition and much more.
Contact details
Affiliated Board: CBSE
Website: http://www.kvagra1.edu.in
Contact Details: Idgah Colony, Air Force Station, Agra, Uttar Pradesh 282008.
Tel: 0562 230 1374
1. Delhi Public school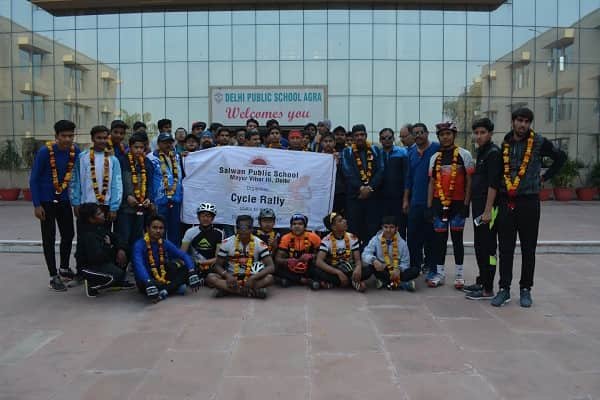 Delhi Public school is a well known educational institution that has branches all over India. It is well organized English medium school that is affiliated with Central board of secondary education. The school was established with the objectives of providing high-quality academics to the needy. It has proven results of excellent academic brilliance. The school was started with few members but it has developed a lot today and spread its wing all over the country.
Contact details
Affiliated Board: CBSE
Website: http://www.dps.ac.in/
Contact Details: E1-2, Block F, Shastri Puram, Agra – 282 007. Tel: 3001300, 9837490000
Such are the top 10 best schools in Agra to choose from. Choose the best schools that provide valuable education to your kids.