Indian ethnic wear is famous across the globe, especially Indian suits without which any woman across the globe cannot feel complete while dressing in an Indian style. In earlier days. Salwar suits were considered a dress for unmarried and young girls but later due to designers inclination to offer something unique these are gaining popularity.The stylish suits are available in various styles and designs .These a variety of suits are suitable for every body type, whether you are tall,short, slim or heavy .The look of the suits can be enhanced with stylish Salwars when combined with it to get the unique and stylish look effortlessly.
Here are some of the best stylish suites, which are in trend nowadays and huge demand among the ladies of every age in the country and across the globe too. Let's understand about them in detailed so that you can select the best one according to your body type and preference.
16. Patiala Salwars
These Salwars were originally from Punjab State but later moved to dressing by other state women too. In these types of Salwars numerous number of pleats which starts from the waists and end till cuffs. To design such type of Salwars you need lengthy material and it provides easy movement while wearing the Suit throughout the day.
15. Harem Salwars
People usually get confused between Harem pants and Aladdin style pants. Harem pants are comfortable to wear and look airy. These styles of pants look great on women with height and perfectly shaped figure.
14. Afghani Salwar
These are balloon styled pants with cuffs at the end .The name of the Salwar are inspired from Afghanistan and it has pleats which are narrow in look in comparison to normal Salwar.
13. Aladdin Salwar
These Salwars are best suited for young girls who want to get the Indo –Western look. The slit at the end of the Salwar gives a stylish and fashionable look. Earlier these types of Salwars were worn during the Arabian Nights shows, but now loved by women across the country. These types of Salwars have the layers at the end which are easy to carry and attract the mass a lot.
12. Dhoti Salwar Style suit
Dhoti, a word which you can relate with men dressing brings confusion how it can be a dressing for women too. The latest Dhoti styled suits look stylish and give you a latest fashion feel too. The dhoti Salwar has numerous U-Shaped pleats which originate from the front and move to backward direction. The dhoti styled Salwar is in slanted shape which makes it a perfect wear for summers and provides freedom while walking.
11. Churidar Salwar
It is one of the traditional styled suits which are loved by women of every age and size. Such style of suits are available in a variety of fabrics , colors and designs .If you want to flaunt your perfectly figured legs, then such styled of suits are best suited for you. The latest styled of Churidaar have minimum pleats which are easy to wear.
10. Printed Salwars
Simple yet attractive, these Salwars is loved by Women from every corner of the country. Available in Multi colors can be easily coordinated with any type of Kurti. You and wear it with Short length Kurti to get perfect look.
9. Jeans
Ladies love to wear Jeans with Kurtis to get a casual look for regular working day .It can be college or office wear too.
8. Leggings
Aww the most popular and comfortable wear for women .It can be worn for any type of occasion or season to get an easy outgoing, casual look. These are ready made pants made up of a comfortable fabric easily available in various sizes to choose.
7. Treggings
A comfortable form of Pants which is made up of soft fabric to wear throughout the day. You can wear it with Formal Shirts and Kurtis both .It is great in fitting and shift all attention towards your perfectly shaped legs. It is available in various colors and designs which can be perfect for casual and office look both.
6. Jeggings
A fitted type of pants which looks like Jeans but in reality is made up of soft fabric which suits every season too.
5. Designer Salwars
If you want to make a style statement and stand out of the crowd, then you should definitely look for Designer Salwars. Ready-made Salwars are available in the market or you can get it done by a famous Boutique in your area for the special day.
4. Parallel Salwars
Don't get confused between the Palazzo and Parallel there is a slight different between both which change the look completely. These are narrow at the bottom in comparison to Palazzos and have straight edges too. You can combine it with floor length Kurtis to get attractive look.
3. Cigarette Pants
Such type of Salwars is loved by Women and is narrow at the end fitted to the legs to get attractive look. These Pants are loved by young girls and college going teens too. You will find various options available in the market different prints, colors that can be combined with Kurtis easily. It is perfect styled for every body type women.
2. Skirts
Skirts were popular among the girls in earlier days, but nowadays women love to wear it with long Kurtis to get fashionable look. You can wear it with crop top too, if you want to flaunt your curves. Perfectly suitable for both short and tall height girls both.
1. Palazzo styled Salwars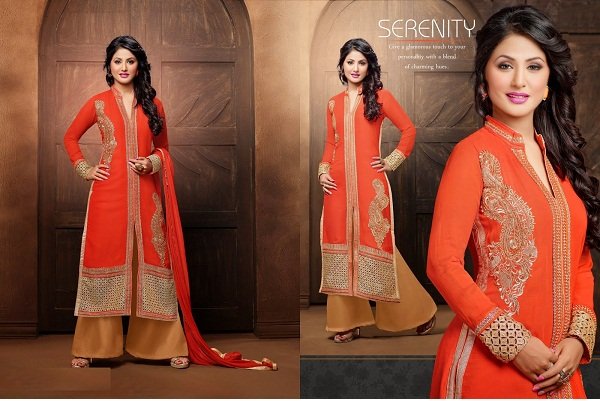 These are latest styled Salwars which are quite popular among the ladies nowadays. Such style of Salwars is worn with long Kurtis with long slits to get a perfect look. The width of the Palazzo varies according to your comfort look. If you are comfortable wearing wide width Palazzo it gives perfect look for any type of occasion. It looks graceful on women of any age and body type. If you have a heavy lower body, then you should definitely try this Salwar as it removes the attention from lower body to upper assets of your body.