India is a land of music and from contemporary to modern rock bands; India is a mixture of all the greatest level singers and music composers. Hard rock, soft rock, rock and roll, etc. are some of the many musical styles that are preferred by Indian musicians and many have brought their music to the main stream of music. Electric guitar, dholak, violin, etc. are some of the instruments, which are used by the famous Indian bands. Indian Rock band is the first band from India who was selected for the Grammy Awards. Many have interlinked their music to the international arena.
Some of the best rock bands of India are listed as under:
10. Indian Ocean (Delhi)
This is a contemporary rock band from the capital city of Delhi. This band comprises of Indian fusion, Indian, rock, jazz and music from different genres of music. Indian Ocean band has performed many stage shows all over the world and it is one of the famous rock bands of India. The last performance of Indian Ocean was in Pune in 2011. Five boys are in the band and they are known to play different instruments, which is a fusion of modern and classical.
9. Avial(Kerala)
Avial is a dish from South India and this band from South India is a mix of native folk song and Alternative rock. This is the first native language band and it is a first Malayalam band. They are known for their Carnatic music and the use of their own instruments to create music, which is soft, and at the same time, very intriguing. The last album of Avial was released in the year 2011 and now, they are in the preparation of their next album, which will release soon.
8. Parikrama
Parikrama, who is 25 years old and is getting better with each day, is the best rock and roll band that India has. They believe in rock and mixture of soft and hard rock. Parikrama is the best band to watch live in India and the classic rock performed by this band is something that is hard to match up with. This band has young and aged musicians alike and they use all kinds of instruments.
7. Soulmate
This band is all about the old school blues and the classic music that makes the heart filled with soulful melody. This is one of the classiest band that India has ever seen. Soulmate is from Meghalaya, Shillong and this is the only band in India that performs blues music. The music of this band is beautiful and filled with happiness. Soulmate was the only band to have represented India in International Blues Challenge, America.
6. Agnee
Agnee was formed in the year 2006 and this is the only band that got a chance to crack a contract with Sony BMG. This band makes music, which is a mixture of Carnatic and Hindustani classical and makes the best contemporary music that India can ever get. This band has also done in the mainstream music with the film Cocktail. Electric guitar is the main instrument that is used in the band, which is soft, and at the same time, it is used to produce hard music.
5. Cassini's Division
If you are someone who is a passionate of meaningful lyrics, then this is the best band for you. This is a funky rock band in India with all the lyrics made in the funky style. This band is from Calcutta and it is a finest funk rock band with all the musicians even dressed in a funk style. They were the three finalists in Channel V Launchpad in the year 2009. They are interested in making music and moves to different places just to make music.
4. Underground Authority
All of the lyrics of this band are politically charged and this band is a mixture of rap, reggae and rap rock. All of the lyrics used in the band are somewhat of a sort of rebellion and these depict the times of war in Calcutta. The Underground Authority showed their talent in India Got talent and they were the Hornbill winners. This is a band of four boys and they make and play music together.
3. Inner Sanctum
This is Bangalore's Thrash metal band and they have won many awards until date. They were the winners of Daniel's Rock Award, Levi Band of the year, etc. Their songs have been updated in the Rock Street Journal's Top 10 as all of their songs are full of rock and hip-hop songs. They opened up Metallic in the year 2011.
2. Fossils
The Bangla Rock music has been shaped with the help of Fossils band. They are the Gods of Bengal and they are the national award winners. Not just Bangla but people from the rest of India are also interested in their music. The band rocked in Pune in NH7 Weekender, 2015. Their songs are mostly based in the songs of Bangla and their lyrics.
1. Papon and East India Company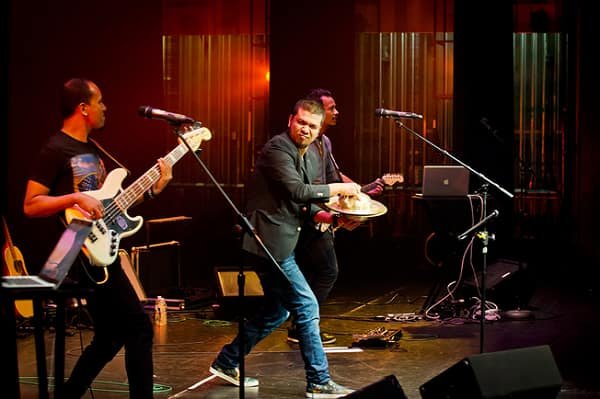 This band was based in Delhi and they currently reside in Mumbai. It is an electric Folk fusion band with Papon as the lead singer of the band. They have done major shows in Northeast India. In addition,they have rocked the Dubai World Music Festival.
These are some of the best bands of India. Feel the music in their hearts!