The nutritional benefits of the mustard seed are captured in the oil extract. It's one of the healthiest oils around, and it adds a wonderful aroma and flavor to any dish. This oil is a powerful natural stimulant that goes well with Indian cooking techniques, cuisine, and way of life.
It encourages the production of bile and spleen fluids, which aids digestion and increases appetite. The experts here have done the research to ensure that you only get information about the best mustard oil brands. Check out the enumerated options of best mustard oil brands below:
List of Top Mustard Oil Brands in India
1. Fortune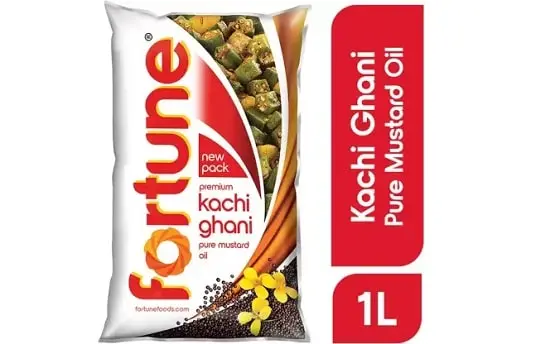 Fortune Kachi Ghani, Adani Wilmar's flagship name of edible oil, is the authentic and flavorful best mustard oil label in India. Adani Wilmar serves as a food processing firm that has been around since 1999, and it is well-known for providing high-quality oil, processed meals, and ready-to-cook goods. Mustard oil gets its distinctive flavor and pungent perfume from the first pressing of seeds.
These are FSSAI-approved and certified to be completely vegetarian, and they really bring out the flavor in anything you're cooking. Fortune is a widely-used brand that can be found in any supermarket, grocery store, or online shop, and it will give your food a fantastic flavor and aroma.
2. Patanjali
The most effective mustard oil you can use for cooking comes from Baba Ramdev's Patanjali, and it comes in a 1 liter pet bottle with a dark amber color and bears the same brand name.
Mustard oil is extracted in kohlus using only the highest quality mustard seeds grown in the country, guaranteeing delicious results in any recipe. Careful crushing of the seeds at a low temperature preserves all their natural characteristics, including the antioxidants and other important oils.
3. Dhara
Mother Dairy, a division of (NDDB), produces the edible oil brand Dhara. In India, it is the third most popular brand of edible oil, according to a trusted adviser. Mothers have relied on it for over eight decades since it is the purest and highest-quality product available. It has rebranded itself and updated its packaging over the years to give off an upscale impression.
4. Emami
Mustard oil's purity and authenticity can be determined by its "Dhaans" (Pungency and Aroma). Emami Kachchi Ghani is famous for its 'dhaans' because it is produced using only the highest-quality, hand-selected Rajasthani mustard seeds and a special European first-press method that helps preserve its natural purity, aroma, and pungent flavor. It's high in antioxidant vitamins A, D, and E and has no cholesterol or trans fats.
The Gold Standard for Extremely Potent and Unadulterated Flavor! Emami's Kachchi Ghani is cold pressed to preserve its natural antioxidants, robust flavor, and aromatics. With the help of Emami's Mustard Oil, you may cook dishes that taste "just like your grandmother used to make."
It has the ideal ratio of omega-3 to omega-6 fatty acids, which is important for optimal health. You'll want to stock up on this Mustard Oil for all the good it does in the kitchen, from promoting healthy cholesterol levels to easing digestion. Emami Mustard Oil is great for daily usage because to its high smoke point and adaptability to a wide variety of meals.
5. Dabur
Dabur, India's largest producer of natural healthcare & Ayurvedic products joined the edible oil market in September 2020, quickly becoming one of the country's most prominent producers. Offering high-quality cold-pressed mustard oil, it has quickly become one of India's most popular mustard oil producers.
It's a major player in the consumer goods industry, ranking fourth overall, and it sells a lot more than just oils. In a nutshell, it's the answer to all your grocery shopping problems.
6. Sundrop
When you think of excellent mustard oil brand, Sundrop SuperLite is their best mustard oil since its 100% refined oil. It has built up a sizable following of dedicated buyers. Up to 50% of your daily value of vitamins A and D are included. Your family can eat well and have more energy when you cook with Sundrop SuperLite.
Unsaturated fats are abundant in Sundrop SuperLite. It's a good source of Omega-6, a vital fatty acid necessary for normal bodily function, and natural vitamin E.
7. Engine
The Engine brand of mustard oil produced by Hari Oil Mill is both an enduring industry mainstay and the finest of its kind in India. Since its founding in 1959, this Indian edible oil manufacturer with ISO9001:2008 certification has been providing excellent goods.
Commonly used in the kitchen, this mustard oil is actually high-quality Agmark oil known as grade-1 oil. The Engine label has been reliable for 62 years because of the high quality standards it maintains.
They are a well-known, established brand that can be found in both urban and rural areas of India, in shops large and small. It's fantastic for relieving a stuffy nose and as massage oil.
8. Nature Fresh
The philosophy of the NatureFresh brand is to provide you the "best of nature." Using NatureFresh mustard oil will aid you in your efforts to maintain an active lifestyle and eat healthily. Their expertise lies in locating the highest-quality seeds, processing them in such a way as to keep all of nature's beneficial properties, and packaging them so that they remain fresh until the moment of consumption.
Its mustard oil is extracted from the finest mustard seeds, allowing the natural flavor and aroma to enhance any dish.
9. Pure & Sure
Since its inception 20 years ago, the Pure & Sure brand has been revered for the reliability and consistency of its products. It's a company that promotes sustainable agriculture and makes it easier for consumers to lead balanced, healthy lifestyles.
P&S provides fresh, natural, organic foods that are grown without the use of synthetic pesticides, herbicides, or fertilizers. If you cook regularly, this is the brand you should get.
Made from only the highest quality mustard seeds and cold-pressed to preserve its natural goodness, this oil is chemical- and GMO-free and a model of purity.
It's fragrant, nutrient-dense oil that does anything from boost hair growth and reduce skin infections to make meals taste better.
10. Himalayan mustard oil
Himalayan brand has been producing high-quality yellow mustard oil for the past 48 years. Every drop of the Himalayan mustard oil is a guarantee of good health. Mustard seeds of the highest grade are collected from all around the country and then cold pressed and refined. The quality of these cooking oils is monitored by modern laboratories.
When compared to conventional mustard oil, this yellow variety is mellower in flavor. They stand out due to their thin build and striking pale hue. This non-refined, high-quality frying oil is suitable for everyday use. No artificial flavors or preservatives are used in its production.
Conclusion
The oil extracted from mustard seeds is 100% natural and has several useful properties. It is amongst the most widely used oils and may be found in almost any home. All of the above-mentioned brands are excellent choices for mustard oil. Mustard oils from Dabur, Patanjali, and Fortune etc listed above are expert's favorites because of their high quality, low cost, and widespread availability.