Mosquito bites are a big concern for the people of India. Indian population has been using mosquito sprays for a few years. A mosquito spray is a chemical that discourages mosquitoes and prevents them from climbing or landing on any surface. In India, some people call the mosquito sprays as 'bug spray.' It can be applied to the clothing, skin, floors, or any other surfaces. Mosquito sprays help control the outbreak of mosquito-borne diseases such as malaria, dengue fever, West Nile fever, Lyme disease, etc. These diseases start spreading after the arrival of the Monsoon season in India. The mosquito sprays not only keeps away the mosquitoes but also prevents us from flies, fleas, or other insects.
The mosquito sprays consist of an active, an inert, or inactive ingredients. The active ingredients are primarily responsible for the spray's usefulness, i.e., it discourages the mosquito attacks on the sprayed surface, i.e., human skin or clothing. The inactive or inert ingredients are not chemically active. The inactive ingredients are added in the spray to perform different functions, such as adding fragrances to the spray. DEET is an active ingredient that is used in most of the mosquito sprays.
Mosquito sprays are available as lotions, sticks, oils, sprays, or creams and can be applied directly onto the skin. In India, various substances have been used to repel mosquitoes; it includes tar, smoke, mud, and some oils that are derived from plants- cedar, citronella, peppermint, and geranium.
Best Buy Mosquito Sprays Online In India
Below, we have given you a list of some of the best mosquito sprays that are available in the Indian market. You can go through each one of them and purchase the mosquito spray of your choice.
1. HIT Mosquito and Fly Killer Spray
This spray flying mosquito and insect killer made by HIT is an effective mosquito killer that is also eligible for killing flies and some insects. You can keep your houses insect-free by using this spray. This spray comes with an in-built nozzle that can easily reach every corner of your home to kill the hidden disease-causing insects.
The HIT spray has a lime fragrance and has no foul smell in it. By killing the flies and mosquitoes, you protect yourself and your family members from some of the harmful diseases caused by them, such as dengue, malaria, or chikungunya. This product can be used ideally on a daily basis; you can use this spray below your beds, sofas, inside the toilets, or behind the curtains of your rooms, Mosquitoes, and flies hide in these places.
This spray can be used easily by almost everyone. It also comes in a metal container, which keeps the product to last for a more extended period. The metal container is not easy to break even if it falls on the floor.
Pros:
The spray is easy to use.
The spray has 99% effectiveness.
Cons:
The smell of the product is not liked by most of the users.
The liquid leaks from the back of the nozzle while spraying.
2. Godrej HIT Mosquito and Fly Killer Spray
The Godrej HIT mosquito and fly killer spray is one of the well-known sprays in India. It can kill the dangerous disease-causing mosquitoes that keep hiding inside the corners of your home. It can also kill flies along with mosquitoes.
Mosquitoes and flies are the most common insects in Indian households. Both of them cause some of the life-threatening diseases. Therefore it becomes very crucial to protect ourselves from them. This spray is also known as Kala HIT by its users. It is not made up of any organic product. Hence, it is advised to keep these sprays away from the reach of children.
The Kala HIT spray effectively kills all the flying insects. This spray comes with a slight lime fragrance for people who do not like the smells of mosquito sprays; this makes this product popular among its users.
Pros:
The spray is handy and instantly kills the mosquitoes and other insects.
The mechanism of the spray is quite appreciative.
It is easy to use.
Some users like the fragrance of the spray.
Cons:
The smell of the spray lasts for a longer time, which may be troublesome for people with respiratory problems.
The spray is not organic.
3. Aromakrafts Natural Mosquito Repellent Room Spray
The Aromakrafts natural mosquito repellent room spray, as the name suggests, is organic. The spray is made using pure essential oils, which makes the spray an eco-friendly product. This spray does not cause any harm to humans. I
It has a long-lasting aroma that keeps the mosquitoes and flies away. You can use this spray in your bedroom without any worries. It is an innovative Bio-safe formula; this unique formula can make the odor of your body to remain undetectable by harmful disease-causing mosquitoes and flies. The does not contain any toxic chemicals or insecticides, including DEET. In some researches, DEET is cancer-causing. Hence, it becomes essential to use the mosquito repellents that are free of DEET.
The Aromakrafts mosquito repellent spray has a mild and sweet fragrance. It has a combination of aroma oils, which lets you sleep peacefully at night.
Pros:
The aroma of the spray is pleasing.
The spray is free from harmful toxic chemicals.
Cons:
The spray does not last for a more extended period.
The effectiveness of the spray is not up to the mark.
The spray has a slow action on mosquitoes.
4. Mortein 2-in-1 All Insect Killer Spray
Mortein 2-in-1 all insect killer spray has a 2-in-1 killer formula. It can be used to dispel the dangerous mosquitoes, cockroaches, or spiders. The spray has a fast-action formula that effectively kills them. The product specifically targets hidden insects.
The Mortein insect killer spray provides a 100% killing guarantee to its users. The spray has a unique multi-purpose nozzle that facilitates 1. Direct spraying on flies and mosquitoes, 2. An easy reach to the hidden cockroaches. The cockroaches reside under the beds, inside the sink or behind the corners of the room.
The spray has a pleasant lime fragrance that also keeps the room fresh. Once the spray is sprayed in the room, it lasts for a long time. It is designed to have a long-lasting result.
Pros:
The product is cost-effective.
It has a fast working formula
The spray can kill both the mosquitoes and cockroaches.
The spray even kills the flying insects.
Cons:
The product comes in less quantity than the one mentioned in the description.
The nozzle is delicate; it can break easily.
Effectiveness is not reviewed well by the customers.
5. Dabur Odomos Naturals Mosquito Repellent Spray
Odomos is a clinically proven brand of mosquito repellent. It offers a high level of protection from mosquitoes. The mosquitoes act as the carriers of some of the deadly viruses. These viruses can cause diseases like chikungunya, dengue, filarial, malaria, encephalitis, etc.
Odomos is clinically tested in certain independent institutes. It has also been certificated as one of the best protectors against mosquito bites. It has an eight-hour lasting effect.
Odomos Naturals come with the goodness of aloe Vera and citronella while Odpmos naturals rose comes with the goodness of roses, its fragrance is appealing to almost everyone.
Odomos is free from toxins/chemical agents; it is one of the safest mosquito repellent available in India. It offers full proof protection to its users. It can even be used during the daytime. The Odomos mosquito repellent has an advanced formula that masks the body odor that is emitted by human skin. Eventually, the mosquitoes will not be able to identify and attack the human skin.
Odomos brand is endorsed by the National Integrated Medical Association (NIMA). NIMA is one of the trusted names in India. The Odomos sprays are safe for children and can be used on babies without any worry.
Pros:
The spray is highly efficient.
Lasts for more than 2 hours when used outdoors.
Cons:
The spray machine does not work well.
For effectiveness, you need to apply a more significant amount of the product.
6. Strategi Herbal Justspray Mosquito Repellent Room Spray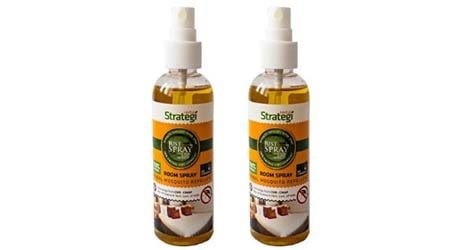 The Strategi herbal just spray mosquito repellent room spray is a 100 percent herbal mosquito repellent. It does not contain any harmful chemicals or toxins and does not have any side effects.
The number of sprays offered in a single bottle is more than sufficient. It can last for more than a month, even if it is used for 2-3 times a day.
This mosquito repellent has natural extracts, and herbal oils, this quality of the product allows it to be used around children. The spray is made specifically from citronella, cedarwood, neem, and lemongrass that ensures a fresh fragrance to its users. The scent makes the environment fresh and allows you to sleep peacefully without worrying about mosquito bites. The effect of this spray can last from 8 to 12 hours.
Indian people love Ayurveda products. The Strategi herbal mosquito repellent spray is an Ayurveda product, which makes it a more reliable and trustable one.
Pros:
Acts both as a repellent and a killer.
It does not contain toxins.
Cons:
The product is quite expensive.
The quality of the product is not reviewed well by its users.
7. The Moms Co. Natural Mosquito Repellent for Babies Spray
Moms co. Natural mosquito repellent for babies is a mosquito repellent that is designed specifically for babies. The spray offers 4-hour lasting protection against mosquitoes. The main constituent of this spray is Soybean oil (4%), which provides long-lasting protection. The customers are advised to reuse this spray after every 2 to 3 hours for the best possible results.
This spray comprises of five kinds of natural oils; they are- Lemongrass oil, Citronella oil, Soybean oil, Cedarwood oil, and Eucalyptus oil. This unique formula can keep your baby safe from fatal diseases such as malaria, filarial, dengue, which is caused by the biting of the mosquitoes.
The Moms co. Mosquito repellent spray does not need to be shaken before use. It is based on plant products and is entirely free from cancer-causing DEET. It also does not contain any alcoholic substances. The spray is even free from sulphates, parabens, DEA/TEA, PEGs, and synthetic fragrances.
This product is Australia-certified. It has minerals and vitamins which hydrates and protects the baby's skin. You do not need to worry about your baby's safety while using this product.
Pros:
The spray is easy to use.
Natural and free from toxins.
The product is non-allergic.
Cons:
It does not work well.
The fragrance is quite strong.
8. Mom & World Baby Mosquito Repellent Room Spray
The mom and world baby mosquito repellent room spray is designed specially to keep your family protected.
Man & World Baby Mosquito Repellent room spray has selected some of the essential oils and combined them to create mosquito repellent spray that is more powerful and safe at the same time.
The essential oils can repel the mosquitoes and hence protect you from some of the life-threatening/ deadly diseases caused by the mosquitoes. The same fragrance that repels mosquitoes is pleasant to humans. It has a blend of aroma which refreshes the air present inside the room.
This mosquito repellent is safe for people of all age groups, including toddlers, adults, or the aged. It is safe to use on pets. The spray keeps the room safe for several hours.
It is an environment-friendly product as it contains plant-derived substances. These substances include some essential oils from – holy basil, citronella, rosemary, lemongrass, eucalyptus, and neem. The product is free from DEET or insecticides that can harm your loved ones.
Pros:
The spray is suitable for outdoors and indoors.
Safe for toddlers and pets.
It is a DEET free product.
The spray is skin-friendly.
Cons:
The spray bottle is designed poorly.
Mosquitoes generate resistance to this product after a few days of spraying.
9. Moskito Safe Natural Mosquito Repellent Body Spray for Kids
The safest natural mosquito repellent body spray is a 100% natural product. It has an Ayurvedic formulation and comes in three different variants- 1. Spray, 2. Patches, 3. Fabric roll on. You can choose anyone out of the above according to your preference.
The spray is free from alcohol and DEET. It comes in a 50 ml bottle (pack of 3). The spray has a blend of natural essential oils- neem, citronella, lemongrass, and eucalyptus. The spray provides 4-hour lasting protection to the users. It can be used at home and outside the home (gardens, balcony, roads, schools, etc.).
The spray is safe for babies, adults, and older people. It is tested dermatologically and can be used on the skin without tension. New users are suggested to do a little patch test on the forearm (especially on the babies) to check for allergies.
Pros:
The product is beneficial.
Good for kids.
The overall quality of the product is excellent.
The product comes in 3 different variants to choose from.
Cons:
The fragrance is quite annoying.
The spray does not last long.
10. Mamaearth Natural Repellent Mosquito Patches
If you are looking for an organic mosquito repellent, then this Mamaearth's natural repellent mosquito patches are made for you. It can be safely used on children as it comprises of Peppermint, Citronella and Eucalyptus oils.
The mama earth's mosquito patches protect for up to 12 hours. It is completely waterproof and is ideal for use during monsoon season. It can be used for outdoor activities such as camping, sports, parks, schools, etc. It is so handy that it can be taken everywhere.
The patches are made using superior quality of adhesive (3m tape), which can be posted almost anywhere. It provides natural protection from malaria, dengue, or chikungunya. The natural constituents in this product enable it to be used on toddlers, as it is completely non-toxic and is free from harmful DEET or other pesticides. It does have any adverse effects, such as skin/eye irritation.
Pros:
It is suitable for outdoor usage as it is waterproof.
The product is not toxic and can be used on babies.
It is made using plant-derived oils.
Cons:
The cost of the product is very high.
The effectiveness of the product is doubtful.
Mosquito Sprays Frequently Asked Questions
Can you use a mosquito spray on cockroaches and other insects?
Some people have a gut feeling that a mosquito spray is effective against killing any kind of insect, but it is not true. These sprays are mainly designed to kill mosquitos where the manufacturer is using a mild poisonous formula that can kill mosquitos. You can try it on cockroaches, and it will not harm them. During the purchase, you can find that few brands claim to provide versatile usability, but the effectiveness is a major issue with them.
How to use a mosquito spray in the kid's room?
Using a mosquito spray in the baby's room is not safe unless you follow the right method. To kill mosquitos, you should spray the mosquito killer and then close the room for a few minutes. Don't allow your baby to get inside and turn on the fan to a slow speed so that the spray disappear in a few hours. Once you have done this, use mosquito net on windows and then get your baby inside. You can try it yourself and check if the spray smell is strong or not. By determining a safe environment, you can get a safe use.
Is it safe to use mosquito spray in the kid's room?
No, mosquito sprays are not safe properly, and you should keep it out of the reach of kids. According to studies conducted in the past five years, most universities find that mosquito sprays are harmful, but they are less harmful than the diseases mosquitos possess. As it has a harmful chemical, it can cause a problem with breathing so you should not allow a baby to nearby the room, where you have sprayed it. The fragrance might seem impressive, but it is definitely a bad choice for the long run.
What are the best mosquito spray manufacturers in India?
After choosing a number of manufacturers based on reputation, safety, formula and effectiveness, you can find a few brands in India which are reliable. You can go with Hit, Mamaearth, Kama Ayurveda Natural Insect spray and Bodyguard Premium Natural are some of the safest brands. You can choose their quality features and get safer use without any problem. Make sure that you choose a well-liked brand to avoid facing a problem with safety. Once you have selected the brand, you can choose the best model.
How much mosquito spray is bad in a medium-sized room?
Mosquito sprays filled in can spray at a higher speed, and it can spread throughout the corners. During the use, you can spray it twice for three on both sides of the room. It will be a better choice to approach corners, curtains, and hidden areas because most of the mosquitos hide in such areas. Spraying in such area will be a safer option and provide the best use without any problem. Make sure that you do not spray it too much and if you do so, then try to stay out of the room for a few minutes.
Conclusion:
There are more than 3000 species of mosquitoes present around the world. However, diseases are transmitted by a few of them. But still, mosquitoes are the topmost diseases spreading creatures of the globe. The mosquitoes can carry bacteria, parasites, and viruses to humans/animals. Yearly, around 700 people get infected from mosquito-borne diseases, which causes the death of approximately one million people.
Some of the diseases that are spread by mosquitoes are West Nile virus, yellow fever, Filaria, Dilofilariasis, Tularemia, Ross river fever, Encephalitis, Zika fever, and the list goes on. The scariest part is that new diseases are borne every year due to mosquitoes.
Mosquitoes are found in almost every region of the world. They only need water to breed and multiply. The mosquitoes can increase in numbers within a short period. Thus, controlling the population of mosquitoes is very tough. The only choice left is to have appropriate preventive measures and get protection from mosquito bites.
Some people prefer using mosquito nets while others rely on mosquito repellent sprays. During ancient times in India, some conventional mosquito repellent techniques were used, such as liquid vaporizers, coils, and mats. The coil burning method is harmful to people who have respiratory illnesses. Some of the mosquito repellent sprays are eco-friendly and are not harmful to humans. Nowadays, mosquito repellent sprays are made using natural/plant-derived ingredients. Even essential oils are added in the mosquito sprays of the modern era. The essential oils not only help in repelling the mosquitoes, but they also provide aromatherapy to the users. Essential oils have several benefits; it freshens the air inside the room.
Indian market is a vast spread, and there are hundreds of options available. Choosing the correct mosquito repellent is difficult, especially if you have children and want an organic mosquito repellent spray. Therefore, we have given the information above to ease your difficulty.
We hope this article helped you to understand the harmful diseases caused by mosquito bites, and now you can select the best mosquito repellent for yourself. Apart from buying the mosquito repellent sprays, we recommend you make sure that there is no water logging near your home; if yes, then immediately drain the dirty water. Preventive steps can protect you and your family from deadly diseases.