Hoverboard is one of the best gadgets and the trending mode for commuting. If you are not clear about what they are actually then let me make you clear that, Hoverboards are the device which is used as a transporter in the flat surface. We have mostly seen it in the movies, they use it to travel from one place to another in big premises and offices. Though some hoverboards were not safe earlier to due to fire and technical issues incurring in it. The technology has crossed limits by developing self-balancing hoverboards where we don't need any handles to balance them. Before purchasing the hoverboard, we should look whether it has got UL 2272 certification.
Besides the aforesaid certification, some of the features like speed, battery life, weight capacity and ease of use are to be considered while selecting the hoverboard. Well in that case, I am writing this article with the list of top 10 hoverboards in India with hoverboards' price depending on sellers and features that will help you to make a worthy choice-
10. Chic Eyourlife Electric Self-Balancing Scooter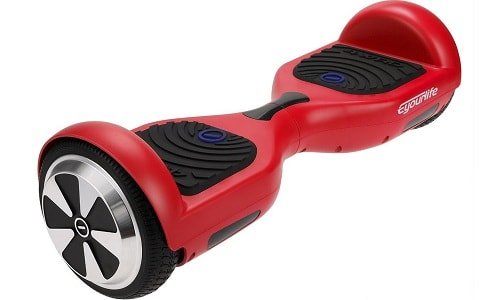 This is a UL 2272 certified hoverboard which makes it sure for us to not worry for safety issues. It is capable to run around 15 Km. in single and full charge with a weight holding about 100 Kg.It is equipped with 500 Watt Motor which is quite energy efficient. The LED Light and the signal light fitted to it gives the additional safety as you can easily ride in dark.
The maximum speed provided by it is 9 km per hour which can be said the slowest of all available in the market. But, at the same time it can be perfect choice if you are planning to buy for your child. It is built with fast charging mechanism which can be charged within 2 hours.
It is one of the affordable device with smooth and efficient mechanism, safety features and all the necessary inputs included. There are no complexities to operate this hoverboard.
Price: Rs. 22,000
9. Swagtron T6 Off-Road Hoverboard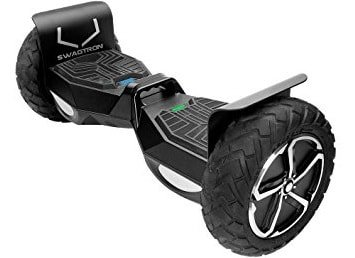 This hoverboard is designed using the rough and tubeless tires, in order to make it suitable to run on any type of terrain. It gives the backup up to 20 Km. in full battery charged state. It can hold massive weight of 190 kg.in compared to another device but it may reduce the maximum speed of the device. It gives the amazing speed 20 Km. per Hour.
Some of the additional and exciting features coming with this hoverboard are Bluetooth, Speakers with Bluetooth Connectivity and it has its own mobile app which displays the battery percentage, speed and you can use it to play music via in-built speakers.
Though it comes with a bit of high price, it's still worth because it is built with good quality of metals, tyre with good grip (non-slippery), dust and water-resistant technology and it uses top technology to make the device easy to operate and effectively self-balancing.
Price: Rs. 32,000
8. Skque Smart Self-Balancing Scooter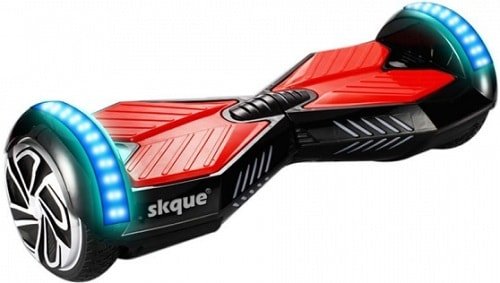 This hoverboard comes with better build quality than its earlier version as the motherboards and the sensors are quite improved. Beside the technical built, it comes with the strong body which gives it more life in terms of the external damage that may occur. The maximum weight that it can hold is 100 kg.with the top speed capacity of 12 km per hours.
It is equipped with 400 Watt Motor which is quite efficient to give the backup up to 20 km. in full charged capacity. Besides these, it comes with Bluetooth Speakers which you can connect to your phone to play music and LED present in it helps to ride it in dark.
In spite of having such features, it has a drawback of battery taking a long time of 5 hours to get charge and lack of battery indicator. It has light weight and the tyre can run in all type of surface but lacks the bumpers.
Price: Rs. 24,000
7. Segway MiniPro
This hoverboard is quite different in terms of looks and the features as it is provided with padded knee are which gives a good comfort level and support during the ride. It is one of the high-tech and leading brand producing self-balancing hoverboards. It can hold 100 kg.weight maximum with a top speed of 16 km. per Hour.
It is equipped with two powerful motors with 400 Watts each giving the device a decent backup of 23 km. in full charge.It has got Bluetooth connectivity and the customized mobile app with lets you to control speed, battery display, remote operations and secure it with anti-theft alarm.
In spite of being one of the most expensive device, people are paying for it due to its features and durability worth.
Price: Rs. 42,000
6. Hoverzon Electric Self-Balancing Scooters

This is one of the lightest hoverboard offering you two different riding modes shifting as per your body weight. It provides zero-degree turning.The prime reason to select this device is the feature and battery life it provides in the reasonable price range. It has maximum capacity to hold 100 kg.weight with the top speed of 13 km per hour.
It is equipped with 250 Watt Motor which is still powerful and efficient enough to give a battery backup up to 18 km. It has got LED to show that the battery is low but it does not have LED light to make ride visible in dark.
It has a special gear stabilization feature which helps to maintain control during the faster ride. You need to be careful just during the charging because the battery may get effected in case of charge more than 4 hours (full charging time).
Price: Rs. 24,500
5. Razor Hovertrax 2.0 Self-Balancing Smart Scooter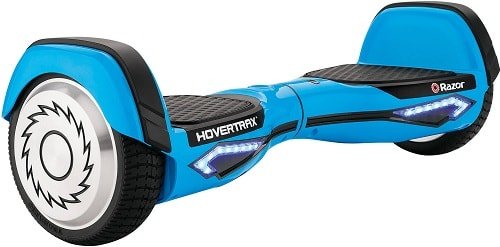 This is one of the highly portable hoverboard as the size it comes slim design and small fit size. In spite of its small size it has not considered with its speed and weight holding capacity.It can hold the maximum weight of 100 Kg. with a speed capacity of 13 km per hour.It is available in black, blue and white colors.
The motor or 350 Watt is accommodated with this device with an efficient mechanism to give a backup up to 13 Km. It is not suitable enough to run in a rough terrain but it claims to be smooth and efficient in the normal terrain.
It offers different compartment battery which you can replace easily after battery being discharged. It lacks the bump support and it cannot be used in grass, mud, etc. all due to its smaller wheels. This device is well suited for kids.
Price: Rs. 31,000
4. Tomoloo Hoverboard with App Support
This hoverboard comes in the category of advanced still cheap hoverboard one as it is capable to be controlled through app. The maximum weight that it can hold is 120 kg. providing the speed of 16 km per Hour. It has 6.5 Inch Wheel with good grip to run on the rough terrain.
It gives the battery backup up to 20 km and you can control speed, see battery percentage, etc. through the app. It has the Bluetooth speakers which can be used to play music from your phone.It also meets with US safety standards UL 2272 and the shell is made with the material to restrain heat fire.
The advanced sensors give it a proper control and it is capable to climb at 20 Degree inclined. The powerful LED gives you to enjoy night hovering.
Price: Rs. 16,000
3. Jetson V8 Self-Balancing Scooter
Here comes the very strong and durable scooter with dual powerful motor of 400 Watt and 8.5 Inch Wheel which makes the device capable to run in the all types of terrain like grass, muddy and rough terrain with self-balancing board.
It can hold 105 kg. weight and give the maximum speed of 16 km. per Hour. It has three different speed modes and it is controllable through Bluetooth Mobile App which also supports battery check, speed check and control. It supports very quick charging and LED head lights with braking back light.
It has independent gyros and zero degrees turns which gives an incredible control this scooter. The metal used to create its framework makes it quite durable device. You can also use it to play music from your phone through Bluetooth speakers.
Price: Rs. 34,000
2. Halo Rover with Sensor Smooth Ride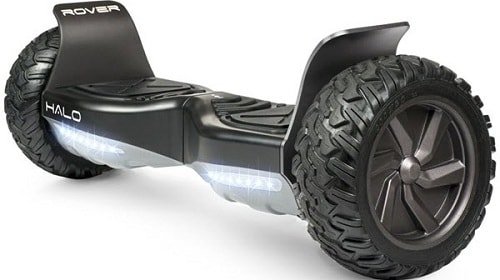 This scooter is made in the way that it can resist the rugged ride offering a lot of advanced feature and best controllable sensors.It can hold the weight up to 120 Kg. allowing the top speed of 16 km. per Hour. The wheel is 8.5 inch which designed such a way that it can resist any type of terrain like mud, sand, rough streets and snow as well.
It is equipped with Bluetooth Speakers and made compatible to use through mobile app from which you can control the features like speed, remaining battery and play music in the in-built speakers. It provides the Fire Safe battery for the protection of battery.
It gives the backup up to 16 km. in full charged condition. The most advanced standard i.e. UL 2272 certifies it to be one of the safest device. You can also use it in different modes like learning mode, normal mode and advanced mode.
Price: Rs. 42,000
1. EPIKGO Self-Balancing Scooter
This comes in the first number due to it versatile nature and strong built capacity with the price it offers the all features. Wheels is made up of with rough design and alloy with 8.5 inches making it capable to run in any types of terrain like mud, sand, snow and rough street. The solid rubber tyre and IP56 rated makes it very durable and water resistance.
The best part about this scooter is that it has passed a number of technical and safety tests which gives us a great assurance for ride. It can ride on inclined place up to 18 degrees. The dual 400 Watt motors with efficient technical built gives a decent battery backup up to 20 Km.
It can hold the weight up to 120 kg. allowing the speed of 16 Km. per Hour. Though it does not provide the Bluetooth connectivity, still I kept it in top position because it gives the best on all the primary requirement for which it is made for.
Price: Rs. 40,000
So, the list of top 10 Hoverboards in India has been covered along with their price. The price may vary depending on the seller. These are the top picks hoverboard with awesome features loaded to it along with the UL 2272 certification for your safety assurance. Keep in tune with us for more such updates on the topics of gadgets and devices.