Top 10 Best Electric Guitars with Price in India 2019
Are You Looking for Best Electric Guitar in India?
When the talk shifts to musical realms, not many can rival the status quo of the guitar. Guitar, the epitome of musical melancholy is something that resonates far and long. It has always been the premier option for many musical enthusiasts and is rightly claimed as the finest musical instrument around.
Guitar itself comes in different variants as the acoustic one, classical ones, and the ever prominent electrical ones. And under these very subordinate, plenty of options floating around in the market. Such extensive availability of options does give you a choice but can also push you into buying a lesser piece of guitar.
We here thought of reaching out into the market and profiling the best guitars around so as to provide with a guideline to the very readers of ours. And rather than just going by on a whole, we decided to look at it one step a time and picked the electric guitar for our first entry.
We looked through the numerous options available around and finally profiled a list of best 10 electric guitars available at present day in India.
So come join in as we present to you the list of 'Top 10 Best Electric Guitar with Price in India 2019.
10. Juarez JRZ-ST01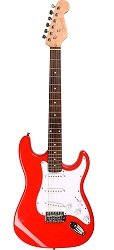 Starting off our list for today is the one from Juarez, a pretty known name in the guitar fraternity. Juarez for years are acclaimed for their budget offerings and have always offered great performing pieces at affordable picks.
This one from them is an entry level offering and provides features on the same. It comes with 6-strings and features right-hand use. It has great looks paired with decent performance. The guitar has linden wood fingerboard and comes with 18 frets.
It has chrome die-cast machine head and features linden binding with geared tuning, wood frame, and steel strings. It has a 38-inch cutaway frame and has nicely fitted wires and strings.
Pros
Decent performance
Great design
Great Value for Money
Cons
Pales up in comparison to other pieces in the list.
9. Gewa Music GmbH Tension E-Guitars Nashville LP Special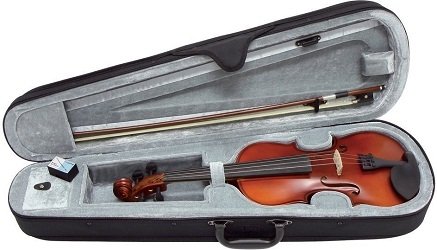 Placed at ninth in our entry for today is the one from Gewa, another pick guitar manufacturer around. They are famed for their affordable range of guitar which at the same time provide optimum performance.
This one from them as a solid basswood body and features 2-way bi-flex truss rod over it. It also has bolt-on maple neck and comes with rosewood fingerboard. The guitar features 22 frets and is pretty medium to large sized.
It has chrome plated hardware diecast and comes with tune-o-matic bridge, 3-way switch, stop-tailpiece and one each of volume control and tone control. The nut width of the guitar is of 43 mm. It is priced at a great entry level range and is a good option to have for those seeking their first steps into the guitar world.
Pros
Decent performance
Great value for money
Chrome plated hardware diecast
Cons
Does fade in comparison to its peers.
8. Vault by Bajaao RG1RW Soloist Electric Guitar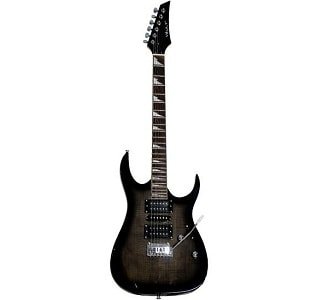 Next up on our list is the one from Bajaao with the Vault Series. This one is a pretty good offering and features great performance basis. It has a great black base as the body color and features basswood body.
It comes with maple neck and has a rosewood fretboard. It has whammy bar and offers HSH pickup. It also comes with double action truss rod and has Seymour Duncan design pickups. The guitar features jumbo frets and has high-quality tuners with it. It is also pretty lightweight in comparison to other options in the market.
Pros
Decent performance
Large frets
Cons
Sound output can be improved
Needs improvement on physical aspects too.
7. Jackson JS Series King JS32

A piece of musical ecstasy, this piece from Jackson is something worth getting for. Adhering to its prominent features and performance, it's not uncommon to see this one as one of the top sellers in Indian guitar market.
This one from them is a six-string piece mainly marketed for the right handed guitarist. The piece comes with polyurethane finish on the front and satin finish on the back line. it has a body made out of basswood. The fret board of the same features jumbo frets with a number up to 24. The neck design of this one is based on speed neck.
It has a premium yet classical feel and offers great sound output. The weight of this one is 7 kg.
Pros
Beautiful Design
Great sound output
Higher number of frets
Cons
Priced too high for the liking.
6. Cort CR230-BK

Placed at sixth on our list is the one from Cort, a fine electrical guitar piece available in the Indian market. This one, CR230-BK model comes with a 6-string base with right-handed support. The guitar has a mahogany body with fretboard made out of rosewood.
The guitar has beautifully placed electric features like push and pulls volume, tone button, 3-way toggle option and more. It has 22 frets carved into it with the larger fret size being 2.7 mm. It also features single cutaway.
Pros
Finely placed electric features
Comfortable to use for
Great sound output
Cons
Could still see some improvements
5. Ibanez GRX 55B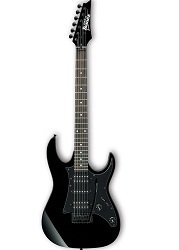 Ibanez, a leading player in the guitar industry comes with this very efficient option. This one from them comes in a right-handed use method and has black night color paved over it. The guitar has a basswood body and comes with particleboard.
The neckline of the guitar has white dot inlay over it and features a body design based on poplar. It has medium frets and comes with standard tremolo bridge on it. It is priced at a very competitive range making it an ideal investment if you're seeking a guitar for yourself or family.
Pros
Fine design
Pretty good performance
Cons
The guitar cable attached with it is pretty small and cheap looking.
4. Fender Squier 0310001506 Bullet Stratocaster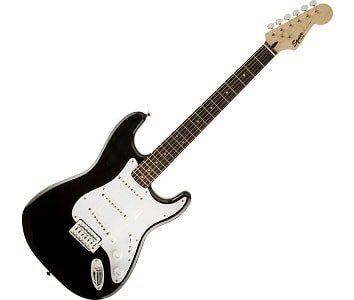 Next up on our list is the one from Fender with its Squier brand piece. The company has been known to offer great electric guitars in the history and continue to do so with this one. This piece from them is a right-handed 6-string guitar featuring a white body color.
The guitar has basswood body and features the neckline of rosewood. It has comfortable bend strings with a 'C' shaped satin. It has 21 medium frets and consists of 9.5 fingerboard radius. It offers pretty good sound output and has dual coil hum bucking pickup located near the tremolo. It's also one of the affordable options around and is preferred by many.
Pros
Basswood body.
Comfortable bend strings
Great sound output
Cons
Could still see further improvements
3. Givson GS 1000

Taking its place on the podium for third place is the Gibson GS 1000, part of the famed Gibson guitar heritage. The guitar is a great piece of offering from Gibson and comes at a greatly affordable price tag making it a viable option for many guitarists around the nation.
It's a 6-string based electric guitar and comes with wooden color as the base. It is right-handed one and features a body of basswood and a neckline of rosewood. The guitar comes equipped with a dimension of 101 x 36 x 6 cm and has a weight of 6 kg. The color for the same is of Sunburst.
Pros
Attractive design
Best budget option.
Fine performance
Cons
Could still see further improvements
2. Yamaha Pacifica012 Electric guitar
Coming in at a close second is the one from Yamaha, the erstwhile top player of the guitar world. They gave long been setting the benchmark in the industry and continues to do so with this one here. Their electric guitars come with great performance and essence of which we'll discuss further.
This piece from them is an electric guitar consisting of 6-strings. The guitar comes in dark blue metallic color and has rosewood body with the neck made up of maple. The fret board for the same is also made from rosewood.
The guitar has a dimension of 108 x 45 x 10 cm and comes at quite an affordable tag. In fact, the price in comparison to the features would make it the best investment you'll ever make in electric guitar.
Pros
Solid body featuring Baathist
Maple neck
Rosewood fingerboard
Cons
The string quality can be improved upon.
1. Epiphone LP Special II LTD Plus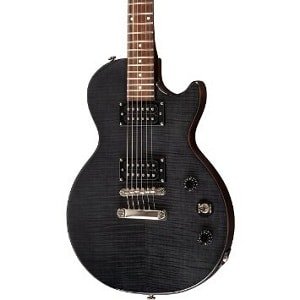 Ever present on our list of best guitars, Epiphone is the one to look forward too. With such extensive product catalog and offerings, it as a stiff task in deciding the best pick for them. But we promised you to deliver one and as such here's the top line electric guitar for Indian guitar enthusiasts.
The guitar was first introduced 20 years ago and still retains its charm till the day. It was inspired by the versions created in the USA and takes quite an inspiration from it. The guitar is a 6-string piece and comes in black satin color. It has amahogany body with a flamed maple body.
It features tone, volume, and 3-way pickup switch. It also features LockTone Tune-O-Matic bridge along with stop bar tailpiece. The product dimension for this one is 5 x 5 x 5 cm and with features a weight of 10 kg. It is also reasonably priced and can be deemed as a fine option to have.
Pros
Great performance
Presence of 3-way pickup switch
Great tone and sound output
Cons
Doesn't come with the cables initially and needs to be bought for.
With so many of these around, it was a tough task picking up the best ones. But we took it upon ourselves to help you around with the best ones and as such put them through rigorous benchmark tests to list them out.
And with that, we came up good with it. We hope, the list helps you around. That's all from us on this one with a promise to be back with another one the next time. Till then, enjoy the melancholy of the guitar.