Men also have a variety of bottom wears, from trousers to office pants, denim to chinos, slim-fits, and many others. Amidst all, chinos are considered the comfiest and lightweight option for day-to-day styling. Basically, Chinos are trousers made using breathable fabric, like cotton. To maintain a causal look, wearing chinos is a smart pick.
Alongside denim and suit trousers, Chinos are a great addition to men's wardrobes. Though styling them with different types of upper wear is easy as they are available in a wide range of colors, sizes, shades and fits. Moreover, they are cost-effective and make you feel comfortable all day long. For those looking for an alternative to formal trousers, there are a variety of chinos to choose from.
To get you out of the dilemma, we have done comprehensive research on the best chinos brands. Scroll down to know which brands are best in India for chinos.
List of Famous Chinos Brands in India
1. Jack and Jones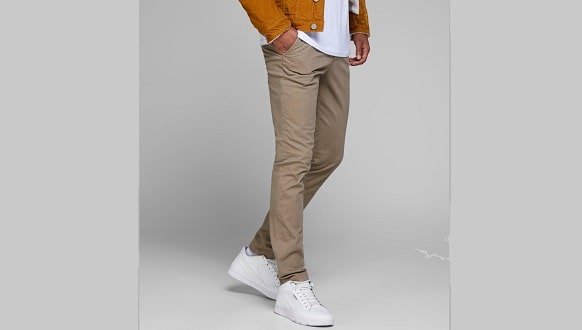 Jack and Jones is considered an affordable brand when it comes to men's clothing. Apart from having an amazing collection of Chinos, this Brand supplies a wide range of accessories and footwear. The Chinos variety by Jack and Jones best suits all men with different body measures. They can be simply a perfect fit because of being comfy and stretchable. Choosing the right one is relatively easy as they are offered in different sizes and shades.
Specifications of Chinos by Jack and Jones:
Use soft, comfortable, and slim-fit material.
Not baggy on the backside.
A vast collection of Chinos.
Affordable Brand as opposed to others.
2. Peter England
Established in 1889 in Ireland, Peter English is a sought-after brand that became the first preference in a significantly less period in India. It has an excellent market reputation because of its quality and originality of fabric. Their clothing variety is true to size, including Chinos. Almost every type of chinos are available at its store, from slim fit to super slim fit. They are made using high-quality spandex. If you are looking for stylish and sleek chinos under different color options, peter England is the only Brand to consider. Most men love spending over the Brand for its excellent quality of Chinos.
Specifications of Chinos by Peter England:
Available in classic colors
Easy to wash
Available in a comprehensive range
3. Tommy Hilfiger
This is one of the most luxurious brands in the world. Since its inception (1985), the Brand has been indulging in meeting the requirement of its clients. If you like classic American Style, don't miss the collection at its store. Speaking of the Chinos collection, they offer an exclusive range of cotton-based chinos, which is free from chemical fertilizers and synthetic substances. Chinos by Tommy Hilfiger are designed using flexible, lightweight cotton fabric, while the use of elastane makes Chinos comfortable and gives an appealing look.
Specifications of Chinos by Tommy Hilfiger:
Chinos are available in different styles, such as slim, cropped or tailored
Chinos are available for all age groups of men.
A great sense of fashion and style has been seen in construction.
Offers formal colors
4. S Polo Assn.
A brand redefining men's fashion, U.S Polo Assn's clothes have become a style statement since their establishment (1890). This men's wear brand produces a wide range of clothing and bottom wear, including Chinos. You will find a colorful and amazing variety at U.S Polo Assn at reasonable prices. For the best excellent quality, you can trust this Brand.  Best of all, they have a variety of affordable chinos trousers, ranging from Rs 1000 to Rs 1500 or more.
Specifications of Chinos by U.S Polo Assn.:
Chinos come in three price ranges: low, medium, and high.
Discounts will be offered during the festive season.
A perfect blend of quality and cost-effectiveness.
5. Marks & Spencer
Introduced in 1884, Marks & Spencer presents elegance and convenience in every piece of cloth. The elegant finishing appearance and chic design differentiate the Brand. They have been offering chinos pants for both men and women. For women, they have a remarkably slim fit and high-rise chins. From funky to decent, they have been supplying all types of chinos nationally and internationally.
Specifications of Chinos by Marks & Spencer:
Machine-friendly fabric.
Value for money.
The collection is quite amazing and impressive.
6. Arrow
Established in 1851, Arrow is an American brand. It offers both male and female footwear, clothing, and accessories. In order to meet the developing fashion needs of men, the Brand has constantly launched a new collection in India. It is an excellent choice for one who is searching for something comfortable and elegant. Their chinos are made using viscose, cotton, and polyester.
Specifications of Chinos by Arrow:
An exclusive collection is available.
Offer a formal look.
Meet the needs of every customer.
7. Levis
Levis is a notable brand that has managed to lead the clothing industry. The Brand needs no introduction as it has gained immense popularity. However, today, many manufacturers are giving tough competition to the Brand. Its quality, competitive price and comfort in every piece of clothing make it the best Brand. Apart from chinos, Denise by Levis is very famous among the youth. Once you fill your wardrobe with Levis, you'll definitely never consider any other brand again.
Specifications of Chinos by Levis:
A variety of chinos is available.
Used materials like polyester, modal, elastane, and cotton.
Offer lean & soft look and all-day-long comfort.
Cotton material is made organically with no chemicals.
8. Blackberry
Established in 1991, Blackberry has a vast collection of menswear, including chinos of different designs and colors. The Brand always has the latest collection with modern designs, patterns, and colors. You will have Navy, Blue, Black, Brown, Green, and Grey color. Plus, they have neutral color options too. Chinos by Blackberry can be easily available at Amazon, Myntra, Tatacliq, and Flipkart.
Specifications of Chinos by Blackberry:
Color options available
Affordable Brand
9. John Player
John Player has become a reputed brand of men's collections since its inception. Due to the stylish appeal and fabric quality, this Brand has a market appearance worldwide. In 2014, it received the fifth most exciting brand award by Equity ET. The cost for its chinos starts from Rs 500, which goes up to Rs 1500. You can find a variety of options for yourself, from textured fit to slim fit, cotton flat front chinos to mid-rise flat front.
Available in different sizes
The Brand has its availability on Ajio, Flipkart, Amazon, and Myntra.
10. Henry and Smith
The list of best Chinos brands in India is incomplete without this Brand. Within a few years, Henry and Smith developed a lot. From denim to chinos, they offer a wide range of various fabrics, prints and colors. To buy the chinos of your choice, you will need to visit the nearby Henry and Smith store.
Specifications of Chinos by Henry and Smith
True to fit size.
Quality material has been used.
Conclusion
With time, as people in India choose to wear chinos, more and more manufacturers have started making them at different price points. But determining which one is better is quite tricky. So, don't forget to read our blog for better clarity.