Did you know that the history of Champagne is as fascinating as the drink itself? It's not just any old fizzy drink, it's a sparkling sensation that has been perfected into an art form over centuries. It all started in France, where a Benedictine monk named Dom Pérignon accidentally stumbled upon the secret to creating this beloved bubbly drink. But making Champagne isn't as simple as mixing soda and syrup. It involves a meticulous process of fermentation, blending, aging, and disgorgement that all work together to create the unique character and quality of this drink. It's like a symphony of flavors and textures that dance on your tongue with each sip.
And when Champagne made its way to the Indian subcontinent, it quickly became a symbol of luxury and celebration. People couldn't get enough of this magical drink that seemed to sparkle like diamonds in a glass. But we know what you're thinking, Champagne can be pretty pricey. But don't worry, we've done the hard work for you and curated a list of the best Champagne in India under 2000 Rupees. So, get ready to pop the cork and join us on a sparkling journey to discover the finest Champagne that India has to offer. Cheers to drinking stars!
List of Best Champagne in India under 2000 Rs
1. Nicolas Feuillatte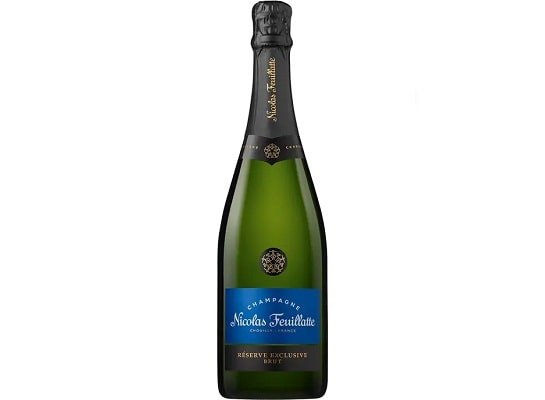 If you're looking for an amazing champagne that won't break the bank, then you have to try Nicolas Feuillatte champagne. It's 100% Chardonnay champagne that's perfect for any celebration or get-together with your family and friends. It has a fantastic taste and aroma of fresh flowers and spices that will tantalize your taste buds. And if that's not enough to convince you, then its citrusy flavor with a dash of clove will definitely make you a believer. Nicolas Feuillatte is one of the best-selling and great valued brands of champagne available in India. And the contemporary packaging just adds to its luxurious vibe. When you pop the cork, you'll be greeted by a flowery aroma that's a mix of white flowers, lemon balm, and other delightful scents. And at a price tag of just Rs. 1,989 for a regular 750ml bottle, it's an affordable way to add a touch of elegance to any celebration.
2. Sula Brut Tropicale
This sparkling wine is a perfect pick for those who want to sip on some bubbly without burning a hole in their pocket. Sula Brut Tropicale is a magical concoction of Pinot Noir and Chardonnay grapes, and it comes in a 750ML bottle that's sealed with a cork. This medium-bodied wine has an alcohol level of 12%, making it perfect for celebrations or a cozy evening with your loved one. What sets Sula Brut Tropicale apart is its tropical notes that will take your taste buds on a joyride. Its delightful passion fruit aroma will make you feel like you're in a tropical paradise with each sip. For best results, serve this bubbly beauty chilled at 8°C and savor every sip to fully appreciate its flavor profile. The best part? Sula Brut Tropicale won't burn a hole in your pocket, with prices ranging from ₹1,450 to ₹1550.
3. Taittinger Champagne
Named after its founder, Pierre Taittinger, this champagne is famous for the unique husky texture that sets it apart from the rest. With a family-owned legacy and a reputation for quality, Taittinger Champagne is definitely one of the top choices for anyone who wants to celebrate in style. This champagne is made from a combination of 40% chardonnay and 60% pinot grape, which gives it a flavor profile that's both refreshing and complex. The grapes are carefully cultivated in the Noir vineyard, ensuring that every bottle is packed with fine tastes that are unique to Taittinger Champagne. Now, you might be thinking that all this luxury must come with a hefty price tag. Taittinger Champagne is available in India for around Rs. 600 for a regular bottle, making it an affordable indulgence that won't break the bank.
4. Dom Ruinart Champagne
This top brand has been around since 1729 and has been a favorite among champagne lovers for centuries. And it's no surprise why the – taste and aroma are simply divine. When you first take a sip of Dom Ruinart champagne, you'll notice a unique blend of coconut and fresh bread taste that's unlike anything you've ever tasted before. But that's just the beginning. As you continue to sip, the taste transforms into floral and citrus aromas that are simply delightful. One thing that sets Dom Ruinart champagne apart from other champagnes is the infusion of iodized salt and minerals. These give the champagne a distinct saline note that's hard to find in other champagnes. Plus, the golden color and sweet aroma of citrus fruits and flowers make for an unforgettable sensory experience. Dom Ruinart champagne is available at a price range of Rs. 500, making it one of the best champagnes in India under 2000 Rupees. So whether you're celebrating a special occasion or just looking for an excuse to treat yourself, you can't go wrong with Dom Ruinart Champagne.
5. Laurent Perrier Champagne
Lastly, we'd like to introduce you to the Laurent Perrier Champagne. This brand has been a fan favorite in India for years, and it's no wonder why. Founded by Monsieur Laurent way back in 1812, this Champagne is made with the finest grapes from the vineyards of Alan Terrier, resulting in a fruity aroma that'll have you drooling. But what really sets Laurent Perrier Champagne apart is its strong character and overall flavor intensity. And if you're a vegetarian, you're in luck because this Champagne is suitable for you too. To make the most of your Laurent Perrier Champagne experience, be sure to store it in a cool, dark place and serve it chilled at 8-10 degrees Celsius. And the best part is that you can snag a regular bottle of good quality champagne for around Rs. 400 in India. So, whether you're celebrating a special occasion or just want to add some sparkle to your day, Laurent Perrier Champagne is the perfect drink to sip on.
Conclusion
All in all, if you want to celebrate with your friends and family, but you are on a tight budget, then these are some of the best champagne options you can go for under 2000 rupees. It is true that under such a budget, there are only a few options available, but in our opinion, the Champagne options mentioned in today's post are worth trying out, at least once. However, if you are able to go just a little high on the budget, like around 3,500 rupees to 5000 rupees, you can literally opt for some of the best Champagne options in the Indian market.