Let's take a trip down memory lane of vodka, the clear and colorless spirit that has been the star of many parties around the world. Many say that vodka was first distilled in Russia in the 9th century, and since then, it has been a symbol of celebration, camaraderie, and a little bit of mischief. It is an incredibly popular drink around the globe and it is maybe because of its affordability that makes it an attractive option for many, especially when it comes to buying a good quality bottle without breaking the bank.
India, known for its love for spicy food and colorful culture, has also embraced vodka with open arms. The young and vibrant crowd in India is particularly fond of vodka due to its smooth taste and the ability to mix well with different flavors and juices. That's the reason we are here with a list of the best vodka in India for under 1000 rupees. Here, we'll share our take on what a good vodka looks or tastes like under such a budget. So stay tuned, and let's get going now.
List of Best Vodka In India Under 1000 Rs
1. Magic Moment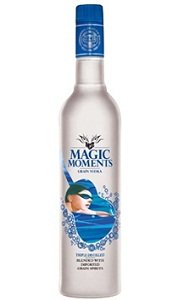 If you're on the lookout for a good vodka brand in India that doesn't break the bank, you can't go wrong with Magic Moments. This Indian-made vodka was launched back in 2006 by the Radico Khaitan Group, which is one of the biggest spirit manufacturers in the country. The brand has since made a name for itself as a premium vodka that's perfect for cocktails and long drinks. What sets Magic Moments apart from other vodka brands in India is the fact that it's triple distilled from top-quality grains, resulting in a smooth and tasty spirit that's bottled at 42.8% alcohol by volume. And if you're in the mood for something a little different, Magic Moments also comes in a range of fun flavors like lemon, orange, apple, and even chocolate. And while Magic Moments is positioned as a premium brand, you'll be happy to know that the average price for a 750 ml bottle in India is only Rs. 898.
2. White Mischief
If you're on the hunt for a great vodka that won't put a dent in your wallet, look no further than White Mischief! This popular vodka from United Breweries Limited is a hit in India, and it's easy to see why. With its great taste, affordability, and quality, it's no surprise that White Mischief holds a whopping 48% market share in the vodka liquor segment in the country. What sets White Mischief apart is its triple distillation process, which makes sure that every drop of vodka is authentic and oh-so-smooth. White Mischief Ultra Pure Vodka comes in at a cool Rs. 450 for a 750 ml bottle. That's a great price for a vodka that packs a punch with an alcohol content of 42.8%. Whether you're throwing a party or just want to unwind after a long day, White Mischief Ultra Pure Vodka seems like a perfect choice.
3. Romanov Vodka
No one can't deny the fact that vodka has been a favorite alcoholic beverage for ages. And in India, Romanov Vodka produced by United Breweries Limited is one of the most popular and pocket-friendly brands available in the market. The vodka is named after the Romanov dynasty, which ruled Russia for over 300 years. One of the exciting aspects of Romanov Vodka is the variety of flavors it comes in, such as Green Apple, Orange, and of course Lemon. These flavors make it a hit for the youth who are looking for a unique drinking experience. What makes Romanov Vodka even more enticing is that it's affordable, costing only Rs. 638 for a 750 ml bottle. That's fantastic news for those who want to enjoy quality vodka without spending a fortune. Romanov Vodka does not compromise on quality or taste despite its low cost. The alcohol content of 42.8 percent is proof of its potency, ensuring that it packs a punch for those who like strong drinks.
4. Seagram's Fuel
If you're a vodka lover who's looking to keep things affordable without compromising on quality, Seagram's Fuel Vodka can be your new best friend. For a mere ₹852, you get a whole 750 ml of this delightful elixir that packs a punch with an alcohol content of 42.8%. You can either enjoy it neat or mix it into your favorite cocktail, and it'll still deliver an enjoyable drinking experience.  You'll be happy to know that Seagram's Fuel Vodka is widely considered one of the best vodka brands in India, so you can expect high quality and exceptional taste. Whether you're planning a wild night out with your crew or a cozy evening in with your loved one, Seagram's Fuel Vodka is the perfect choice to get the party started. It's affordable, potent, and offers a deliciously smooth drinking experience that's hard to resist.
5. Eristoff Vodka
It's not exactly under 1000 rupees, but let's be real, it's so good that it's worth splurging a little. Straight outta France, this 100% grain spirit is triple distilled and charcoal filtered to give it a smooth and satisfying taste. What sets Eristoff apart from the rest is its sweet, delicious flavor. It's like a party in your mouth, and everyone's invited! With an alcohol by volume of 40%, it's got just the right amount of kick to get your night started. But here's the best part: Eristoff won't leave you penniless. It's reasonably priced, especially considering its premium quality.
6. Smirnoff Vodka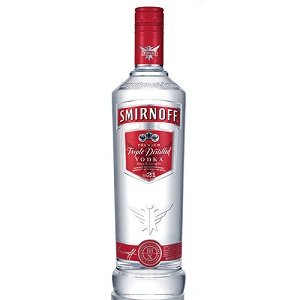 Smirnoff's classic flavor and silky texture are enough to make any vodka lover's taste buds dance with joy. Did you know that the brand is named after Pyotr Smirnoff, a Russian serf who created the world's best-selling vodka? He may have been a serf, but he was a vodka genius. If you're looking to pick up a bottle of Smirnoff in India, the Triple Distilled Vodka is the most popular choice. A regular 750ml bottle costs around Rs. 1,462, which is a steal for such a high-quality vodka. And if you don't need that much, you can get a 375ml bottle for around Rs. 780. Smirnoff has 39 different flavors to choose from around the world, so you're sure to find one that tickles your tongue. Whether you're a fan of fruity flavors or prefer a classic vodka taste, Smirnoff has got you covered.
7. Absolut Vodka
Made from 100% wheat, this vodka is one of the most popular brands in the world, with distribution in over 126 countries. And thanks to its parent company, Pernod Ricard, Absolut vodka is easily accessible to Indian consumers. And let's not forget the cool packaging that makes it stand out from the crowd. While a 200ml bottle of Absolut vodka will cost you Rs. 550 in India, a regular 750ml bottle of Absolut vodka costs more than any other vodka brand on our list today. But hey, you get what you pay for, right? And in the case of Absolut vodka, it's totally worth it. With 40% alcohol by volume, Absolut vodka packs a punch and delivers a smooth, premium taste that you won't forget anytime soon.
Conclusion
That'll do it. Now you have a few great options to try under the 1000 rupees budget and if you are a true vodka lover, you should give them all a try. And then decide which vodka is the perfect fit as per your taste preference as well as budget.