Diabetes is a serious problem that needs to be kept under control. All you have to do is eat healthily, take your diabetes medicine, and get regular exercise. In addition, you need to monitor the sugar level daily.
Otherwise, it can cause many problems for diabetics. Are you also suffering from diabetes? If yes, then you need to understand that diabetes should be constantly monitored. In such a case, you will have to consult your doctor and take oral medicines.
This is not enough to cure this problem, as it is not possible to regularly check the sugar level by visiting the clinic. Thus, the point is to say that you should buy your glucose meter. Endless brands and companies associated with medical devices assure you to sell the best glucometer.
But, it is up to you to consider after taking advice from your consultant and knowing their key features. Choosing a glucometer allows you to monitor your sugar level at all times. Here we have the products from one of the well-recommended and leading brands Accu-Chek.
In this article, we are going to compare Accu-Chek Instant Glucometer and Accu-Chek Instant S. It sound's confusing but several specializations differentiate them. The brief closure of these two will help you understand their differences and similarities.
A Comprehensive Comparison to find out which glucometer is best and give accurate result

Accu Check Instant Glucometer Vs Accu Check Instant S

Before discussing a brief comparison, the table prepared here will give you a clear idea of ​​how Accu Check Instant is different and similar to Instant S. Let's take a look:
| | | |
| --- | --- | --- |
| Product Specializations | Accu-Check Instant | Accu-Check Instant S |
| Memory Capacity | 720 Tests | Last Reading Test |
| Customer Rating | 4.3/5 | 4.2/5 |
| Display | Backlit LCD | LED |
| Test Averages | 7, 14, 30, 90 Days | 7, 14, 30, 90 Days |
| Strips Included | 10 Strips Free | 10 Strips Free |
| Connectivity | BlueTooth Connectivity with mySugr App | USB |
| Warranty | 10 Years | 10 Years |
| Easy to use | Intuitive handling with just 1 buttons | Intuitive handling with just 1 buttons |
| Battery Type | 1 Lithium Metal | 1 Lithium Metal |
| Lancing Device | Accu-Chek Softclix or Accu-Chek Softclix lancets (10) | Accu-Chek Softclix or Accu-Chek Softclix lancets (10) |
| Result Time | Less than 4 Seconds | Less than 4 Seconds |
| Item Weight | 259 g (included battery) | 299 g (included battery) |
| ISO Accuracy Standards | ISO 15197:2013, EN ISO 15197:2015 | ISO 15197:2013 |
| Size | 18 x 10 x 6 cm | 19.2 x 19.2 x 11.2 cm |
| Is Discontinued By Manufacturer | No | No |
About Accu Chek Instant:
Accu Chek Instant is a modern designed device that allows you to monitor and analyse your blood sugar level immediately. You can also connect your Accu Chek Instant to your smartphone via Bluetooth.
With the help of the MySugar app, the data can be easily coordinated with the glucometer on the smartphone. This type of meter is equipped with a target range indicator that will tell you whether your blood sugar level is high or not. In addition, it gives you visual assurance and lets you personalize it to suit your personal goals.
About Accu Chek Instant S:
With better accuracy, another device called Accu Check Instant S from Accu Chek has become popular these days. It comes with a friendly interface and target range indicator that enables you to monitor accurately. As the name suggests, this is a newer version of Accu Check Instant that is designed to deliver instant results.
To check whether blood sugar levels are under control, simply place your blood drops on the meter's bar. Within a few seconds, your result will be visible on the LCD screen of the glucometer. Both Accu Chek Instant and Instant S are extremely accurate and their chances of error are almost zero.
Difference Between Accu Check Instant Vs Instant S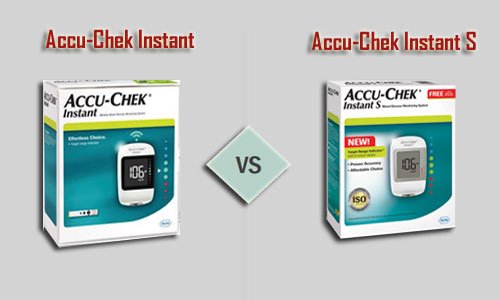 Both Accu Check Instant and Instant S belong to the Accu Chek brand. They will both use to monitor blood sugar levels instantly with higher accuracy.
Based on Accuracy
As Instant S is a new version, it tends to be more accurate, when compared to Accu Check Instant.
Based on connectivity, instant vary from Instant S. The new version requires a USB (Micro B- connector) to connect it with other devices like Smart Phone, PC. To connect Accu Check Instant can only be connected through Bluetooth Technology.
Like Accu Chek instant, the instant S requires only one battery to control. This one battery can be used for 750 to 1000 tests. Accu Check Instant, on the other hand, requires two batteries for Bluetooth Connectivity and Back-Lit Display.
These two glucometers have handy features, so it is easy to use both of them. Both Instant S and Instant can be operated with a single button. The Instant meter is directly connected with Bluetooth and coordinates with the mySugar application. It's easy to find a way to both of them because all the unnecessary features are no longer available. The steps to check the sugar level in both the meters are almost the same. They have a handy edge test strip that will absorb blood from the patient's finger and quickly display the result on a screen.
Final Verdict:
When it comes to delivering accurate results, both are bang on. The only difference is that it stores your blood results immediately. The Instant S is a bit pricey in terms of Stripe prices. Hence, both are suitable for you, so it is up to you to choose one based on your needs.