Diabetes is a common health problem these days; every second person is suffering from this life-long disease. Being a diabetic patient, you have to eat a balanced diet, control your weight, and take oral medications. Along with following a proper diet, monitoring whether it is under control becomes necessary for diabetics. Therefore, it is important to have a handy glucose meter to monitor and evaluate blood sugar levels. Whether your blood sugar level is abnormal or normal, the right glucose meter will help you see quick action.
The fact is several brands in the market claim to be producing premium glucose meters. It is advisable not to opt for a low-cost glucose meter to save your money. After all, it's about your health. Buying a cheap quality glucose meter, though, can put you at unexpected risk. So, you should always find the leading brand in the medical device business. After long research, we have come up with two products namely Accu-Chek Active and Accu Check Instant. In this article, we are comparing these two and briefly explaining their similarities and differences. Through this in-depth research, you will get a clear idea.
A Comprehensive Comparison to find which glucometer is best and give accurate result

Accu-Chek Active Glucometer Vs Accu-Chek Instant Glucometer
The table prepared here helps in understanding their specifications for the individual.
| | | |
| --- | --- | --- |
| Product Key Features | Accu-Check Active | Accu-Check Instant |
| Memory Capacity | 500 Tests | 720 Tests |
| Customer Rating | 4.3/5 | 4.3/5 |
| Display | LCD | Backlit LCD |
| Test Averages | 7, 14, 30, 90 Days | 7, 14, 30, 90 Days |
| Strips Included | 10 Strips Free | 10 Strips Free |
| Connectivity | WellthyCARE personalised Coach (subscription) | BlueTooth Connectivity with mySugr App |
| Warranty | 10 Years | 10 Years |
| Easy to Use | Intuitive handling with just 2 buttons | Intuitive handling with just 1 buttons |
| Battery Type | 1 Lithium Metal | 1 Lithium Metal |
| Lancing Device | Accu-Chek Softclix | Accu-Chek Softclix or Accu-Chek Softclix lancets (10) |
| Result Time | 5-10 Seconds | Less than 4 Seconds |
| Item Weight | 260 g (included battery) | 259 g (included battery) |
| ISO Accuracy Standards | ISO 15197:2013 | ISO 15197:2013, EN ISO 15197:2015 |
| Size | 21.69 x 19.3 x 6.71 cm | 18 x 10 x 6 cm |
| Is Discontinued By Manufacturer | No | No |
Brief Comparison between Accu-Check Active and Accu-Check Instant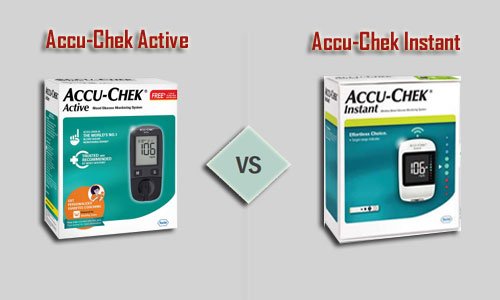 To get accurate blood sugar levels, both Accu-check instant and Accu-check active are phenomenal devices. When it comes to top buyer options, Accu-Chek Active is ruling while Accu-check instant is proposed as the heir to the previous glucose meter. It comes with handy & convenient features. But it is not worth investing in Accu-check Tatkal as compared to an active meter. Let's take a brief look at both of these glucose meters.
Both devices have an outstanding, minimalistic and compact design. In terms of aesthetics, sturdy and compact size, the Accu-Chek Active is far better than the Instant meter. Even the instant model has not lagged in terms of looks. The transformation in Accu-chek makes it sleek and approachable. The overall aesthetics and design are simple alluring, as it comes with a neat-looking and compact design, giving glucose meter visually representative. The display with a fancy side panel makes it cool & classy.
Also, it is lightweight relatively to Accu-Check Active. It weighs 40 grams with battery while the active meter weighs 50 grams with battery. The entire dimensions of the successor are also more proportionate and balanced.
As the Accu-Chek Active is an older device, you would not expect better performance and test result accuracy when compared to the Accu-Chek Instant. But, when it comes to best results of overall performance and accuracy, Accu-check active is still in the lead as it is recommended by numerous medical experts.
After reading the performance aspect, you must have understood that Instant is more stable in terms of accuracy and safety standards. Some studies and research indicate that in terms of safety standards is a clear winner. Moreover, it meets all safety standards and is certified by the ISO 15197:2013/EN and ISO 15197:2015. On the other side, Accu-Check active also meet the requirements of ISO 15197:2013.
According to the latest research, the instant meter fulfils the more accuracy needs of patients. Hence, we said, Accu-Chek's Instant is a better glucose meter in terms of safety values and overall performance. The Instant meter is useful for reading and monitoring high and low sugar levels adequately with higher accuracy.
Whether it is the Accu-Chek Active or the Accu-Chek Instant, both are offered at almost the same price. Still, the same advice is given; caution should be taken when buying a Glucose meter. Don't purchase the devices based on the cost, always look for a strip. Still, we said, Accu Check Active is more affordable than Accu Chek Active Strips.
Final Words:
Accu-Chek active Instant is a modern tool with advanced features like the visual indicator and syncing results with a smartphone. On the other hand, the active meter is significantly less accurate. This does not mean that it is less functional.