Controlling diabetes can be a daunting task, you need to maintain a lifestyle along with proper treatment and steady monitoring for improvement. It is a good idea to choose a glucometer to avoid frequent hospital visits and make diabetes monitoring affordable.
The most popular brands Dr Morepen and OneTouch introduce their best glucometers in the Indian market, which include Dr Morepen BG-03 and OneTouch Select Plus Simple. Let us discuss how they differ from each other.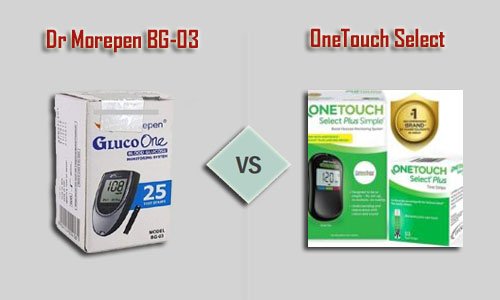 Dr Morepen BG-03 Vs One Touch Select Plus Simple Glucometer
| | | |
| --- | --- | --- |
| Product Features | Dr Morepen BG-03 Glucometer | OneTouch Select Plus Simple |
| Ratings | 4.1 | 4.4 |
| Blood Sample Size | 0.5µ | 1 µl |
| Number of Test Strips | 25 | 10 |
| Number of Lancets | 10 | 10 |
| Memory | 300 Memories | – |
| Automatic Coding | No | Yes |
| Accuracy | Pretty Accurate | High Accuracy |
| Test Time | 4 to 5 Seconds | 5 Seconds |
| Warranty | Lifetime | Three Years |
| Alarms | – | High low alarm reference card |
| Weight | 45 Gram without battery | 268 Gram without battery |
| Display | LCD | LED |
About Dr Morepen Gluco One Glucometer BG03
It is a great value for money blood sugar level monitoring device. This monitoring meter helps diabetics to manage and control their blood sugar levels very effectively. With 50 Sugar Test Strips, the BG03 provides enough stock to make it a habit to test blood sugar levels.
Salient Features:
This ergonomically designed glucometer is perfect for high accuracy.
As it doesn't require coding settings, you can quickly test your blood sugar levels without doing any setup.
It is ideal for a range of sugar tests between 20 to 600 mg/dl.
It has the capacity of storing memory of up to 300 readings.
Due to the feature bio-sensory, it provides highly accurate results.
It requires a small blood sample of 0.5µ.
Extraordinary Features:
As come with Sound Technology, it beeps when detecting abnormal blood glucose levels. Because of this characteristic, it can be helpful for people to have frequent reminders and track abnormal glucose levels.
The device is equipped with an advanced biosensor that is a force to display accurate results on the device screen. Moreover, just a few blood drops are required to know the blood sugar levels.
It is one of the ergonomic models in the glucometer industry. The simple yet compact design makes the glucometer better for comfortable use.
One-Touch Select Plus Simple Glucometer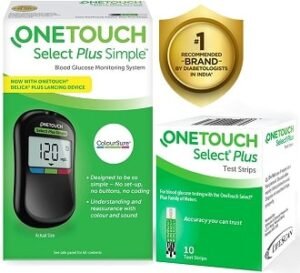 This glucometer is also able to provide accurate results while testing blood glucose levels. The only problem is that it doesn't have coding technology and buttons. But, it comes with 10 test strips which are free of cost. It is a simple, handy device for effective use.
Salient Features:
It comes with a safe-to-use and easy mechanism with no coding requirements.
The small size of the meter allows you to carry it anywhere as per your requirements.
It enables checking blood sugar levels effortlessly.
It provides an online testing facility, as it comes with a one-touch mechanism.
Most physicians recommend this glucometer.
The device comes with a pack of 10 strips offered for free of cost.
You'll have a pain free experience by using it.
The machine has an ISO test certificate.
Extraordinary Features:
Since it has an LCD, we see results with a clear view. The display is perfectly integrated helps read blood glucose levels easily.
It features unique colour sure technology and audio signals, which is bound to provide more accurate results. Furthermore, it has equipped alarms to detect whether your blood glucose level is under control or not.
Since it doesn't come with buttons, thus you can operate without any hassle. You just need to place samples of blood to show accurate results.
Which one is better?
One-Touch Select plus Simple Glucometer is a clear winner, as in terms of features and warranty, this glucometer is much better than another one.
Final Words:
Monitoring blood sugar levels at your location also helps the doctor go through the current readings and make changes to drug treatment if needed. To do so, you should have a compact and featured glucometer from a well-recommended brand. It gives you the ease of tracking diabetes while travelling or at home without consulting your medical expert.