Are You looking to enrol new Aadhaar or update the changes on your old Aadhar Card? In this you must be searching for a nearest aadhar center to you. Let me help you!
Aadhaar is really an important document today. It is impossible to file income tax or apply for any government scheme without Aadhaar card. It is even impossible to get a bank account or a mobile connection with Aadhaar card and with increasing dependency on Aadhaar, it is important for everyone to have an Aadhaar card. In addition to this, having an Aadhaar card is not enough as you must also have the details updated on the Aadhaar card. It is possible to update most of these details online but there are some details which need to be updated via Aadhaar Enrolment Centre. In a recent notification, the government made it clear that the Aadhaar enrolment with only takes place at the government Centre. This step is taken to ensure that there is no overcharging and no case of fake Aadhaar Enrolment by the Centre. All other Aadhaar enrolment Centre will be shut down to make the process more vigilant. If the private Centre wants to run the business then they would need to find a supervised premises to carry on with the location.
This step has certainly made it difficult to find the nearby Aadhaar Centre. Now if you are wondering that which is the Aadhaar Centre near me then you must read ahead as we have listed the procedure to find the Aadhaar enrolment Centre near you. So here is how you can locate the nearest Aadhaar Centre.
Which is the Aadhaar Enrolment Centre Near Me?
Here is how to locate the Aadhaar enrolment Centres near your house.
To find the nearest Aadhaar centre, you can visit the official website of the UIDAI. You can click here and the link will redirect you to the website.
Once the website is displayed, you can then scroll down and you will find Aadhaar Online Services. Under the tab, find the column for Aadhaar Enrolment.
Once you have found the menu option, click on Enrolment and Update Centres in Bank and Post Office to find the details of the enrolment Centres in these government institutes. If you are unable to find the link then you can copy from here:

https://appointments.uidai.gov.in/easearch.aspx

.
If you want to check the details of all the Aadhaar Centres then you can click on Locate Enrolment and Update Centres. If you are unable to find the link then you can copy from here

https://appointments.uidai.gov.in/centersearch.aspx

.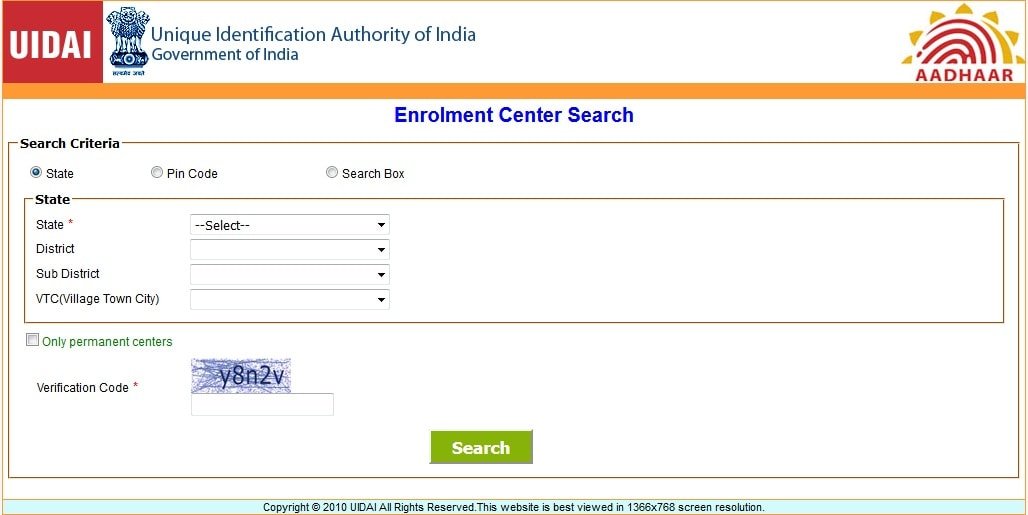 After clicking on the link, you will then be redirected to a new page and you can then select the search criteria. You will have three options to select from, State, Pin Code and Search Box
Select the appropriate option as per your convenience and enter the details like the state or Pin Code.you would also require to enter the captcha code and then click on search button.
A list of all the Aadhaar enrolment Centres will now be displayed. The table would also contain the contact number along with the location on the map for your convenience.
Documents Required For Enrolment and Correction of Aadhaar Card
Here is the list of documents that you would need for the enrollment of Aadhaar card.
Identity Proof–You would need an ID proof which would have your name and your photo. The accepted ID Proof are Passport, PAN Card, Voter ID, Driving License, Arms License, Bank Passbook with Photo, ID Card of Government Institute
Address Proof– The accepted Address proof are Bank Statement, Ration Card, Passport, Voter ID, Driving License, Water Bill, Electricity Bill, Property Tax, landline Bill, Credit Card Statement, Insurance Policy, Arms License, Gas Bill, Caste Certificate, Passport of Spouse, Marriage Certificate.
Date of Birth Proof– the accepted Birth Proofs are SSLC Certificate or Book, Birth Certificate, Passport, PAN Card, Date of Birth Certificate, Marksheet issued by Government Board
Here is the list of documents that you would need for the correction in Aadhaar card.
There are some documents you would require for making corrections in Aadhaar Card. These documents would be related to the change. For example, if you want to update the address then you would need the updated address proof. If you want to correct your date of birth then you would need a valid date of birth and so on.
To find the complete list of documents, you can refer to the list of documents listed on the UIDAI portal by here: https://uidai.gov.in/images/commdoc/valid_documents_list.pdf
Charges Pertaining to Aadhaar Card
Are you worried about being overcharged about the Aadhaar Centre? Well, do not worry, as we have listed the details of charges for each and every service.
| | |
| --- | --- |
| Service | Fee |
| Aadhaar Generation | – |
| Mandatory Biometric Updates | – |
| Other Biometric Update | 25 |
| Demographic Update | 25 |
| Aadhaar Search and Color Print | 20 |
| Aadhaar Search and B/W Print | 10 |
| BFD Status Query | Free |
These were all the details about Aadhaar enrolment and correction. In case of any issue or if you need any other information then you can call on 1947 which is the toll-free number for UIDAI.