Chocolates are delectable and uplift your mood as well as energy. The high demand and craze for gifting inside hampers on Valentine's Day or any other occasion have increased the manufacturing of chocolates. Today, a wide variety of chocolates are available under different flavours, fillings and prices.
Apart from fast food, nowadays people also like to eat and gift chocolates. Chocolates made and supplied in India are easily available at nearby stores and roadside shops at affordable prices like Re 1 chocolates, Rs 5 chocolates, Rs 50, or Rs 1000 or more.
To control sweet cravings instantly, here we have brought chocolates 5 rupees 2023 in India from the market. These mouth-watering chocolates are very tempting as well as creative, and attractive. You can eat this chocolate directly or add it to your desserts to make it tasty and sweet.
What's better than chocolate cake? Isn't this a good idea? To help you choose the best 5 bucks chocolates in India, we have listed the top 8 chocolates that are quite famous in the Indian market.
List of Best 5 Rupees Chocolates in India
Following listed 5 Rupees chocolates are easily available in the market. These are not only popular but also have their taste and flavour to soothe your senses. Big brands like Cadbury have introduced a variety of chocolates which are mentioned below:
1. 5-star chocolate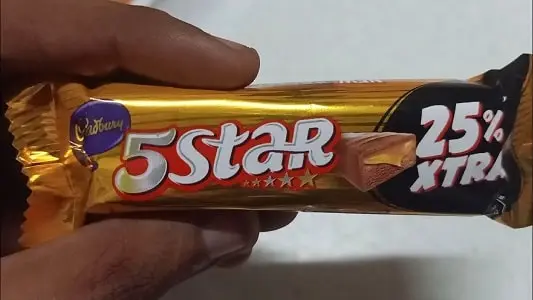 5-star is the prominent chocolate which is why people love eating it. This popular chocolate is manufactured and provided by the Cadbury chocolate brand, which has immense popularity worldwide. 5-star chocolate is known for its delicious ingredients, including caramel, an indulgent blend of chocolate, and nougat. Other ingredients in a single piece include inverted sugar, sugar, liquid glucose, and hydrogenated vegetable fat. To enjoy the reliable chocolate experience in your mouth, you must give a chance to this chocolate. 5-star chocolate is available at any store at different prices, including 5 Rs.
2. Dairy Milk chocolate
We can't skip dairy milk chocolates on this list. And the obvious reason is its popularity and creamy texture. Produced under the Cadbury Company, Dairy Milk is a perfect blend of smoothness, richness and flavour, which sets it apart from others. The melt-in-your-mouth texture of K Dairy Milk is worth the price. Not just chocolates, Cadbury has introduced many more products which are completely made from pure ingredients. Ingredients added to dairy milk include cocoa butter, sugar, milk froth, added flavourings and cocoa solids. It is one of the highly demanded products and easily available in any local store, and the cheapest chocolate is Diary Milk Rs.5.
3. Snickers
Snickers bars have come into the limelight in recent years. Not only in India are Snickers popular worldwide, which is why it has become the best-selling chocolate. An American Company made snickers using various ingredients, such as caramel, mars layers of roasted peanuts, milk, and nougat. The combination of all these things makes snickers one of the best and yummiest bars in the world. Speaking of nutritional value, snickers comprise 14 grams of fat, 282 calories, 4 grams of protein, and 35 grams of carbohydrates.
4. Milkybar
Nestle is the founder of Milky Bar chocolate, and the brand has its market reputation and name. Milkybar is not just a chocolate but also a spirit which is full of milky taste. The ingredients used to make this chocolate include milk, caramel and nougat. This white chocolate bar has a rich, creamy, soothing taste with no added flavours, preservatives or colours. This chocolate's milk percentage is 26%-37.5%, which is quite healthy. You can buy this chocolate for just Rs.5.
5. Perk Chocolate
If you want a crisp and crunchier taste, you should try perk chocolate. It has a crisper wafer inside and delicious creamy chocolate outside. After eating, your mood will be enhanced. Cadbury made perk chocolate with a rich taste and unique touch. It is prepared using refined wheat flour, hydrogenated vegetable fat, sugar, starch, milk solids, palm olein oil and cocoa solids. Many people prefer eating perk because of the minimal sweetening touch. It is easily available in the Indian market for under 5 Rupees.
6. Munch chocolate
The Munch is coated wafer chocolate presented by the Nestle brand. This chocolate is also available in stores across India. It is also the favourite and most delicious chocolate. Different types of chewable chocolates are available, and each version is delicious and best suited for kids. Feel the wafer chocolate while keeping the chocolate in the mouth and with the rich taste of chocolate.
7. Bindaaz
Amul is a manufacturer of Bindaaz chocolate. As we know, Amul is popular for its dairy products and chocolates. This premium chocolate comprises milk solids, sugar, flavours and wafer. There is a thin layer of chocolate after every wafer layer, which balances milk and sweetness.
Final Words:
Chocolate is one thing that cannot be ignored, even if you are not in the mood to eat it. And the above list includes all the cheapest chocolates you can buy and eat.