Who wouldn't blush at the sight of vacation around? Vacations are meant to be a time free from all the worldly chaos among the families or with one's own solitude as per the preference.
Nothing beats the rejuvenation that a vacation can provide to an individual. However, if you happen to plan your vacation without a care in the world and litter around the money freely, then you may end up on the regretting side as some often do.
How about you make your trip a pleasant one and plan your vacation the best way? How about finding the best and economical flight deals for your vacation? What crap? Nope, we're damn serious.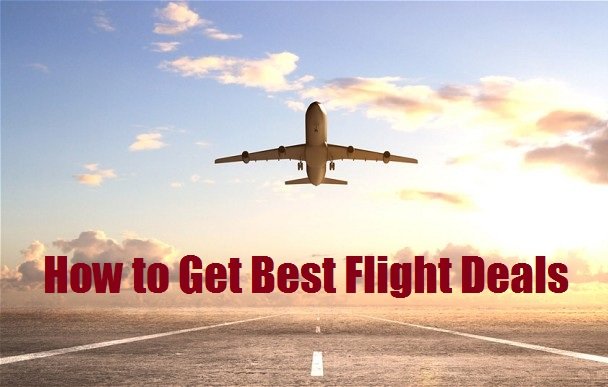 Check out the 10 ways to get the best flight deals for your vacation in our blog today. Vacation time's round the corner, isn't it?
10) Look for deals and Discounts
We have the privilege to avail the facilities of multiple travel sites and airfare sites. Why would you let these opportunities go by?
Always have an eye on the travel deals being offered, you may end up getting a heck of a deal at the minimal
9) Look for Alternate airports
Having you ever given a thought to traveling via an alternate airport rather than going by the same big one.
Here's a cheat for you, always look for alternate arrangements of airports. The thing is, often these alternate routes are cheaper from the direct routes necessarily due to airport locations.
8) Opt for refunds in case fares go down
This service has been running for quite a time now.
You can always join the airplane policy and avail ticket refunds in case the fares drop down.
Many travel sites also offer cashback options for the change in fares amount.
7) Go for individual purchases of tickets
The evergreen theme that, if you bid in a group, then the discounts are on a higher term is laid to rest in the airline category.
Airlines have a limited number of seats where they can offer you lessened fares, so a family or a group booking may not always be a good choice.
Instead, go for individual bookings, you shall have higher chances of getting abetter
6) Never discount the budget airlines
Are you obnoxious at the sight of budget airlines? Don't be so gross, they are right there in terms of offering the best deals for any flight.
These discounters' airlines or budget airlines are the best way you can save dime a dozen of your fares.
Never ever discount their aptitude.
5) Be flexible on the dates
You don't have to be military strict on your vacation regime. Always be flexible on your dates.
The fares change with dates and to avail the absolute deal, you may have to check out the fare chart for a week or so.
Look for the dates with cheapest fares.
4) Check out multiple airlines or carriers
Why? Simply because we can't leave anything to chance.
Why go for the same run-of-the mill flight when there are multiple choices available?
Always look for all that's available and compare to get the best deals among them.
See that's easy, ain't it?
3) Be aware of the festive and holiday seasons
There are times during the year, when the airline deals are at its peak, mainly due to the festive and holiday seasons.
Avoid these times for vacation, if you want to save up the bulk of a money.
In fact, opting at a low profile time or a lesser peak time can be more beneficial.
2) Look for the best time
Knowing what's the best time to buy a flight deal is one heck of a deal.
However, it ain't as difficult as people make it out to be.
As of norm, airline deals are cheapest on Tuesdays and Wednesday mainly because of lesser traffic of travelers. The weekend dates are the most expensive of the lot.
As for the correct time frame, look to book in and around 3 weeks before the date of travelling.
1) Always check the fares early and often
Want to be one the smiley side when it comes to making a flight deal for vacation, then check the fares quite frequently.
Airline fares fluctuate multiple times during a day and a week, keep an eye on the fare meter and hit the hammer hard when you feel that the fare is optimum enough.
So that's our guide to finding the best flight deals for a vacation. Follow these ordeals and you won't have to count your stars before making a vacation. Happy trip ahead.