Chocolates or candies take you back to your childhood days and satisfy your sweet tooth. Even though chocolates contain enough calories, it does not matter when it comes to celebrating birthdays, celebrations, and special occasions. Even when we feel bored or tired, we crave for chocolates.
Unlike big chocolates, small candies with tempting tastes have long been popular not only among children but also among youth. The distinctive and enticing taste is offered in a single wrapper and is easily available at the roadside or nearby stores.
In fact, mini chocolates or 1 rupee chocolates are perfect for satisfying your sweet cravings. No matter if you eat candies in limited quantities, mouth-watering candies will be your go-to as they can be easily available at grocery stores, small stalls, and roadside shops.
Along with eating dark chocolate, you must also try Re 1 chocolate in India 2023. While some of those candies are creative and appealing, few are more classic and flavourful. In this guide, you will learn about all the 1-rupee chocolates that will turn your tasteless mouth into a sea of ​​deliciousness.
Top 1 Rupee Chocolates in India 2023
1. Kismi Chocolate

One of the oldest chocolate and coffee brands, Kismi, came into existence in the year 1960. Being the most ancient and sought-after chocolate brand, their candy named Kismi Toffee has become the first choice of many.
This Re 1 chocolate grabs customers' attention with its packaging in which white and pink colored wrappers have been used. Enjoy the iconic taste of cardamom amalgamated with caramel. Today, it is also available in new flavors, including Rose milk, Kulfi, Rajbhog, and Meetha Paan. The candy is made from sugar and caramel, in addition to being flavored with cardamom. Being manufactured by Parle, people have trusted its quality products.
2. Melody Chocolate

The list of 1 Rupee Chocolates in India 2023 is incomplete without Melody candies. In addition to being popular for its distinctive flavors, this chocolate brand is known for its catchy tagline, "Melody itni Chocolaty Kyu Hain?" The chocolate inside the complete composition of the candy has set a benchmark for all other brands in the Indian market. It started making candies with creamy and rich caramel inside; the rest is history. Parle Company makes these chocolates.
3. Alpenliebe Chocolate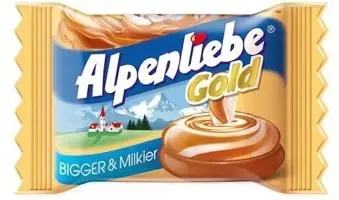 Another best 1 Rs chocolate brand on this list is Creamfills under Alpenliebe. This Indian candy offers you a great experience of butter and caramel. Creamfills is a significant name in the Indian market. Eating alpenliebe chocolate makes you feel jolly since the taste is extremely amazing. Further, the taste it offers will last for a long in the mouth and is best suited for anyone.
4. Eclairs Chocolate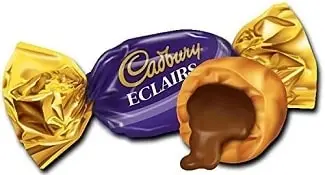 Next, we have Eclairs, whose name has not been heard by anyone, it cannot be so. The candy the brand presents is famous for having a smooth center of milk chocolate, golden caramel, and yummy chewiness. Eclairs candies are produced under Cadbury, which is itself a reputed and famous chocolate brand worldwide. Various candies and chocolates are powered by Cadbury companies, such as Dairy Milk.
5. Pulse Candy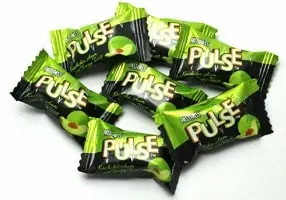 The Pass Pass brand manufactures pulse candies. Their candies have a tart and distinctive taste, which makes them stand out. It was first manufactured in 2015 by DS Group based in Noida, India. Pulse candy came in the taste of raw mango in its initial period. But, nowadays, they have come up with flavors like pineapple, orange, litchi, guava, and others. The unique factors that make these candies stand out from the rest are the availability of dried mango powder, sour salt, spices, and other flavorings in the center of the chocolate.
6. Hajmola Candy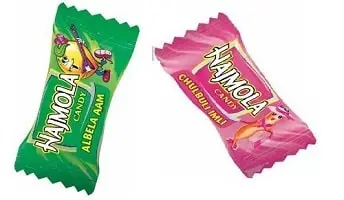 If you want sweetness and a tangy taste simultaneously, you must try Hajmola Candy. Not only are these candies affordable, but they also have a host of health benefits. Their health benefits include treatment for indigestion, constipation, irritable bowel syndrome, gastric problems, and anorexia. All thanks to the availability of certain herbs and spices, and most importantly, all its ingredients are scientifically approved. In this candy, you find two unique flavors: Chulbuli Imli and Albela Aam.
7. Coffee Bite Candy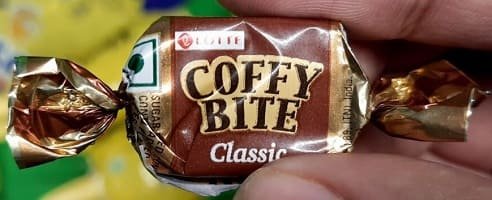 Coffee Bite is the trendy yet modern brand of Lotte Sweetmeat India, the parent brand of Lotte India. This is the Korean Lotte Group. Over 32 years, the brand has become the most trusted market player. The presence of candies like Lotte Eclairs, Coffee Bite, and chocolates like Lotte Choco Pie is the reason behind its success.
8. Toffichoo Chocolate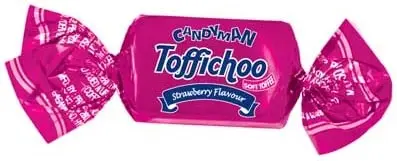 This candy brand in India provides us with ample options to meet the requirements of every age and type of consumer. According to your taste, you can choose from Mango Delite, Orange Josh, Candyman Toffichoo, Candyman Duochoo, Candyman Cofition, etc.
Closing Words:
So, that's it for this post. Hopefully, our guide to the list of chocolates under 1 rupee in India 2023 will help you find the best taste and flavor for your tongue.