At present, in India, it is very hard to have faith in the Politicians that they are working for the benefit of the people because here they work for themselves and only for money. Such people have nowadays converted the Politics into a bad money game. However, the situation was different when our Prime Minister was Mr Lal Bahadur Shastri.
Mr Lal Bahadur Shastri was one the most appreciated and valued politician in our nation. He was so much honest that people provide him the tag of "The Statesman Who Made No Money". He was also born on the similar date at which Mahatma Gandhi took birth i.e. 2nd October (in the year 1904 at Varanasi, UP) but media never publicize this. Nevertheless, we must never overlook that while India was in the dangerous condition, only this courageous prime minister of India grabbed us out of it. This was the time when the war of 1965 happened and our neighboring country Pakistan was chastened by the India.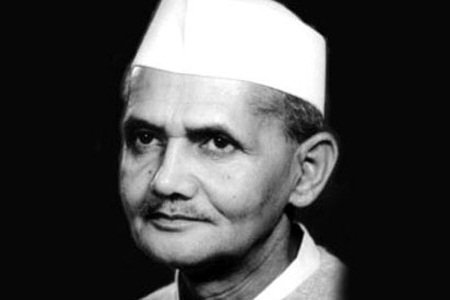 Mr Lal Bahadur Shastri's demise (i.e. on11 January 1966) was also quite controversial since it continued to be a mystery till today. There are a number of several theories which come out after his death. In order to make you more aware about this Prime Minister, there are 10 interesting facts about Lal Bahadur Shastri which are given below:
10. Family Background
Lal Bahadur Shastri took birth in the Varanasi city of Uttar Pradesh state in India. His father name was Mr Sharada Prasad and his mother's name was Mrs Ramdulari Devi. Lal Bahadur Shastri's father was an accounts clerk in the Revenue Office at the Allahabad city. But he died soon owing to the bubonic plague when Shastri Ji was only 1 years old. After this, Shastri was raised by his mom along with his 2 sisters.
9. Real name of the prime minister
Lal Bahadur Shastri's original name was Lal Bahadur Srivastava.  But in the year 1917 when he was only 12 years old, Shastri decided to eliminate his caste-imitative last name i.e. 'Srivastava'.
8. Studies
Shastri has passed out from the East Central Railway Inter College at Varanasi. After this, he later gets graduated from the Kashi Vidyapeeth in the year 1926 where the tag of Shastri (researcher) was provided to him.
7. Family members
Shastri was married to the girl Lalita Devi from the Mirzapur city of Uttar Pradesh on 16th May 1928. Their marriage took place in the year 1928. Shastri had 6 children (four girls and two sons) with Lalita Devi i.e. Kusum (eldest daughter), Suman (second daughter), Hari Krishna (eldest son), Anil, Ashok (youngest son) and Sunil.
6. Political life
Lal Bahadur Shastri was nominated as the Prime Minister of India in the year 1964. During his tenancy as the Prime Minister, he led the nation in the duration of war amongst India and Pakistan in the year 1965. During this time he invented the slogan of 'Jai Jawan Jai Kisaan'. This catchphrase soon began the nation-wide slogan.
5. Formulation of new strategies
Lal Bahadur Shastri had to deal with numerous basic issues in the course of his tenure in numerous departments such as unemployment,food shortage, food shortage as well as poverty. In order to overcome the severe issue of food shortage, he formulated an enduring policy i.e. 'Green Revolution'. Apart from the Green Revolution, he also helped in promoting the White Revolution.
4. Formation of NDDB
The NDDB (National Dairy Development Board) was also made in the year 1965 when Shastri rule as a Prime Minister of India.Its main office is located in Anand city of Gujarat along with several regional offices all over the nation.
3. Name of international airport
One of famous Varanasi International Airport in India is also named after the name of Lal Bahadur Shastri.
2. Mysterious Death of the Shastri
Prime Minister Lal Bahadur Shastri got expired on 11 January 1966 in the Tashkent, after he signed the Tashkent Statement, allegedly owing to a severe heart attack. Conversely, his demise was encircled by the list of controversies where few people claim to the occurrence of some conspiracy. His doctor also stated in an interview that Shastri Ji was quite fit and had never shown any sign of heart disease earlier. Some of the people said that he may have poisoned by the Russian butler. Shastri was the 1st Prime Minister of India who died in the foreign land. He was praised as a national idol. The famous Vijay Ghat memorial in New Delhi was also established in his loving memory by the government of India.
1. Highest civilian Award winner
Lal Bahadur Shastri was also the 1st person who was awarded the India's highest citizen award i.e.Bharat Ratna after the death. There are very few people in the nation who have got such award.