Do you know what the Shinkansen is? Perhaps not.
The Shinkansen is the Japanese term the country's world renowned bullet trains. This network of high-speed railways is made up of multiple lines and connects virtually all of Japan's major cities on the main islands of Honshu and Kyushu. Soon, Shinkansen train lines would also connect the northern island of Hokkaido to the southern cities.
Here are 10 facts that you need to know about the fascinating and famed bullet train system – the Shinkansen.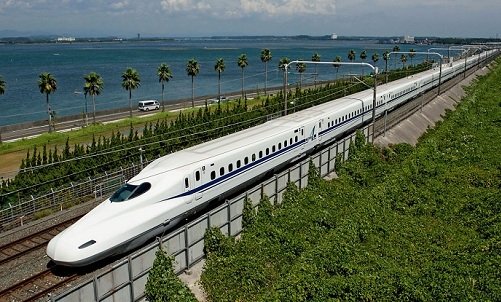 10. It is fast – but expensive
Japan is not really known for dirt-cheap consumer goods and services, right? Traveling by the Shinkansen can be very brisk and comfortable- and also quite pricey. However, you would certainly get what you paid for! In fact, a lot of locals prefer to take the Shinkansen than catch a plane ride to their destination.
Must to Read: 10 Countries with Largest Railway Networks
                             Top 10 Longest Railway Tunnels in the World
9. It is very reliable
The Japanese people are a disciplined lot. They are very time-conscious as well. Need fast and on time? Well, the Shinkansen's average delay per train was a mere 30 seconds in 2013.This already includes delays brought about by forces of nature such as heavy rains and other natural calamities.
8. It is very safe
The Shinkansen has one of the most impressive records in public transportation all over the world. In its 49-year history, it has serviced more than 10 billion passengers – both locals and tourists alike. Throughout those years, not a single death due to accident had been recorded- a rare feat considering Japan is an earthquake prone nation.
7. It is very fast
In the late 80's, the Shinkansen had a maximum operating speed of 320 kilometers per hour. In 1996, Japanese engineers were able to increase the speed to around 440 kilometers per hour. And in 2003, the Shinkansen created a world record by going at a speed of 580 kilomteres per hour. It's almost like a flash!
6. The high-speed trains number by the hundreds
As of 2014, about 800 Shinkansen trains run per day. The number of trains may actually vary per day. Mondays and Fridays have the most number of trains while Sundays usually have the least number. There are also more trains during the tourist peak season and less during the low season.
5. The cleaning staff of the Shinkansen is also very fast
They are known collectively as the "Shinkansen Theater." The cleanup crew of the train is able to clean one whole train in just 7 minutes! Hence, every sweep, nook and cranny of the train must be cleaned quickly and efficiently. You would have to really see it to believe it!
4. The Shinkansen was invented by Hideo Shima
Japan's foremost railway engineer, Shima dreamt of designing trains that would run like airplanes. And his dream did become a reality! After his service in the transportation sector, he served as head of the National Space Development Agency (NASDA), where he developed hydrogen engines to power rocket ships.
3. You can have a "picnic" while onboard the Shinkansen
It is generally prohibited to eat in most of Japan's trains, but not in the Shinkansen. In fact, majority of people bring their favorite snacks and beverages to the ride and eat them while aboard the Shinkansen. This is also why bento boxes are available for purchases in most Shinkansen train stations.
2. Tourists pay less to ride the Shinkansen
This is true of the foreign tourist books early. The Shinkansen website offers discounts to foreign tourists as long as they buy tickets before they arrive in Japan. The discount, known as the Japan Rail Pass, is not applicable to locals.
1. You can see Mt. Fuji aboard the Shinkansen
Japan's picturesque and most prominent mountain may be seen aboard this bullet train. Around the prefecture of Shizuoka, under clear weather, Mt. Fuji can be seen towering to the sky in all its splendor and enchanting beauty. No wonder the Shinkansen is a major tourist draw!