The Narendra Modi Government rode to power with absolute majority in the 2014 General Elections, on the slogan of 'Acchhe Din' (Good times), and a general sentiment of anti-incumbency, slowing economy, and corruption about the Congress-led United Progressive Alliance (UPA) Government. During the election campaign, Narendra Modi had assured people that his Government, if voted to power will take some bold steps for the improvement of Indian economy, even if these steps necessarily did not conform to the populist model of schemes that the UPA Government had rolled out in its tenure of ten years. Here are 10 bold steps taken by Narendra Modi's Government.
10. The NITI Aayog
Jawaharlal Nehru, the first Prime Minister of Independent India, had adopted a formal model of planning to create a blueprint for development, and it is from this model, that the Planning Commission was established, in 1950, with the Prime Minister as its ex-officio chairman. The Planning Commission did not derive its authority from the Constitution of India, and worked as a pillar of the Central Government by laying out plans for economic development for every five years. The Narendra Modi Government replaced the Planning Commission with Niti Aayog. NITI stands for National Institute for Transforming India. On 1st January 2015, the Cabinet passed a resolution replacing the Planning Commission with the Niti Aayog as the former was seen as an obsolete organization, creating a monolith of economic planning for a country as diverse as India.
9. Jan DhanYojana
The Pradhan Mantri Jan Dhan Yojana was launched on 15th August 2014 by Prime Minister Narendra Modi. It is national mission aimed at inclusion and enabling access to banking and financial services like Deposits, Remittances, Credit system, Insurances etc. The most unique feature of the Jan Dhan scheme is that it allows one to open a bank account even with zero balance. Other special benefits under the Pradhan Mantri Jan Dhan Yojana include interest on deposit, insurance cover upto 1 lac, easy money transfer across India, access to pension and other insurance schemes, direct transfer of funds to Jan Dhan accounts for the beneficiaries of Government Schemes, and overdraft facility of Rs.5000 in one account preferably in the name of the woman of the house. It is estimated that over 15 crore Jan Dhan accounts were opened within a year of the launch of the Scheme.
8. Make In India
A part of the many initiatives aimed at a complete overhaul of India's economy, Make in India was launched by Prime Minister Narendra Modi in September 2014. By 2013, India's growth rate had hit the lowest since over a decade, with India being included even in the so-called 'Fragile Five' economy. India was no longer seen as a favourable destination to do business. It was in this backdrop that Make in India was launched calling upon country's citizens, entrepreneurs, and businesses in India and overseas to work towards a complete shift in the Government's approach. The Government now turned from an 'issuing authority' to a business partner, ensuring better working relationship between policy makers and investing parties. According to the Government's vision 2020 document, the contribution to GDP from India's manufacturing sector should see a rise of about 25%, and the Make in India initiative is  guiding India in to realising this goal by attracting more and more investment in sectors like Defence, Railways, Space etc. and thus, raising India's ranking in terms of the World Bank's Ease of doing business rankings.
7. Digital India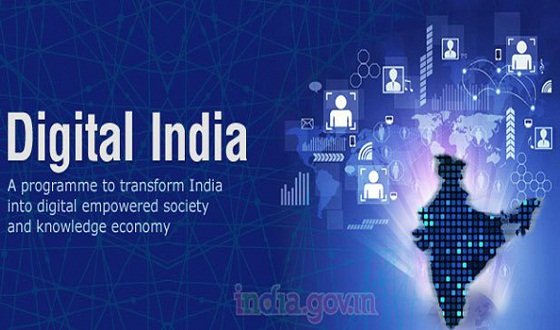 The Digital India initiative was launched by the Prime Minister of India Shri. Narendra Modi on 1st July 2015 and is aimed at empowerment through digital connectivity. The initiative was launched as an extension of the National e-Governance plan of 2006. The National e-Governance plan aimed at digitalization of departments like agriculture, land records, passports, treasuries, municipalities etc. Many states followed suite and launched their own digitalization programs aimed at providing service to the citizens. Although, these programs were meant to be citizen-friendly, they failed to create a desired impact that could have created a possibility of a more connected Government. Hence, the Digital India initiative was launched to give full leverage to digitalization initiatives already under way and to revamp them, identify successful programs and replicating them to get desired results. This initiative works with the co-ordination of the Ministry of Electronics and Telecommunication of Government of India.
6. Swachh Bharat Abhiyaan
Swachh Bharat Abhiyaan was launched by Narendra Modi on 2nd October 2014 with an aim to fulfil Mahatma Gandhi's vision of clean India. In 1999 the Government of India had launched the Total Sanitation Campaign, which renamed Nirmal Bharat Abhiyaan. It was this Nirmal Bharat Abhiyaan that was restructured into the Swachh Bharat Abhiyaan tobe launched as a nation-wide campaign, with the Government aiming to make India open defecation free by 2019. One of the main strategies to that effect has been construction of toilets, and it is estimated that around 8 million toilets had been built by the end of 2015. Karnataka led among the states with constructions of most toilets. Government also introduced cleanliness rankings for cities. The Swachh Bharat Abhiyaan also aims at providing clean toilets in railway coaches, with the introduction of on-demand cleaning service, and i bio-toilets. The Government has roped-in celebrities like Salman Khan, Amitabh Bachchan, Virat Kohli, Priyanka Chopra, Vidya Balan and others to promote and raise awareness about this initiative.
5. Smart Cities
The Smart Cities Awas Yojana Mission was launched by Prime Minister NarendraModi to develop 100 smart cities and maintain the existing 500 cities. The Urban Development Ministry of the Government of India allocated a budget of US$300,000 to each smart city mission. The first round of selection was based on cities nominated by state governments, which were then shortlisted by the Centre. Currently, there are 98 approved cities for this project, many among these being state capitals.
4. Surgical Strikes
India witnessed large-scale disturbances in Kashmir valley after the killing of Hizbul Mujahideen terrorist Burhan Wani by the armed forces. The protestors led by pro-Pakistan separatists in Kashmir, and lauded by Pakistani establishment from across the border, had paralyzed the state. Almost 80 civilians lost their lives, and 1000 were injured in 'retaliatory' firing from the armed forces. Around 3000 armed forces personnel were also injured during these 'protests'. India- Pakistan relations has seen a steep downfall after the attack on Pathankot airbase, in which Jaish-e-Mohammad, a Pakistan-based United Nations-designated terrorist organization had claimed responsibility. Pakistan did little to act against the perpetrators stating that there was not enough 'actionable intelligence' against the Jaish-e-Mohammad.
On 18th September 2016, unknown terrorists attacked an Indian Army base at Uri in Jammu and Kashmir, killing 17 soldiers. The Indian authorities were convinced that the perpetrators belonged to either Jaish-e-Mohammad or Lashkar-e-Toiba. Once again there was denial from the Pakistani side. Amidst all this, Kashmir was still witnessing violent protests from pro-Pakistan separatists. On 29th September 2016, the Indian Army announces that it had conducted pre-emptive surgical strikes in Pakistan occupied Kashmir. These strikes were along the Line of Control, and targeted terror launch pads that were ready to sneak terrorists into the Indian-side of Kashmir. The Director General of Military Operations very categorically stated that the strike had resulted in casualties among the terrorists as well as 'those who were trying to support them' – meaning the Pakistani military. Pakistani establishment escorting a team of International journalists, the next day, and argued that there had been no strikes. Despite, trying to downplay the Indian version, Pakistani kept the Line of Control active for the next couple of months. In India, the ruling party, and the opposition welcomed the decision to go ahead with surgical strikes. There have been such strikes before, but the decision to go public with the details of action shows that the present Government is not going to shy away from chest-thumping if it boasts the moral of armed forces and civilians against the enemy.
3. Balochistan
On 15th August, 2016 from the ramparts of the Red Fort in New Delhi, Narendra Modi 'thanked' the people of Balochistan for their support and acknowledged that the Indian people understand their pain and suffering. Pakistan has talked about Indian activities in Balochistan for over a decade now, but this many say was almost an 'admission' of Pakistani allegations. The mention of Balochistan came when Pakistan-backed separatists had shut down Kashmir for over a month. The China-Pakistan economic Corridor ends at the Baloch port of Gwadar, where Pakistan has permitted China to set up a nuclear submarine base, which will give China and Pakistan a strategic and economic edge over India. India also offered to consider giving asylum to Baloch leaders in exile.
2. Aggressive Diplomacy and Isolation of Pakistan
The India-Pakistan relations worsened after the Pathankot terror attack, and continued to go from bad to worse in the aftermath of stone pelting violence against the armed forces, and Uri attack. The United Nations General Assembly which was convened in the days following Uri attack, saw the Pakistani Prime Minister Nawaz Sharif hailing Kashmiri terrorist BurhanWani as the poster boy of Kashmiri intifada. Indian foreign affairs Minister Sushma Swaraj gave a strong rebuttal to Sharif's speech invoking gross human rights violations in Gilgit-Baltistan, and Balochistan. She also went on to say very clearly before the assembly that the entire state of Jammu and Kashmir including the territory under Pakistani control was in fact a part of the Indian Republic. She also cornered Pakistan on the issue of terrorism. This was a very aggressive stand by the Government, and shows Modi Government's strong resolve to not tolerate terrorism from across the border. India also refused to participate in the SAARC summit that was scheduled to be held in Pakistan stating the conditions were not favourable in the region for the summit to go on. After India pulled out of SAARC summit, Bangladesh, Afghanistan, Nepal and Sri Lanka also decided to not attend leading Pakistan to cancel the summit. Pakistan stood completely isolated in South Asia.
1. Demonetization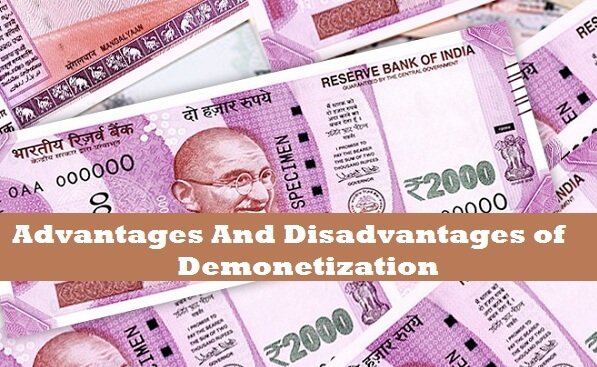 So far, Modi Government's boldest decision has been 'demonetization'. On 8thof November 2016 Prime Minister Narendra Modi announced the demonetization of rupees 500 and rupees 1000 notes as a legal tender with immediate effect. Complete secrecy was maintained about the decision, and the idea was to not give a chance to hoarders to exchange the old notes. New 500 and 2000 rupee notes were commissioned. The Prime Minister maintained that move aimed at moving towards a cashless economy, where people would be encouraged, even rewarded to make digital payments. Digital payments ensured records of all transactions, and black-money hoarders will no longer be able to do benami transactions. However, good the intention, demonetization has become synonymous with long ATM queues, and pay-day blues but it does signify a serious intent on the part of the Government to tackle black money within the country, and to bring as much money into the system as possible. For this purpose, Government has also announced income declaration schemes, for people who wanted to declare their black money. Even after demonetization, the Government offered a window to deposit excess cash. The window period, however, is now over, and enforcement agencies are cracking down on people they are suspecting are holding black money.
The above are only a few of the bold decisions taken by NarendraModi. Having a complete mandate in the Parliament does give this Government more power to take strong steps.