Mumbai in itself has various beautiful places, which attracts a lot of tourists, but the people who have been living in Mumbai needs a break from that life for a little while. No one wants to be deal with the annoying traffic every night when you go home after work, the unexpectedly over crowd places. Hence, it is common for a person to look for a perfect getaway. If you are looking for a perfect weekend getaway, then there are a lot of amazing places near the city, where you should go and have fun. Here is a list of top ten popular tourist destinations, near Mumbai for a perfect getaway.
10. Karnala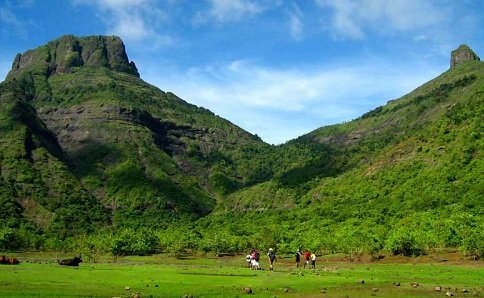 This place is just 48kms from Mumbai and you can go there via Sion Valley. It is around 10kms from Panvel and the two most interesting attractions of this place are Karnala bird Sanctuary and the Karnala Fort. It is a must visit place to see the birds and listen to their pleasant chirping, which is otherwise not possible in the city.
9. Pawna Lake
It became famous after the famous Pawna dam was built. This place is very common amongst those who pack their bags, and go for camping. A beautiful place with a beautiful natural landscape, it is a must visit place around 108 kms travel.
8.  Lonavala
It is juts 84kms from Mumbai, and is a worth visiting place. If you like to drive, then going to this place by road is just a beautiful experience. It is a very beautiful place with rich flora and fauna. The famous attractions of this place include: Lonavala lake, Rajmachi point, wax museum and many more.
7. Khandala
This is just 82kms from Mumbai and it is beautiful place with an altitude of 550m. Since, it is the nearest hill station to the busy town, this is the most frequently visited place by the people.
6. Camping and Water Activities in Maval
If you are the adventurous type, then you should definitely visit this place around 88 kms. It is surrounded by the Sahayadri Ranges, this place is a natural beauty and is located in Pune, which is just four hours from Mumbai, if you take the highway, and the going by road is recommended. The Camping and water adventures here are fascinating.
5. Savarkut village
It is around 130kms from Mumbai and it is another amazing place for adventure. The river rafting here is just mind-blowing and even if you don't like sports, you should visit this place to experience the thrill. It is going to be a one-time experience and you will fall in love with it.
4. Kolad
It is located on the edge of the Kundalika River around 122 kms approx, this place is very famous for its river rafting. It has a picturesque view, which seeks all the attention. Apart from that there are various attractions for you, which include Kuda Cave, which is a series of thirteen caves that are carved by the Buddhists; there is an ancient fourth century Fort, Tala, which is located in the center of the forest; there are various beautiful waterfalls as well.
3. Rajmachi
Around 94.5 Kms, Rajmachi Fort is the best place to visit during Monsoon season. The nature shows its most beautiful avatar that time, with lush green forest, chilly wind blowing and birds chirping. It is the perfect getaway from the bust city life. There are various adventure sports as well that includes trekking, mountain climbing and many more.
2. Mudathon at Nashik
Nashik, which is just a couple of hours from Mumbai, offers you a perfect weekend getaway, which is filled with activities and some amazing fun, around 167 kms. It will bring out the child in you. They have various activities and is extremely famous amongst the young crowd.
1. Alibaug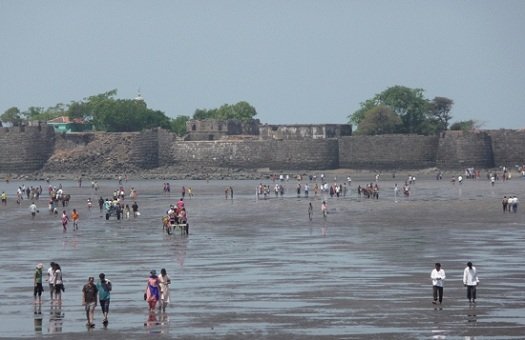 This place can be visited either by road or by a ferry from the Gateway of India in South Mumbai around 92 kms. The place has many religious attractions, but it is most commonly visited for its beach. It is calm place and can be visited with family or friends.