The shortest player in the NBA right now stands at 5'10, which means literally every elite basketballer in the US stands taller than the average male.
Who though stands at the other end of the spectrum? Here we find out with a look at the tallest players in the NBA right now.
Number 5. Luke Kornet, 7'2
Kicking off our look at the tallest players in the NBA right now is Luke Kornet. Weirdly, he isn't a player that springs to mind as being that tall in that he doesn't utilise it as much as he should on the court. Kornet spent time with the New York Knicks before bouncing to the Chicago Bulls, then the Toronto Raptors and now to the Boston Celtics. He has racked up good playing time and points throughout his career but is mostly known as a solid three-point shooter. He averages 5.8 points and just 2.6 rebounds across his career to date. You would imagine a player of his height would be a lot more effective under the rim, which might be part of thereason he hasn't found a forever home yet.
Number 4. Moses Brown, 7'2
At this moment in time Moses Brown is just 22-years-old; already he is flashing signs of incredible potential. He spent a year with the Portland Trail Blazers, went to the Oklahoma City Thunder and played really well before getting bounced to a few different teams in a few days and landed with the Dallas Mavericks. His playing time has dried up a little in Dallas but with career averages of 6.7 points and 6.9 assists per game there is certainly a player in his 7'2 frame. He'll get game time eventually and when he does, he'll show how good he is.
Number 3. Kristaps Porzingis, 7'3
If we were ranking these players by success and not by their height then Kristaps Porzingis would be on top. As it is, we're looking at things from the angle of who are the tallest players in the NBA right now and, as such, he'll have to settle for third. Porzingis has always been a starter no matter where he goes and is considered one of the most valuable assets in the league. He started his career with the New York Knicks where he excelled.
From therehe, like Brown, went to the Dallas Mavericks where he has been the last few years. Despite plenty of promise and career stats of 18.7 points and 7.8 rebounds per game, it has to be acknowledged that he had a shocker of a playoff series last year. It will all be forgotten if he can get back to what he's good at.
Number 2. Boban Marjanovic, 7'4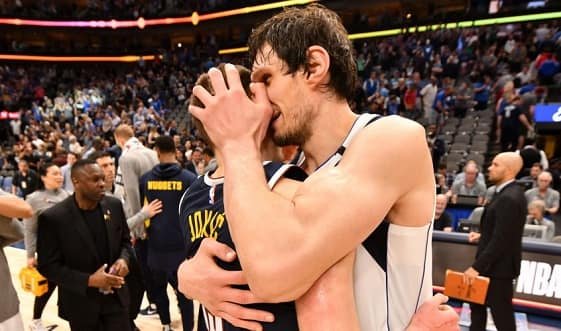 With Boban Marjanovic coming in at number two this article is starting to look like a Mavericks love in; Marjanovic is a fan and player favourite down in Dallas! It's not just because of his heigh but his off court sense of humour too. Marjanovic has played on a number of different teams throughout his career but has really stuck with the Mavericks and is entering this third season with the organisation. He has largely been a bench player and has career averages of six points and four rebounds with a shooting percentage of 58 from the field. Marjanovic also has a surprisingly good layup package despite the fact that,at 7'4, his head is practically over the rim when he goes for a shot!
Number 1. Tacko Fall, 7'5
Tacko Fall is without a doubt the tallest player in the NBA right now. He is incredibly well known around the basketball community and fans were even chanting for him to get more playing time during his rookie season.
Unfortunately, he doesn't see the court much and has flipped between a few teams, but he features in the top 10 tallest NBA players of all time, in this ranking by TwinSpires: edge.twinspires.com/nba/top-10-tallest-players-in-nba-history/
He lasted two years with the Boston Celtics and saw some rather patheticcourt time. Now, he is slowly creeping into aminor bench role with the Cleveland Cavaliers. He averages 2.3 points and 2.3 rebounds throughout his career to date. Will his career ever hit the height of his giant frame?
There you have it, the tallest players in the NBA right now. Who do you think is taking more advantage of its height?