Vijay TV is a popular Tamil television channel which hosts amazing daily soaps. It actors and actresses are highly in demand and they keep on surprising the audience with their excellent acting skills.
If you are also the one who is eager to know the names of the Most Famous Vijay TV Serial Actress, then here is a quick list:
Vijay TV Serial Actress Name List
1. Nakshathra Nagesh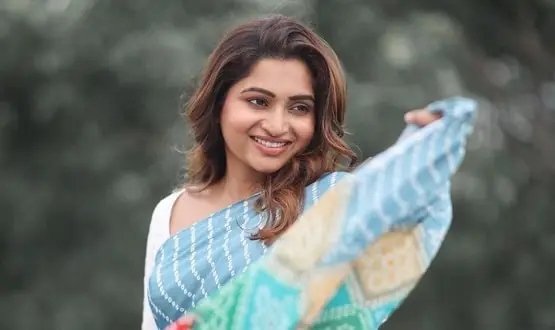 Nakshatra Nagesh is an actress, VJ, host, & model, on Indian television. She got her debut as an actress hosting several award shows and television shows like Vanavi and Sun Singer: Seasons 4 and 5. Vani Rani, Roja, Thamizhum Saraswathiyum, & Nayagi Season 2 are just a few of the TV shows she's been in where she had a major role. She is currently working as a female lead in show called lakshmi Stores.
Nakshatra entered this world on the 11th of September 1990, in the Indian city of Chennai, Tamil Nadu. She is 5 feet and 5 inches tall, weighs 55 kilograms, has black hair and eyes, and speaks fluent English.
2. Raja Rani
Alya is a dancer and actor in the television industry. She became well-known thanks to her part as Semba in TV series Raja Rani. Her first TV debut was on Season 10 of the dance competition show Manada Mayillada. She has amassed a massive online following thanks to her entertaining clips. She also discusses her family in greater detail on her YouTube channel.
TV Actresses in Tamil Serials On May 27, 1992, Manasa was born in Chennai, India. She is 5 feet and 1 inch tall, weighs 59 kilograms, has black hair and eyes, and speaks fluent English.
3.Suchitra Ramadurai
Baakiyalakshmi, a popular Vijay TV series, never fails to keep viewers on the edge of their seats. The protagonist of this serial is a homemaker. Suchitra, who plays Baakiyalakshmi, is paid a daily wage of 12 thousand rupees.
4. Reshma Pasupleti
The part of Pushpa in this Vishnu Vishal film Velainnu Vandhutta Vellaikaaran propelled Reshma Pasupuleti to stardom. After that, she earned roles in serials and appeared on the reality show Bigg Boss. She is currently being paid 7000 rupees per day to play the character of Radhika in the Baakiyalakshmi serial.
5. Sujitha
Sujitha, who made her film debut as a child artist and is now performing in serials, represents the bond of sister and brother in the TV series Pandiyan Stores. She reportedly earns renumeration of 15,000 INR per month.
6. Shivani Narayanan
Shivani is born in 2001, on 5th May. She is 5 feet and 9 inches tall, weighs 68 kilograms, and has black hair as well as eyes. Her wealth is estimated at $1 million.
She being a famous vijay TV serial actress, gained fame by performing an amazing role in series called Pagal Nilavu. She has also hosted several TV programmes. She loves participating in reality shows, and also been a part of them like Bigg Boss season 4 of Tamil, season 4 of Kondattam, and season 1 in BB Jodigal.
7. Dharsha Gupta
She is a popular face in the Tamil entertainment industry. Avalum Naanum, Minnale, Mullum Malarum, & Senthoora Poove are only few of the serials in which she has appeared. She also has a lengthy commercial acting resume. Gupta's participation in season 2 of Cook with Comali catapulted her to fame and enhanced her online following.
8. Rithika Tamil Selvi
Raja Rani was Rithika's debut TV show appearance. The TV show Baakiyalakshmi gave her first major acting role. In Season II of show called Cook with Comali, Rithika was seen as a participant. Chocolate, Thirumagal, and Siva Manasula Sakthi, are a few of her other TV series.
9. VJ Archana
VJ Archana is a well-known performer on Tamil television. She got her start in the industry as a VJ (television video jockey). Her breakout role in the TV show Raja Rani 2 propelled her to fame. VJ has modeled for a wide range of companies, both large and small. She has also been a guest star on reality shows including Star Vijay's Start Music.
Archana was born in Chennai on May 30th, 1991. She is 5 feet and 5 inches tall, weighs 58 kilograms, has black hair and eyes.
10. Sharanya Turadi
Tamil television viewers may recognize actress Sharanya Turadi as she has an amazing fan base. Her breakout performance in Nenjam Marappathillai catapulted her to stardom. She has hosted shows on several different television networks. At Puthiya Thalaimurai TV, Turadi reported the news as a news anchor. She covered the London Games for the lone South Indian news outlet. She was also seen on Vijay TV in the show Ayutha Ezhuthu.
Conclusion
The fame of TV serial actresses come and goes, but the above-mentioned stars of Vijay TV are evergreen. They all excel in their field of television industry and surprise their fans every time with their spectacular performances.