Are you looking to check or verify your aadhar card active status Online? – Aadhaar Card is one of the universally accepted ID and Address Proof. To avoid any fraudulent activities associated with Aadhar Card, the government has also provided with a provision to check the validity of Aadhaar card. This can be simply done by using the 12 digit UID Number. Recently UIDAI has deactivated large numbers of aadhar card. So, if you are also willing to check the validity of Aadhaar Card of a customer that you can simply do it in a three step process. In this article, we have listed the process to verify the Aadhaar Card using the 12 Digit UID Number.
Process to Verify the Aadhaar Card using UID Number
To proceed with the verification purpose, you may logon to https://resident.uidai.gov.in/aadhaarverification. The webpage will enable you to verify the Aadhaar Card. You can also go to resident.uidai.gov.in and then you may click on Aadhaar Services. A drop down menu will be displayed and you can then click on Aadhaar Verification.
Once the page is displayed, you can enter the 12 digit UID number followed by the verification number. After entering the complete details, you may click on the submit button.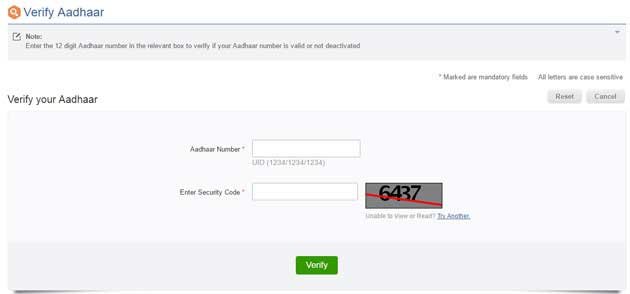 The next screen will display the following details

Gender of Aadhaar Card Holder
Age Band of the Aadhaar Card Holder
State of Residence
Mobile Number Registered in Aadhaar Database.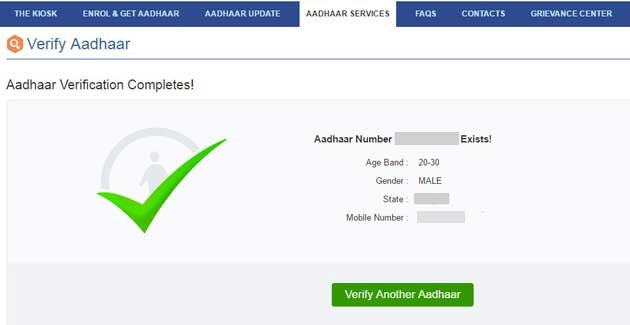 For security reason, the exact age and details like address and date of birth are not displayed as this could lead to a data leak or privacy issues. If in case, the Aadhaar number entered by you is not valid, you will see an error screen and that indicates that either you entered the Aadhaar number wrong or someone provided you with fake Aadhaar Card.
In case of any help, you can also call the toll-free number at 1947