Vedita Pratap Singh is a well-known Indian actress. She started her career as a model and she later got into the film industry. Today, she is loved by the audience and she has a huge fan following.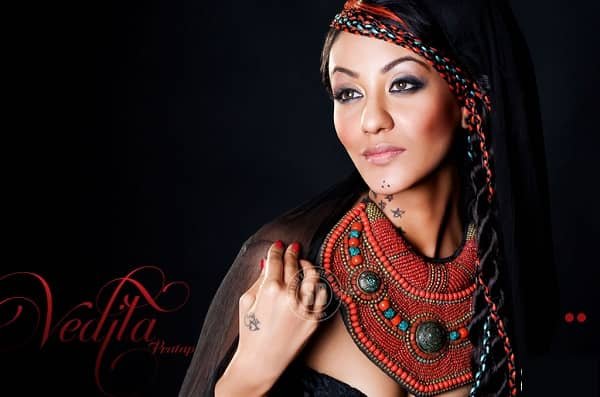 Net Worth
The net worth of Vedita Pratap Singh is not known.
Income Source
The major source of income for Vedita Pratap Singh is the movies that she works in. In addition to this, she also generates income because of the modeling assignments that she undertakes.
Real Name
The real name of this pretty actress is Vedita Pratap Singh
Date of Birth: 9th October 1987
Age: 31 years
Height/Weight
Vedita Pratap Singh has a short height and she is 5 feet and 4 inches tall. In addition to this, she weighs about 51 Kgs.
Marital Status
Vedita Pratap Singh is presently unmarried and there is no information available about her relationships.
Personal Background
As per the information available, Vedita was born in Allahabad in India and she later went to Mayo College Girls School in Ajmer in Rajasthan. Mayo College Ajmer is one of the best school in India and it is known that since her school days, she had been really fond of acting. She was also fond of Swimming and because of that she also got a chance to participate in Nationals for swimming. As per some of the reports, she won national swimming scholarship as well and the scholarship was sponsored by Sports Authority of India.
It is also known that she took part in a lot of Theatre plays since her college days and because of her interest in acting, she decided to make her career in Bollywood.
Career
As mentioned earlier, Vedita started her career with theater work and she was also a part of Taash Ki Pati. The play produced by Kader Khan and the play was also performed in Dubai. She also got a chance to work in several advertisements and she worked in the advertisements of Bajaj Alliance and Parachute Hair. Apart from this, Vedita also participated in India's Hottest and she won the reality TV show. Later in 2010, she received an offer to work in Bhindi Baazaar Inc and she played the role of Shabana in the movie. For next 4 years, she didn't get a lot of movies but she did get a chance to work in TV shows like Super Cops Vs Super 3 Villains. Apart from this, she also worked in Mumbai 125 Km in 2014 and then 2017 proved to be a lucky year for her as she got a chance to work in three movies. The first movie that she worked in was Danger and the second movie that she worked in was JD, apart from this she also worked in Feel the Horror. HD and Feel the Horror are yet to release and they will are expected to be released in 2017 only.
Properties and Cars
The details about Vedita's cars and properties are not listed.