Wealth is a major criterion for most of us defined successful person. But the people who have gained implausible wealth have worked with immense hard work combined with persistence, commitment and enthusiasm. Every company which is successful has these kind of employees who are responsible for playing such vital roles in the organization and have been a source of motivation and inspiration for others. Smart strategies and consistency in support is what makes them stand out of the crowd. Though they might have different ways to succeed, their efforts to excel and their immense dedication to work makes them highly respected in their organization and they get rewarded with a big fat pay check.
There are certain names which even a layman can identify and why not. These are the masters of strategies and have a great sense of running a business.
Below is the list of top 10 people who draw the highest salary in the world – 2017.
10. John C. Martin
At number 10, we have John C. Martin who draws $43.2 million and works as executive chairman and former CEO of Gilead Services. Gilead is one of the known American Biotechnology brands. He has been extremely resourceful in helping the drugs for the cure of HIV/AIDS and Hepatitis C. He was also honored with Biotechnology Heritage Award in the year 2017. Studied from University of Chicago in the domain of Organic Chemistry, he mainly focuses on developing therapeutics and drugs for dangerous viruses.
9. Clarence P. Cazalot Jr.
Born in 1950, Clarence is the president and Chief Executive officer of a Houston based organization named as Marathon Oil Corporation. His salary is $43.7 Million. He completed his studies from Louisiana State University. He doesn't come from a businessman background and had to really slog a lot to come at the present status. He joined his first organization named Texaco as a geophysicist in 1972 and left it in 1999 when he was at the position of President of international production operations. There after he joined Marathon and since then there has been only growth that he has witnessed.
8. Stephen Hemsley
Earning a massive salary of $44.8 Million, Hemsley has been associated with United Health Group Inc. as a Chief Executive Officer. He was born in 1952 and he completed his studies from Fordham University in the year 1974. He has been featuring in number of magazines as one of the highest paid CEO of the world like Forbes Magazine and bizjournals.com. He has been extremely resourceful in defrauding the government's money through United Health Group. All this was made possible under his leadership for which he is widely known.
7. Jeffery H. Boyd
Associated with Priceline.com as the CEO, and earning a salary of $50.2 million. Stands at number 7, Boyd is known for his exceptional management, planning and peoples skills. This website is basically designed for travelers so that they can find discount coupons to be used on their flights and hotel bookings. He has been constantly featuring in the list of best bosses of the world and of course the highest paid people as well. He surely is an asset to the organization.
6. George Paz
CEO of Express Scripts since 2005. It is a Fortune 100 pharmaceutical company. Ranking at number 6, he draws a whopping $51.5 Million. His organization is one of the largest pharmacy benefit management company.
5. David M. "Dave" Cote
Chairman and CEO of Honeywell since 2002, with the whopping salary of $55.8 Million.Born in 1952 in Manchester, Cote completed his graduation from Pembroke Academy and got a degree in business administration from University of New Hampshire which was in addition of doing a couple of part time jobs. Then he got his first break in 1976 where he worked for General Electric and became its CEO in 1996. TRW is another brand name he is associated with as he joined here as president and COO. Later he made it to Honeywell in the year 2002. He has been honored with World's best CEO by Barron's from 2013 to 2016.
4. Richard Kinder
At Number 4, we have Richard Kinder who is the Executive Chairman and the Co-founder of the Kinder Morgan Inc. He earns $60.9 Million as his salary making him one of the richest American businessman. He was born in 1944 in Missouri and completed his education from University of Missouri. He initiated his career with Florida Gas Transmission and eventually started his own Kinder Morgan Inc. in collaboration with his friend from college William Morgan. His organization became a prominently known name after acquiring El Paso Corporation. He is known for his Kinder foundation which supports child education and so far he has donated approximately $15 million for this cause. A rich man with a heart of gold is it?
3. Michael D. Fascitelli
Standing at number 3, Fascitelli's income is $64.4 Million. He is the member of board of trustees of Vornado Realty Trust. Also served as president and CEO to the company. He completed his graduation from University of Rhode Island and his masters from Harvard Business School. There are a number of companies he is associated with like Urban Land Institute,The Rockfeller University, St Bernard and the Child mind Institute where he is serving as the trustee. He is known for his charitable works.
2. Ralph Lauren
One of the prominent names of the fashion industry, Ralph Lauren is best recognized for his contribution as the fashion designer and his Ralph Lauren Corporation is a globally known multi-billion dollar conglomerate. Born to Jewish parents in the year 1939 in The Bronx he is the youngest of all his 4 siblings. He is primarily known for his menswear line which he launched in 1968 with the name of Polo. Eventually he entered into the fragrances which were launched in 1978. He is also a known name as a collector of Automobiles. He earns his salary of $66.7 million and that makes him get a second place in the list. His corporate now sells shoes, fragrances, jewelry etc.
1. John Hammergren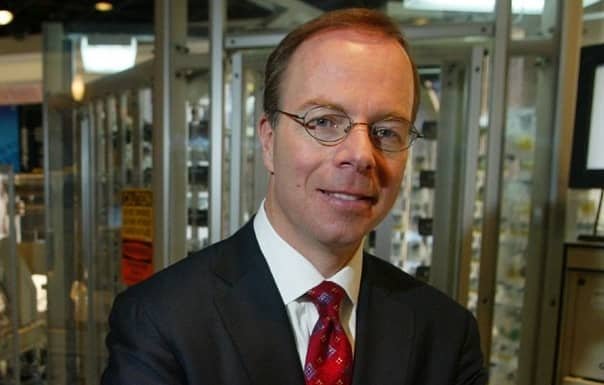 Born in the 1959, Hammergren is a richest American businessman. Chairman, CEO and the President of the McKesson Corporation Since the year 1999. He completed his schooling from Jefferson High School, Minnesota and graduation in business administration from University of Minnesota. He joined McKesson Corporation in the year 1996 and was made the Co-CEO and President of the corporation in the year 1999. He became the Chairman in 2002. And since then there has been no looking back for this man. His salary is $131.2 Million and that makes him top the list of top 10 people with highest salaries in the world. He was honored with Cap Gemini Ernst & Young Leadership award in the year 2004 for Global Integration. Also ranked 63 in the Best Performing CEO's in the world category in a review conducted by Harvard Business.
Conclusion
These are the topmost names of the prominent personalities who are well-known for the growth and expansion of the business and the company to realm of global market. They are the masters in their domains. Each and every organization has different rules regarding the disclosure of the salaries, but surely these guys have given more than what is required to be successful in the respective domains.