'Udti Ka Naam Rajjo', a new family show for Star Plus, features a star-studded cast and is presented by Mukta Dhond.
Assam celebrity Celesti Bairagey will portray the female lead in this serial Udati Ka Naam Rajjo, with actor Rajveer Singh playing the male part. This Kabhi Kabhie Ittefaq Sey series will be replaced with the Rajjo serial at 7 p.m. The series will begin airing on August 22, 2022, as scheduled.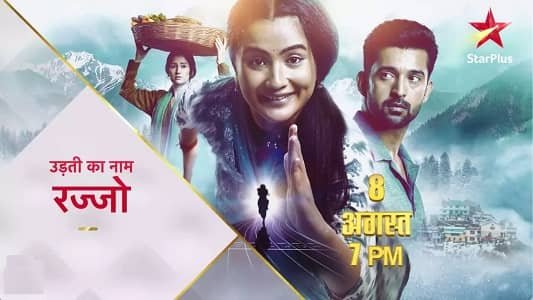 Wiki
Udti Ka Naam Rajjo tells the story of an impoverished villager's daughter from Uttarakhand named Rajjo.
Her mother doesn't encourage Rajjo's athletic abilities, despite the fact that she runs like a rocket when she does so. However, Rajjo continues to take part in sporting events until one particularly dreadful night in his life.
Rain and lightning storms wreak havoc on the residents of this small town include Rajjo & her mother on that night when the climate goes wild and the community is completely flooded.
Story
Rajjo is parted from her mother during the floods and is spotted by onlookers struggling to remain afloat in a stream under a bridge. Meanwhile, Rajveer Singh, the film's leading man, leaps into the river while wearing a rope around his waist. While the others drag him up the rope, Rajveer keeps Rajjo clinging to him.
With Rajjo's hero in the picture, we'll witness how the story progresses as she deals with the loss of her mother in the tragedy.
Timings
Udti Ka Naam Rajjo will air seven days a week at 7 p.m. on the Star Plus network.on Star Plus. As part of Disney+ Hotstar, the program would also be available for internet viewing. On the 14th of July 2022, Star Plus released its first promotion.
Thirty minutes of it are displayed. To see the episodes, you'll need to complete all of your tasks. There are no other options for watching the show. Thus, make sure you don't miss any of show's episodes.
Casts
The main cast of the show called Udti Ka Naam Rajjo includes the following:
Rajveer Singh as Arjun- Udti Ka Naam Rajjo is an exciting opportunity for him. Arjun, the character he play, is endearing and optimistic. You'll see a lot of him in persona as he attempts to understand him, and he's really kind and generous.
Celesti Bairagey as Rajjo– Star Plus has cast Assamese model-actress Celesti Bairagey, who is widely recognized for her striking resemblance to Alia Bhatt. The show, titled 'Udti Ka Naam Rajjo,' would see her portray an athlete who takes on society in order to achieve her goals.
Maleeka R Ghai
Gungun Uprari
Siddharth Vasudev
Kalp Shah
Suraj Bharadwaj
Pakkhi Hegde
Divyangana Jain
Avinash Sahijwani