Anandi Baa Aur Emly is a Hindi television, comedy, and drama serial, which airs on the Star Plus TV channel. The popular name of the show Ichhapyaari Naagin is Mishkat Verma in the male lead role of this show. This Indian TV serial is a mixture of two different cultures Gujarati and Western.
Kanchan Gupta and Jazzy Ballerini are the other two prominent roles in the show. Produced under the banner of Optimystix Entertainment, it has already started on 27th June 2022. Vipul D Shah produces this comedy show, and its first promo was released on 7th June 2022. The story of Anandi Ba and Emily depicts the personalities and thinking of two different women, and how they live and handle the ups and downs in life. Check out the given information to know more about this show, it's timing, cast names, wiki, and story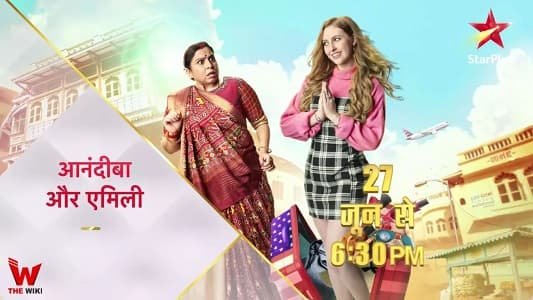 Wiki
Emily belongs to Western culture, and is married to Anandiba's son, while Anadiba is a social leader and matriarch, initially unreceptive to the reality of her son's marriage. There is drama, comedy, and ups and downs in a Gondal-based Gujarati family when Emily becomes a part of their family. Aarav dreams of moving to America, while Emily aspires to stay in India. Their paths collide with fate through a normal relationship. Let's see how Emily may or may not fall into the stereotype of the Indian family.
Story
The storyline of this show revolves around two different women and how they deal with the ups & down in life and how they live with their thoughts. Emily is a foreigner while Anandi Baa is a typical Indian woman yet a social leader. Anandi Baa wants an Indian bride for her son. But, destiny brings Aarav and Emily together, and Emily is a foreign girl. To watch the complete drama, watch out for its upcoming episodes.
Timing
Star Plus's already released show Anandi Baa Aur Emily is aired from Monday to Friday at 6:30 PM. The episodes of this show are also available on Disney+Hotstar, if you missed watching it, you can download this OTT platform. The show's release date was 4 July 2022. The maximum run time of this show is 20 to 24 minutes.
Cast
Mishkat Varma is a male lead role and acts as an Aarav. Previously, he worked as Raj Purohit in Aur Pyaar Ho Gaya and Kabir Kunar in Nisha Aur Uske Cousins. He is cast as the lead role in this show as of now.
Jazzy Ballerini is famous for Teri Meri Jodi and Amar Sehmbi TV series. At present, she is playing the lead role in the Star Plus TV serial Anandi Baa Aur Emly.
Some other major casts of this show are Kanchan Gupta, Shweta Rajput, Ojas Rawal, etc.