Meghalaya, the north-eastern state of India, is one of the richest biodiversity regions in the world. Also known as the abode of the clouds, the state is popular for its dramatic terrain, unique culture and rich traditional festivals. Since it is home to different communities such as Garos, Khasi and Panar, Karbis, Hajong and Koch, people have different diets, dialects and clothing.
Apart from being famous for its rich culture, natural beauty, serene mountains, hills and peaceful environment, the state is famous for its various communities due to its traditions and customs. If you are curious about what men and women wear in Meghalaya, read the following information.
List of Traditional dress Wear by Men in Meghalaya:
1. Khasi Tribe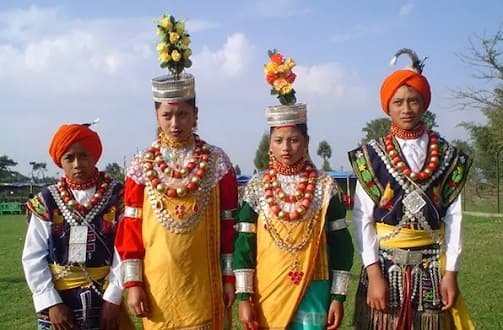 The Khasi tribe in Meghalaya has its dressing style. Men in the Khasi tribe wear a long cloth around the waist, and this piece of cloth is unstitched. The unique thing is that men belonging to the Khasi tribe carry a sword in handy during occasions of KaPom-Blang and Nongkren. Wearing unstitched clothes and holding swords means that they are different in terms of culture and form. At the same time, they also show the heritage of Meghalaya.
Another traditional dress of the Khasi tribe is the unstitched dhoti which can be commonly found in different regions of the state. A jacket with embroidery has also been added to complete the overall dress. Nowadays, people wear these dresses on occasions and events to keep in touch with tradition and culture.
2. Garo Tribe
In the Garo tribe, men wear a loincloth, a piece of cloth that is weaved by themselves. The state has uncountable skilled and talented weavers, thus they can stitch clothes on their own. Weaving and preparing clothes is the primary source of livelihood for every household in Meghalaya.
3. Jaintia Tribe
The dress style of the men of the Jaintia tribe is similar to that of the Khasi tribe.
List of Traditional dress Wear by Women in Meghalaya
1. Jainkup
Jainkup is the traditional female dress of women belonging to the Jaintia tribe. It is made of woollen cloth and is worn by older women. The Jainkup is a full-sleeve blouse designed with a neck work-around. Jainkup and Jansen are worn by female dancers during the Khasi Festival.
2. Dak Manda
A small piece of cloth wrapped around the waist by women in Meghalaya. Long dresses are considered traditional attire, worn by women either living in densely populated areas or living in a crowded areas. These attires are usually designed of cotton fabric.
The Dak Manda is usually worn by a Garo tribe woman in Meghalaya, consisting of a handmade lungi and a blouse. It is often worn around the waist. However, the traditional clothing of the women of the Garo tribe varies depending on the region of residence of the people.
3. Jainsem
Jainsem is a traditional attire of the Khasi tribe. This dressing style consists of a cotton shawl, a blouse, and Jainsem. Jainsem is used to cover the lower bottom of women while a top and a cotton shawl add to make overall attire sophisticated and stylish. Jainsem is made of mulberry silk.
4. Jaintia
The Jaintia community uses headgear to cover their heads, which is made using a cloth of checked cloth, commonly known as kyrshah. It is generally worn by the women of the Jaintia tribe during the harvest season. Moreover, it is added by women to their outfits at their events, occasions and festivals.
5. Mekhla
Due to being beautiful and elegant, Mekhla is one of the famous traditional attires of the state. Muga Silk is usually used to wave this fine-looking piece of cloth.
6. Wedding Attire
Brides of Meghalaya wear a Khasi dress at the wedding. On the other side, the bride dresses up in a Jainesm and Dhara. It is known in the local language. As a traditional wedding attire of Meghalaya, women also hold a crown on their head at a wedding, which is made of silver or gold, and its braid is attached to their back.
Conclusion:
Due to the variety of people in this state, the traditional costumes vary but all are sophisticated, simple and elegant. The state is rich in tribal culture and folk tradition.