Miracles are happen in this world. The world is full of amazing and unique things that's why we have wonders in this world. We can observe and see the wonders in human beings in the form of twins. Oh wow we have many types of twins like triplets, twins, conjoined, semi identical and some more. Some are alike and some are different but they look really cute. Twins are not only alike but they are from different ages, gender, race etc. The research and studies show that the differences of twins is because of social and racial difference not because of hormone difference. Twins are rare according to studies they are 3 in 1000. So we called that twins wonder if they are some special type of twin.
Below is the list of ten different types of twins
10. CONJOINED TWINS

The conjoined twins is rare one and identical also. They are not separate from each other. Some part of their body is attach with one another at the time of birth and the reason behind that is the incomplete division of ovum. Some of the twins with this condition have abnormalities and most of them are baby girls. The most important point is that the conjoined twins cannot be of different genders. They will be like pair of girls or pair of boys.
9. HALF IDENTICAL TWINS

Half identical twins take same genes from mother but different genes from father. They are not complete copy of one another but they are alike. These are of two types one is Monozygotic which is identical and the other is Dizygotic which means fraternal.
8. MONOZYGOTIC TWINS
Mono means single and zygotic means fertilized egg. They are made from one sperm and single egg and then ruptures into two embryos. They are not ditto copy of one another. The other name of these twins is maternal twin. The difference in these twins is just because of environmental factors otherwise they have same DNA.
7. DIZYGOTIC TWINS

Di means two and zygotic means fertilized egg. Their formation is from two different sperms which produces two sperms. Most of the time women produces only one egg. They are different from each other. There is very rare chance of having identical twins in this type of twins. They are called fraternal twins.
6. MIRROR IMAGE TWINS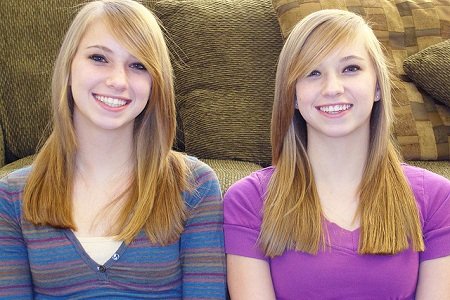 This type of twins are produces when the egg which is fertilized is detached late in the embryonic stage. They are similar to great extent. There is only the slight difference between them. When they are in front of one another then it is very difficult to point out the difference that is the reason they are called mirror image twins.
5. PARASITIC TWINS

We can called this type of twins as asymmetrical or not equal conjoined twins. This type of twin is like when a part of body is attached of fully develop twin with the twin which is not normally develop or under develop. Most of the time it needs to remove with the help of surgery.
4. SUPERFETATION TWINS

This type of twins are formed when one fetus is shaped and the other one is in the uterus. This situation is very exceptional in humans and it is mostly in animals. Risk factor is also present in these types of twins because one is born with disorders and also born prematurely.
3. HETROPATERNAL SUPERFECUNDATION TWINS- TWINS WITH DIFFERENT FATHERS

These type of twins is common in cats and dogs but not in human beings. Because eggs are formed by sperm of the different male partners.
2. TWINS WITH DIFFERENT BIRTHDAYS
When we talk about twins the thing comes in our mind is that they share the same day and time so having same birthdays. But there are twins with different birthdays. And this happens when one kid is born before the time but doctors wanted to deliver the other on time so they keep that in the womb of mother.
1. TWINS OF DIFFERENT RACE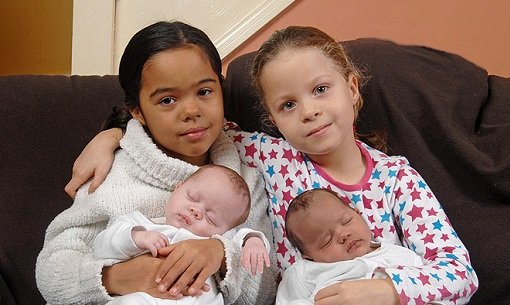 These type of twins are born when parents are of different race. So their colors may be different for example one is white and the other is dark.