A bubbly girl from Shimla, she is widely known for her versatile roles and collaboration in the movies. She stepped first into the Bollywood with Abbas-Mastan's 'Soldier', however, her second collaboration Mani Ratnam's 'Dil Se' released first, making it her debut movie. We'll have more of her such trivia down here in the 'Top Ten Best Movies of Preity Zinta of All Time'.
She is a well-known humanitarian and an investor, markedly she's the owner of IPL team Kings XI Punjab. She has always garnered immense praise for her roles and makeovers. Guess what' we did a compilation on the best movies of her career and zeroed on the fine list presented down below.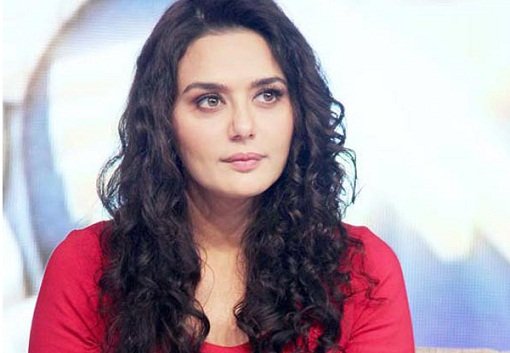 Shall we move on to the list, then?
10) Dil Se (1998)
Her first instance into Bollywood, this one earned her the Filmfare Award for the Best Female Debut (along with Soldier-1998).
The movie was directed by Mani Ratnam and featured Shahrukh Khan and Manisha Koirala in the leads while Preity Zinta played a supporting role.
It played a storyline of insurgency in Northeast India in a romantic thriller theme.
The movie was a part of Mani Ratnam's trilogy with the other two being Roja and Bombay.
9) Sangharsh (1999)
A physiological crime thriller movie, this one was directed by Tanuja Chandra.
It featured Akshay Kumar, Preity Zinta and Ashutosh Rana in the leads.
It had a storyline of child abduction and the consequences related to it.
The movie earned Ashutosh Rana the accolade of Filmfare Best Villain Award.
8) Chori Chori Chupke Chupke (2001)
Preity Zinta's another collaboration with Abbas Mustan, this one had Salman Kahn, Rani Mukherjee and Preity Zinta in the leads.
It featured a storyline of surrogate childbirth, something that's termed as taboo by the society.
The movie created quite a buzz in regard to controversy with the non-filmology news but nevertheless was worth a watch from a movie perspective.
7) Kal Ho Naa Ho (2003)
An all-time blockbuster movie, this one was directed by Nikhil Advani.
The movie was written by Niranjan Iyengar and Karan Johar and was produced by Yash Chopra.
It featured a heart-provoking story of a three characters played by Shahrukh Khan, Preity Zinta and Saif Ali Khan.
The movie earned Preity Zinta the Filmfare Award for Best Actress.
 6) Salaam Namaste (2005)
Salaam Namaste was a musical comedy film directed by Siddhartha Anand.
The movie featured Saif Ali Khan and Preity Zinta in the leads while Arshad Warsi played the supporting cast.
It had a storyline of two young Indians in a live-in and the events related to it.
5) Kabhi Alvida Naa Kehna (2006)
The movie was a musical romantic drama directed by Karan Johar.
It featured a wide assembled cast of Shahrukh Khan, Rani Mukherjee, Abhishek Bachchan and Preity Zinta in the leads while Amitabh Bachchan played a supporting cast.
The movie had a storyline of adultery and extra-marital affairs.
The movie opened up to wide acclaims from critics and viewers alike. It managed pretty well at the box office charts.
4) Koi Mil Gaya (2003)
A science fiction movie, the first in the series of Krrish, this one was directed by Rakesh Roshan.
The movie featured Hrithik Roshan, Preity Zinta, Rekha, Johnny Lever and more.
The movie had a storyline of a handicapped kid coming in contact with an alien.
The movie swept away all the awards during the year as Hrithik claimed the title of Best Actor while Rakesh Roshan swept away the Best Director trophy home.
3) Soldier (1998)
Unofficially this was the debut movie for Preity Zinta, but Dil Se happened to release before this one, making it her first movie in Bollywood.
The movie earned her the title of Filmfare Award for Best Female Debut along with Dil Se.
It was directed by Abbas-Mustan and had Bobby Deol, Preity Zinta and Rakhee in leads.
It is an action thriller movie.
2) Veer Zaara (2004)
Veer Zaara is an Indian romantic drama film featuring Shahrukh and Preity Zinta.
The movie remains one of the best Bollywood has ever produced till date and was directed by Yash Chopra.
The movie made its way as the top grosser in the box office charts.
It blended a great movie storyline on the backdrop of conflict between India and Pakistan.
The movie earned Preity Zinta nomination into the Filmfare Best Actress.
1) Kya Kehna (2000)
The movie that established Preity Zinta as a mainstream actress of Bollywood, this one is worth a watch.
It was directed by Kundan Shah and had Preity Zinta, Saif Ali Khan, Chandrachur Singh, Anupam Kher and more.
It zeroed on the storyline of thetaboo issue of pre-marital pregnancy and the social views regarding it.
What's your thoughts on these? We'd definitely love to hear them out. Share them down below in the comment box.