Motorbikes are very efficient vehicles for commuting in India. The cities are mostly jam packed at the peak hours of a working day, and typical four wheelers would take a long time to get to the desired pLakhse. Motorbikes are available at various price range. Basic commuters are available for inexpensive price tags, however those who want to ride in luxury, comfort and style alongside just being able to get to a pLakhse, might take a look at these 6 motorbikes we have reviewed priced under Rs. 1.25 Lakhs in India.
7. Tork T6X
The Tork T6X bike is an electric bike which is eco friendly. This bike look is very stylish that can attract the college boys and young age men. It gives the Maximum Torque of 27 NM. The gearbox type is automatic so you don't need to worry about it. The top speed of the bike is 100 KMPH and its come in white color. The price of the bike is around Rs. 1,36,500.
6. Hero Karizma ZMR
This 2014 model motorbike from Hero has shown enough charisma to be accepted by the youth in this region. The engine offers 223 cc of displacement and offers up to 20 bhp at 8,000 rpm and 19.70 Nm torque at 6,500 rpm. The power output is great and it offers excellent pick up. From commuting to motorsports, Hero Karizma ZMR 2014 is suited for every need. Fuel tank on this bike is 15 liters and the offered mileage is 40 kmpl. Price – Rs. 103,993.
5. Yamaha YZF – R15 S
With a 150 cc engine, the maximum power output on the YZF – R15 S motorbike is 16 bhp at 8,500 rpm and torque 15 Nm at 7,500 rpm. This motorbike has a 6-speed manual gearbox. Having manual gear helps the biker achieve a plethora of speeds at any given time on the road. For maneuvering in tight traffic to pulling off really fast in a race – this gearbox serves both the purpose. Both brakes are disk brake. Price – Rs. 114,500.
4. Royal Enfield Bullet Electra Twinspark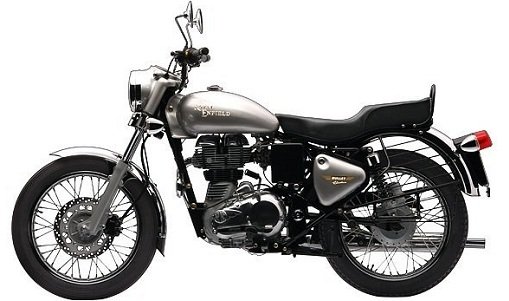 The design is quite simple, but every aspect and language speaks out for retro designs on cruiser motorbikes. The engine is 345 cc in displacement, andt the maximum power output for the Royal Enfield Bullet Electra Twinspark engine is 19.80 bhp at 5,250 rpm and 28 Nm maximum torque at 4,000 rpm. It has a 5 speed manual gearbox with 37 kmpl offered mileage. Capacity on the fuel tank is 13 liters. Price – Rs. 121,558.
3. Yamaha YZF R15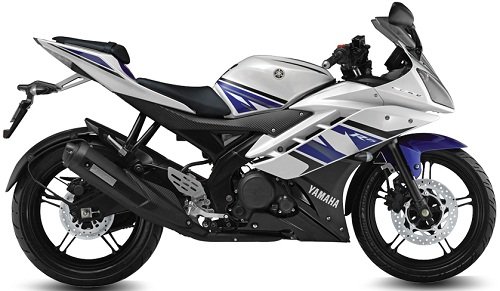 Even though the engine is only 150 cc, yet the design and purpose of Ymaha YZF R15 is to serve as a sports motorbike. This engine is capable of pulling off 16.70 bhp at 8,500 rpm at max, and maximum torque is 15 Nm at 7,500 rpm engine rev. There are 6 gears in the manual shifter to keep it active. Rated mileage is 42 kmpl, with a 12 liter fuel tank. Both breaks in this motorbike at disc, also the wheels are made of alloy. Price – Rs. 119, 466.
2. Royal Enfield Bullet 350 Twinspark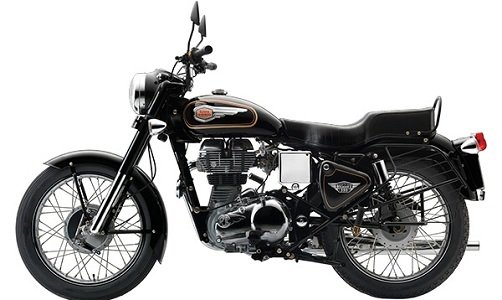 Bullet 350 Enfield is one of the older Royal Enfield motorbikes available in the market. This one has engine displacement of 346 cc. It pulls off 19.80 bhp at 5,250 rpm and 28 Nm at 4,000 rpm. Manual gearbox with 5 speed geas make it easier for the rider to ride this motorbike on highways. Kerb weight of 180 kg makes the Royal Enfield stick to the road without really having the risk of slipping in the highways. Price – Rs. 107,690.
1. Bajaj Pulsar RS200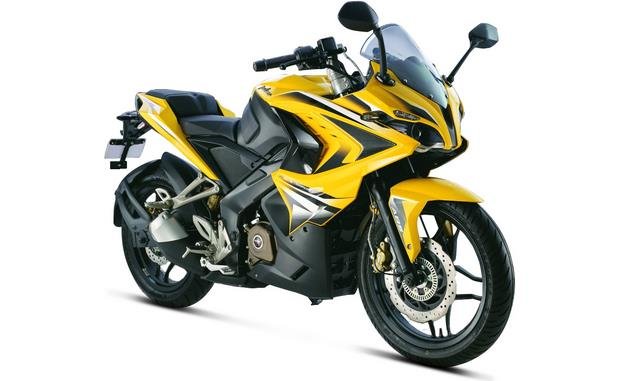 There are various variants of the Bajaj Pulsar engine starting from 125 cc to all the way up, our current review unit is a 199.50 cc unit with 24,50 bhp at 9,750 rpm. Maximum torque produced by this Bajar Pulsar is 18.60 Nm at 8,000 rpm. Both brakes are disc, and this motorbike has 13 liters of fuel tank. Price – Rs. 124,310.
Conclusion
All these motorbikes are available in their respective ex-showrooms. The price won't vary much.