Top 5 Cars To Restore In 2022
The more classic a car is, the more satisfying it is to restore. Restoring your car is no small feat. Unless you're a professional, you'll need some help to make the project successful.
If you're thinking about restoring a car this 2022, there are plenty of things to consider when choosing the best car to restore. You have to think about the availability of the parts and the resale value of the finished product.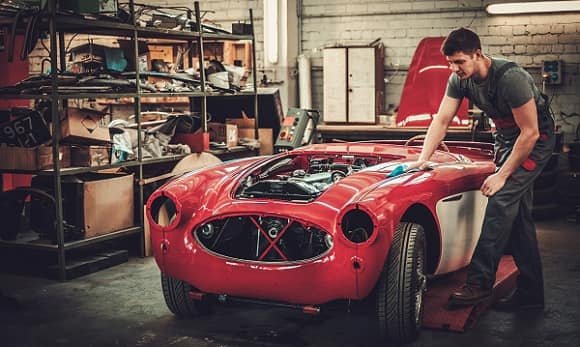 Because if you don't think this carefully, the project may take several months or even years before you can fully restore a car. With that in mind, here are the five cars to restore this new year:
1. Land Rover Defender 110
Few vehicles exude the same kind of romance and nostalgia as a classic Land Rover Defender, with its boxy off-roader that has become a symbol of freedom and independence ever since the first model came out in 1983. It's still one of the best vehicles designed for off-road adventures.
As a result, classic Defender has become one of the most sought-after 4x4s in the world. Because of that, the demand for Defender restoration has also increased over the last couple of years. There are now numerous companies and professionals that offer to restore classic Defenders for a very good price.
Some of these companies are so skilled at their job that you might have a hard time differentiating a restored classic Defender from the newer models, which you can see on this video:
2. 1963-1965 Buick Riviera
Produced from 1963-1965, the Buick Riviera was arguably the best designed post-war American car. These cars are simply spectacular. Because of their beauty and fine styling, many car enthusiasts are looking to collect them. Some even go as far as restoring them.
Several companies are now offering full production parts for these models which makes the restoration process less difficult. If restored correctly, you can sell a 60's Buick Riviera for a great price which is way more than the costs you've incurred during the restoration process.  
3. Volkswagen Beetle
The Beetle we're referring to is the original one. Considered as the 'people's car,' the Beetle remains as one of the most popular cars up until the present.
Volkswagen manufactured Beetles from 1938-2003, so getting replacement and aftermarket parts should be pretty easy for now. Not to mention that there are also plenty of owner's clubs that can give you assistance and advice when it comes to restoring these cars. At the end of your project, you'll have a legendary piece of automotive history that will surely impress everyone who sees you on the road.  
4. 1955 Mercedes-Benz 300 SL Coupé 'Gullwing'
One of the main factors why restorations can be difficult is the age of the car. Older cars such as the 1955 Mercedes-Benz 300 SL Coupé 'Gullwing' are hard to restore because of how old they are. Not to mention that this is also one of the most sought-after Mercedes-Benz of all time.
It is especially true if the car is in a very bad condition. Restoring a car like this will require some significant time and money. Even the official website of Mercedes-Benz claims that it can take at least 10 months before you can restore a 'Gullwing' to its former glory. It's also worth noting that there are only 29 examples of this car ever made.  
5. Jaguar E-Type
In contrast to the other options listed in here, the Jaguar E-Type is comparatively rare, expensive, and harder to restore. It's a kind of car that you should attempt to restore as your first project.
But if you're not fazed with the challenges that you're going to face if you choose to restore a Jaguar E-Type, this car is a great option because of the profits you can gain if you can pull it off. Jaguar E-Types are a prime example of a 1960s car that has everything. They look sleek, elegant, and has the power to back them up, making them one of the most valued cars of today.
Final Thoughts
You should know that this list is far from being complete. There are still plenty of classic cars out there that worthy of being restored to their former glory. Although, some of them are quite expensive to restore, you may find affordable ones. Ultimately, the choice depends on what's on your heart and not what's on your wallet. Be sure to pick a car that you love so that you don't lose interest midway through the project. Because the success of a restoration project not only depends on your finances, it also depends on whether you have a connection with that car or not.