The month of February fills the atmosphere with love, romance, and excitement. Going out on a date with your partner or friends, shopping for outfits, and trying up new trends to look best is the best part of this love season. You ensure to have everything on point, well obviously, you'll definitely want to be the one everyone notices.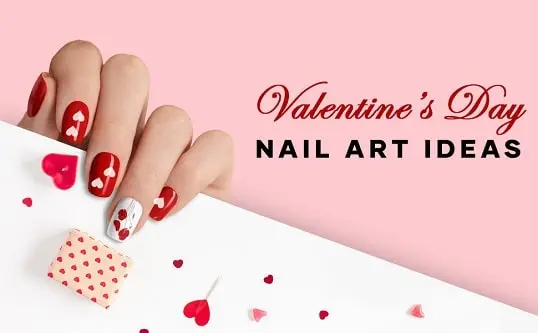 Hey, what if we tell you, there's one thing that will elevate your valentine's makeup in 10 folds? Wondering what is it? Your NAILS. Yes, ladies, a perfectly done mani will draw your partner's attention and his lovey-dovey sight. Get a salon-finish nail art at home with just a few products and a nail art kit.
Bling with Wine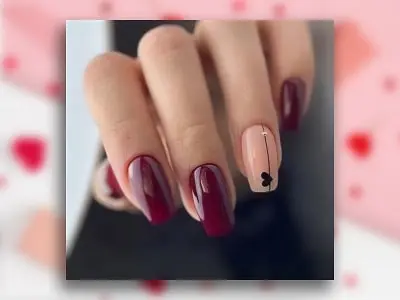 We swear by this elegant nail art because it's easy to create and achieve in a jiffy. The stunning hues of playful wine shade and a small beautiful heart (dropping a hint for Mr significant) on your ring finger make it a perfect pick for Valentine's Day. So, deck up those nails with glossy nail polish and tie the whole look together with a tiny black heart on the tip of the ring finger. Add a little glamour game by making a small golden heart on the same ring finger with glitter nail polish. This nail art is perfect for those who want to try something different and looking for chic nails.
A Sporty Heart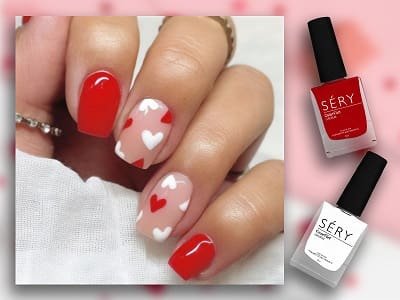 Nothing beats the timeless combination of white and red. Create a beautiful assortment of tiny hearts coated in the classic color of Valentine's Day. This nail art looks extremely professional and is easy to create while sitting at home. A touch of romance with a twist of little hearts hitches the whole look together. Create these love-struck nails with shades of SÉRY Color Flirt Nail Enamel – Cherry Berry Red, and White Beauty. Infused with Vitamin E and Avocado Oil, the nail polishes keep the nail nourished and healthy, giving a natural finish just in one coat.
Heart Tic-Tac-Toe
Who will win the race of love, him or you? Let the innovative nail art decide the winner made with nail paint hues. This mesmerizing nail art nods to the season of love with zero need for a nail artist. Make a tic-tac-toe game on your right finger with a white base and pink prop (heart) and color the rest of the nails with a coat of the shade white and pink. To add an oomph factor, make a heart in one of the fingers with glitter nail polish, and voila! You will fall in love with your own nails and the artist inside you. The amalgamation of these colors looks dreamy and perfect for valentine's night because in the end love is going to win it, right?
The Ombre Finish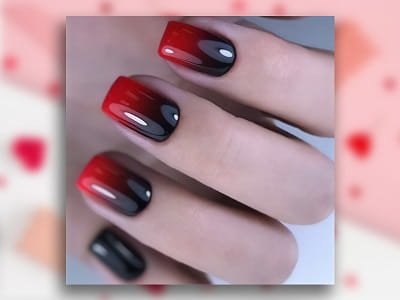 If you want to keep the nails simple yet classy, then ombre is your calling. Profess your love with the shades of black and red that radiate romance in every way. Take the nail paints that have care ingredients and are made with a quick-drying formula. This will help make the application easy and keep nail health intact with intense nourishment. Congratulations! Red Haute nails done right! Apply black nail polish first and then paint the tip with a coat of red nail polish. After that with help of a sponge dab it on the nail to give an ombre effect. At last, seal the whole look with transparent nail polish or a top coat.
Polka Dots Affair
How can we have a valentine's day without a polka-dot affair, right? This vintage art is the best nail art that is easy to achieve at home with just a few products. The best part? If you have short nails or are in rush to head the date night, this nail art suits better for both scenarios. All you need is 3 colors, black, red, and white. Apply red nail polish on the thumb, middle, and ring finger, black nail polish on the pinky finger, and white nail polish on the index finger. Decorate them according to your preference by adding dots, ta-da! Your nails are ready to slay.
For a smooth application and strong color payoff, always remember to shape and file the nails properly. There are plenty of nail art available in the online space but with these 5 super cute Valentine's Day nail art ideas, you'll be ready to add an extra shine to your style.