What's next after the wedding ceremony? Do you have any idea? You do have, for sure! Honeymoon will come next, of course. It's the perfect time for the couples to have intimate moments for each other without having some disturbances. In fact, many newly-weds prefer traveling to some other beautiful places after their wedding day, so that they can have quality time together in their honeymoon – just the two of them and no one else. In relation to this, here are the top 25 amazing places in the world for honeymooners that you might want to visit with your partner one day:
25. Ko Samui, Thailand
Ko Samui is actually a huge island that lies in the Gulf of Siam. It's amongst the numerous attractions that you can see in the famous Ang Thong Marine National Park. This island is gifted with a number of whitesand breathtaking beaches. Hence, it's no longer surprising why it is the number one vacation place for honeymooners that can be found in the beautiful country of Thailand.
24. Cook Islands
Cook Islands is lying in the South Pacific, and it is an island country. Between Hawaii and New Zealand, you can find this magnificent place for honeymooners. This place has a relaxing atmosphere, idyllic, warm weather, pristine natural habitats, and calm blue lagoons.
23. Aruba
This small Dutch Caribbean island is lying on the Venezuelan coast. The weather here is so perfect for beach hopping. Hence, if you and your partner love going to white
sand beaches, then Aruba would be the perfect location for your honeymoon. It is gifted with long seashores where you can take a walk while the sun is ready to set.
22. Byron Bay, Australia
If you want to have some relaxation in your honeymoon with your partner, then the town of Byron Bay in New South Wales Australia is the one that you should visit. Nearby the place are some wild rain forests where you can appreciate the beauty of nature. This place is also packed with a number of amazing beaches.
21. US Virgin Islands
US Virgin Islands is a group of breathtaking islands located in the Caribbean area. It is composed of more than 50 islands that offer magnificent beaches where you and your partner can go swimming and have some intimate, relaxing moments. It has abundant nature that you can really enjoy. If you want something that you can experience in the city, there's no problem with that since this place has several duty-free shopping centers where you can buy anything you want like clothes and jewelries.
20. Kenya
This is a great place for those newly weds who want to have a wildlife adventure. There are a lot of wild animals that can be found in Kenya like elephant, tiger, lion, and rhinoceros. When it comes to accommodations, there are lots of hotels in the country that can offer you amazing and affordable stay.
19. Florida, USA
The "Sunshine State" of the United States of America, or simply Florida, has a lot of things to offer to those honeymooners in the world. If you love going to beaches, there are a number of beautiful whitesand beaches that you can find here. You can even enjoy some carnival rides in the theme park of Florida like the Universal Studios.
18. California, USA
This western US state has a great weather all year round, so this could also be a perfect location for you and your partner especially if you love going to beaches. It has a number of beautiful natural sceneries that you can enjoy. And during the night, there's no way you won't love watching the bright lights shining in the Hollywood.
17. New Zealand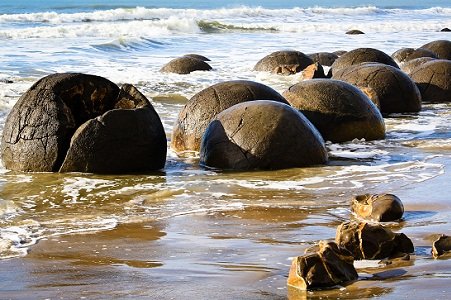 In the southwestern part of the Pacific Ocean, there is a particular country that offers a lot of things to the worldwide honeymooners, and this is the beautiful country of New Zealand. In case you want to experience some cold places with your country, then this country has that. It even has a number of breathtaking natural sceneries that can make you feel relaxed.
16. Turks and Caicos
This island archipelago is lying in the Atlantic Ocean, and this is one of the British Overseas Territories. This is the best place to visit for those honeymooners in the world who love enjoying the sun in some beautiful beaches. In fact, such place is home for the world's longest coral reefs that you can ever find. Scuba diving is another thing to enjoy here.
15. Bali, Indonesia
Who would not know Bali in Indonesia, by the way? This is a world-renowned island that is packed with forested volcanic mountains, breathtaking beaches, and amazing underwater wildlife. This exotic place for honeymooners has a number of world class resorts where you and your partner can stay and enjoy the amenities.
14. Costa Rica
Costa Rica is a country in the Central America region that has the coastlines of the Pacific and the Caribbean. With that being said, you can surely conclude that this place has beautiful white sand beaches where newly weds can go swimming whenever they want to. It has amazing natural sceneries where you can indulge in. In terms of accommodations, there are lots of world class hotels and resort villas here.
13. Tunisia
Tunisia is the best place for honeymooners who are already tired of indulging in the beaches and noisy surroundings of the cities. This country located in the north part of Africa can offer you unusual honeymoon setting. You and your partner can enjoy the Tunisian desert, and you can experience staying in luxurious tents and enjoy the night sky like you have never seen it before.