Some of this amazing holes are as a result of nature while others are due to the man made activities like mining which end up creating holes in the earth. Our list picks out some of the ten most wonderful holes that are either natural or manmade which are on the face of the earth.
Our list of the top 10 amazing holes in the earth includes:
10. Udachnaya Pipe in Russia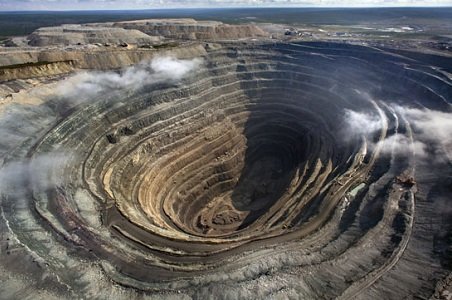 This is a hole created due to man made activities of mining. It is over 600 meters deep. Udachnaya Pipe was a diamond mine in Russia, which was discovered in 1955.
9. Diavik Mine in Canada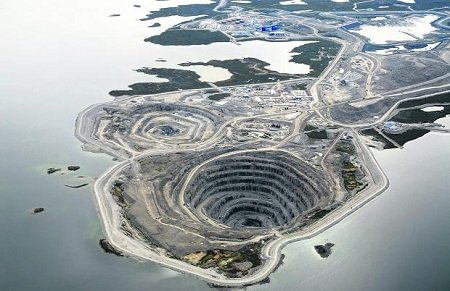 It is a man made hole which is found in the Northwest territories of Canada. The mine opened in 2003 and produces 1,600 kilograms of diamond every year. It is a joint venture between Diavik Diamond Mines Inc. and Harry Winston Diamond Corporation. It is on a 20 square kilometer island and it is about 220 kilometers south of the Arctic Circle.
8. Chuquicamata in Chile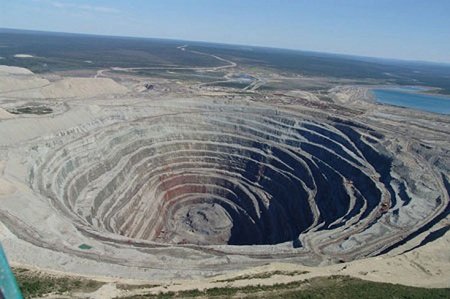 This too is a man made holein Chile,where copper is mined. It is the largest mine where copper mines in the world, though it is not the largest copper mine. Its depth is at  850 meters,  which was created by copper being mined it for quite a long time, longer than the 1898 which is officially documented.
7. Sinkhole in Guatemala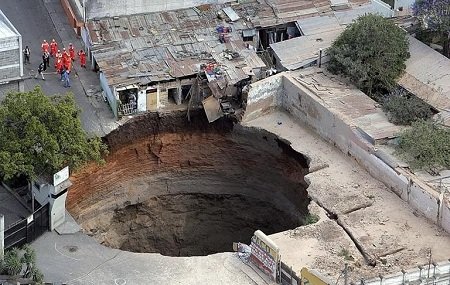 This hole in the northern Guatemala city opened in 2007, killing 3 people. It was 330 feet deep and it was created by from a sewer which dissolved the rock underneath. This has caused over one thousand people to be evacuated from the area .
6. Mirny Diamond Mine in Siberia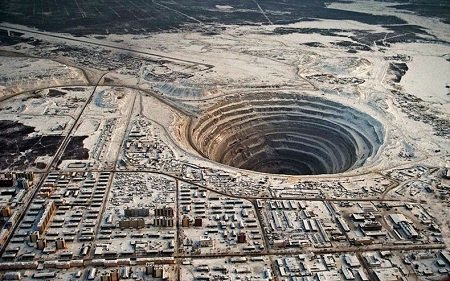 This mine hole is 525 meters deep and is 1200 meters in diameter.  It is one of the largest diamond mine pipes in USSR  though now abandoned. When it was operational, it used to take trucks over 2 hours to drive from the top to the bottom of the mine.
5. Great Blue Hole in Belize
This is an underwater sinkhole which is off the coast of Belize.  It is 400 feet deep and 1000 feet across and it was formed as a result of  limestone caving. It has become a recreational place for  divers who dive in crystal clear water and get various species of fish in the event.
4. Darvaza Gas Crater – Turkmenistan
During dark nights, there is a glow which comes from this crater which is in the heart of the Karakum desert in Turkmenistan. The crater is as a result of a gas explosion, accident in 1950 by the Soviet. The huge crater has burned since then and measures roughly 20 meters deep and 60 meters wide. It produces a Sulfur smell which can be smelt from far and increases as you approach the crater.
3. Kimberley Diamond Mine in South Africa
It is found in South Africa and holds the title of the largest  hole in the world that is man made though it is disputed. Between 1866 and 1914, a group of 50000 miners mined using shovels and picks and were able to get 2,722 kg of diamonds. It has a surface of 42 acres and it is 463 meters wide. It has a depth of 215. Efforts are being made to register it as a world heritage site.
2. Monticello Dam in California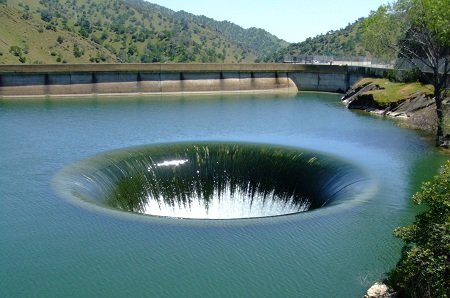 This dam was constructed between 1953 and 1957. It has a structural height of 93 meters and a crest length of 312 meters. It contains 249, 000 cubic meters of concrete. The water from the reservoir goes to the North Bay area in San Francisco.
1. Bingham Canyon Mine in Utah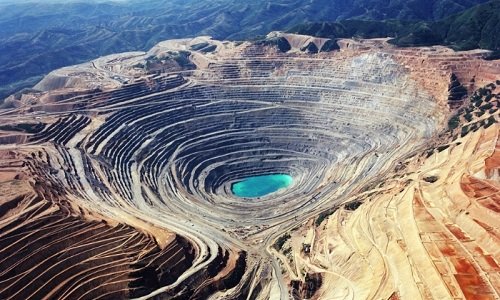 This is a copper mine found in the Orquirrh mountains in Utah.  It is 1.2 kilometer deep and 4 kilometers wide.  It is the largest man made excavation in the world which has produced copper since 1906 thus resulting in a hole covering 19000 acres. It is one of the world largest mines which is productive and in 2004, produced 17 million tons of copper, 23 million ounces of gold, 190 million ounces of silver and 850 million pounds of molybdenum.
These holes are astonishing in nature and it just proves that, human actions on planet earth can create amazing features which can become tourist attractions. Do share this with friends on social media.